Last year, Facebook Inc (NASDAQ:FB), Amazon.com, Inc. (NASDAQ:AMZN), Apple Inc (NASDAQ:AAPL), Netflix (NASDAQ:NFLX), and Google (owned by parent company Alphabet), collectively known as the FAANGs, smashed the S&P 500 in performance terms.
Indeed, according to figures from Goldman Sachs, for 2017 the S&P 500 returned 21.8% while the FAANGs gained 46.5% and the FAAMG's (including Microsoft) gained 45%. The tech sector as a whole added 38.8%.
These gains have had a disproportionate impact on the rest of the market. Analysis by Fortune shows that at the start of 2017, FAAMG Inc's total market cap was $2.09 trillion, and it accounted for 11.06% of the iShares Core S&P 500 ETF managed by Blackrock. However, by the close of the year, the group's total market value had surged to $3.01 trillion accounting for 13.36% of the iShares Core S&P 500 ETF. In other words, if your only investment is the S&P 500, your FAAMG exposure increased by 21%.
Further, Fortune points out that while FAAMG Inc's  market cap jumped by 44% during the year, combined profits only rose 21.8%. Multiple expansion was responsible for almost all of the equity performance. The group's average P/E multiple rose from 22 to 27.
That being said, the group's fortunes vary. As Morgan Stanley's analysts highlighted at the beginning of December, for the year-to-date, Netflix saw multiple compression as positive earnings revisions have more than offset contraction. Meanwhile, Amazon and Google's gains have seen their price appreciation fulled entirely be multiple expansion.
"FB and AAPL have arguably been most like the S&P with a fairly balanced contribution to price appreciation from multiple and earnings. In contrast, AMZN and GOOGL have seen their price appreciation fueled entirely by multiple expansion. What is perhaps most surprising is that the price appreciation seen to date in NFLX is completely due to strong growth in NTM earnings which has driven price appreciation in spite of some multiple contractions."
In the same report, Morgan's researchers went on to note that generally speaking, "top performers, as measured by contribution to overall market cap growth, do not outperform the following year" hinting at the conclusion they do not expect FAANG Inc. to outperform next year.
But does this mean today's record bull market is under threat?
Is the record bull market under threat?
According to Goldman's figures, it's unlikely this record bull market will come to an end if FAANG Inc stumbles.
A report from the bank's investment management team published this week observes that while tech has accounted for a large part of the post-crisis rally, other stocks are also heading higher.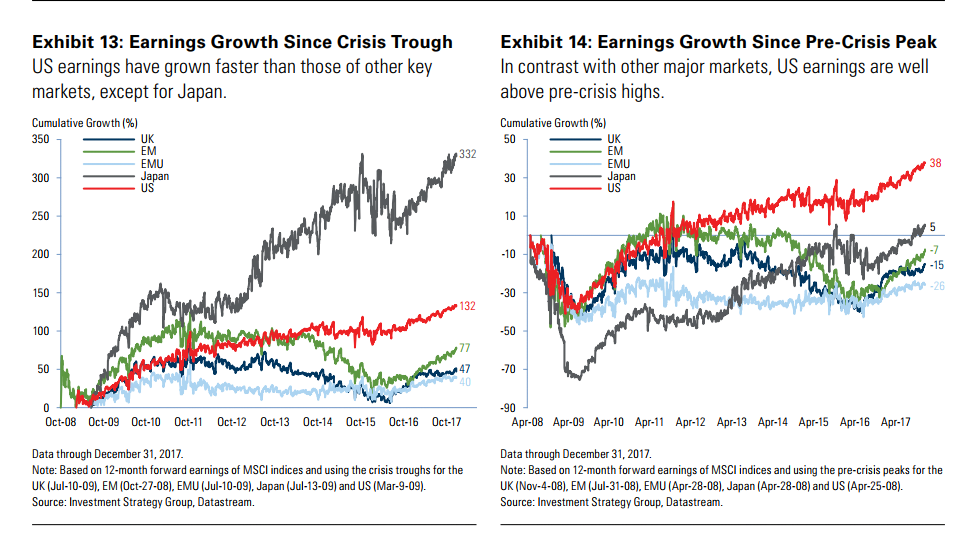 The report notes, if you deduct the FAANGs, FAAMGs and the entire tech sector from the S&P 500 "with their respective market shares of 10.8%, 13.4% and 23.8%, and reassign those weights back into the rest of the S&P 500, the returns for the S&P 500 decline to 19.4% without the FAANGs, 18.9% without the FAAMGs and 17.4% without the entire information technology sector."
By any measure, these returns are substantial. In fact, as Goldman goes on to point out, the "bull market between 2002 and 2007 provided an annualized return of 17.1%" The only question is when this record bull market comes to an end, will the crash produce the same returns as seen in 2008/2009?