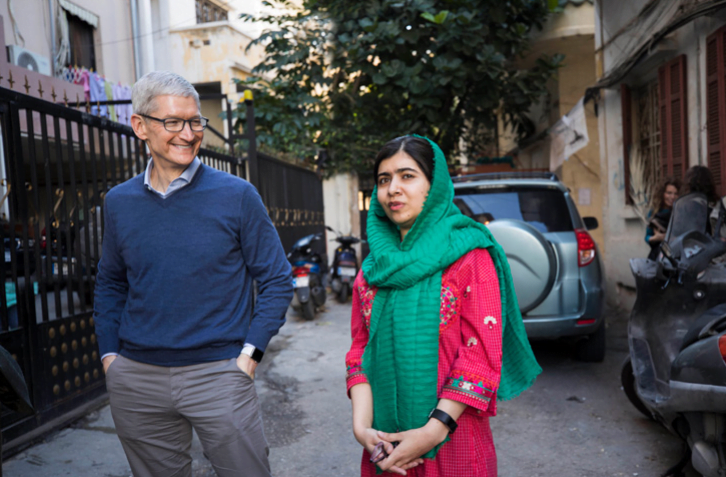 Malala Fund, a charity set up by Nobel Peace Prize-winning Pakistani girls' education activist Malala Yousafzai, has joined hands with Apple to offer "free, safe, and quality education" to underprivileged girls around the world. Apple CEO Tim Cook and Malala Fund founder Malala Yousafzai flew to Lebanon to announce the partnership.  Lebanon is one of the countries Malala will be targeting under the charitable program.
Apple to help Malala Fund with technology, research, and funds
Malala and her father Ziauddin founded the Malala Fund to empower young girls by providing them quality education. Apple has become the first Laureate partner of the Fund. Now that they have Apple's backing, Malala Fund is planning to double the number of grants awarded through their Gulmakai Network. Malala Fund will also expand its education programs to Latin America and India.
The Malala Fund aims to extend secondary education to more than 100,000 underprivileged girls. Apple CEO Tim Cook has also pledged to help the fund with curriculum, technology, and research into educational policies to reduce the barriers for girls attending school. The Cupertino company said in a press release that it would enable "a significant expansion of Malala's effort to support girls' education and advocate for equal opportunity."
Exclusive: Dan Loeb's Two New Stock Picks [Q1 Letter]
Third Point's Dan Loeb discusses their new positions in a letter to investor reviewed by ValueWalk. Stay tuned for more coverage. Loeb notes some new purchases as follows: Third Point's investment in Grab is an excellent example of our ability to "lifecycle invest" by being a thought and financial partner from growth capital stages to Read More
Following the announcement, Apple CEO Tim Cook told ABC News that there were 130 million girls in the world who lacked access to quality education. "…this is a bold ambition," he said. Together, the Malala Fund and Apple will champion "every girl's right to 12 years of free, safe, quality education." They are not going to stop after educating the initial 100,000 girls.
Malala Yousafzai said in a statement, "My dream is for every girl to choose her own future." She added that Apple had "helped educate and empower people" across the globe through its philanthropy and innovation. Tim Cook will also join the Malala Fund's leadership council. Talking about Malala, Cook said, "She's one of the most inspiring figures of our time, and we are honored to help her extend the important work she is doing to empower girls around the world."
Currently, the Malala Fund supports education programs in Pakistan, Afghanistan, Nigeria, Turkey, Lebanon, India, Jordan, and many other countries. Some of the biggest challenges facing girls' education are gender discrimination, religious extremism, poverty, and war.
What brought them together?
Tim Cook and Malala met late last year when the Apple CEO was on a business trip to the UK. Pakistan-born Malala is a student at the Oxford University. Cook told ABC News that the moment the two started talking, he realized that "the values we share were so aligned." Then, it was only a matter of what they could do together rather than whether they could. The Nobel Peace Prize winner said, "I really wanted us to work together because Apple has expertise: they are expert in tech, they have resources and they have amazing and incredible people."
Back in 2012 when Malala was just 15 years old, the Taliban shot her in the head because she was always vocal about the challenges of attaining quality education in Swat Valley, Pakistan. She somehow survived the gunshot, and has since been advocating girls' right to education. She is the youngest ever Nobel Peace Prize winner. She will be speaking at the World Economic Forum in Davos on Thursday.
Apple's announcement to support the Malala Fund came just days after the company said it would invest $30 billion in the United States over the next five years to create 20,000 new jobs. The tech giant would also increase its spending to the US-based component suppliers from $1 billion to $5 billion. The company had been criticized by President Donald Trump last year for manufacturing most of its products in China and other countries rather than creating jobs in the US.