Background
Mono Technology Public Company Limited is a Thailand-based media company.
MONO engages in the media and content and entertainment businesses in domestic and international markets.
Ray Dalio At Robin Hood 2021: The Market Is Not In A Bubble
At this year's annual Robin Hood conference, which was held virtually, the founder of the world's largest hedge fund, Ray Dalio, talked about asset bubbles and how investors could detect as well as deal with bubbles in the marketplace. Q1 2021 hedge fund letters, conferences and more Dalio believes that by studying past market cycles Read More
Channels and platforms include MONO29, MONO Plus, Mono Fresh 91.5 FM, monomaxxx, and magazines such as A'Lure, Liverpool FC and Gossip Star.
Business Description
The company operates two main business segments: media and content, and entertainment. Its media and content business segment includes TV business that operates the digital TV broadcasting business under the name Mono Twenty Nine (MONO29) channel offering Hollywood movies and popular TV series.
Also includes Mobile Value Added Services (MVAS) business. It offers information, news and entertainment content service to fulfill consumers' demands via mobile phone and the Internet in various forms.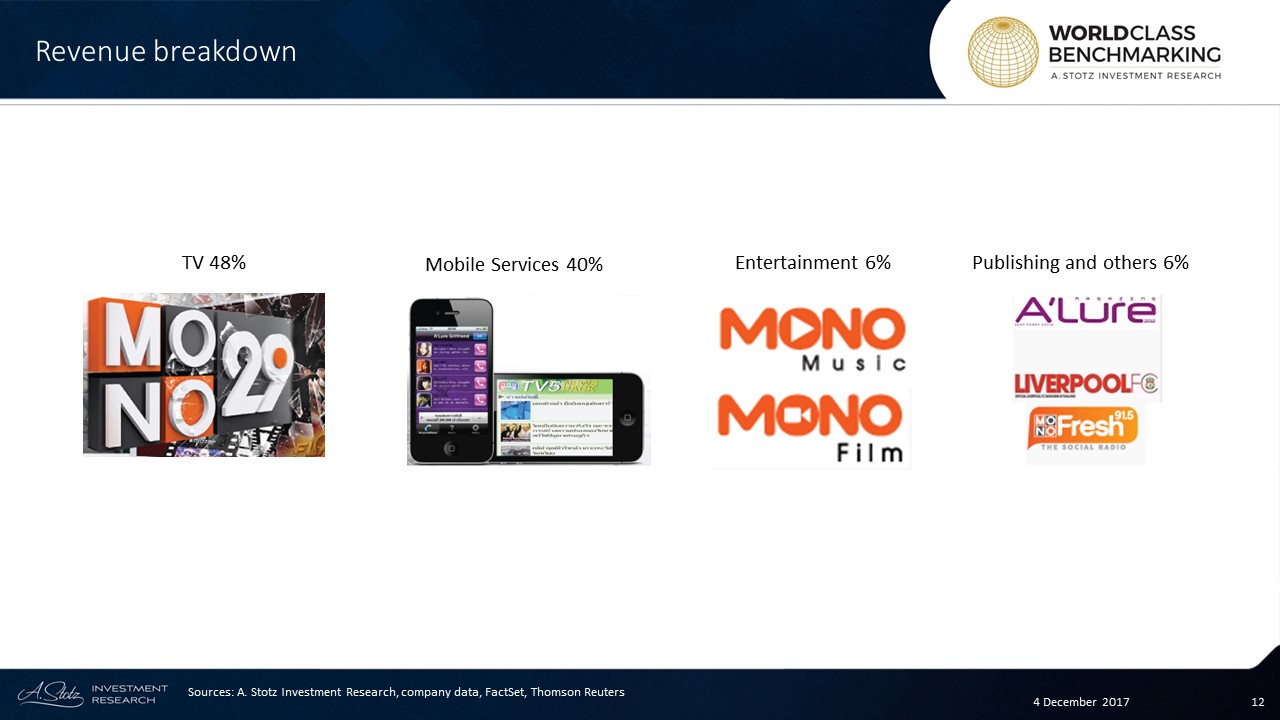 Internet business providing content and services, such as online video portal services and online hotel booking services; publishing business producing and distributing magazines in both traditional and electronic formats, and a radio business under the name Mono Fresh 91.5FM.
Its entertainment business targets domestic and international markets and includes music and movies, which it produces. Its mthai.com is the most popular video content portal in Thailand. It also offers monomaxxx movie streaming service and newly introduced free video platform seeme.me.
Leadership
Pete Bodharamik has been the chairman of MONO since 2012. He is also the CEO of Jasmine International public company limited and is holding numerous other board positions in other companies. Pete graduated from London School of Economics with a Bachelor's degree in Management. He is also the largest shareholder of MONO.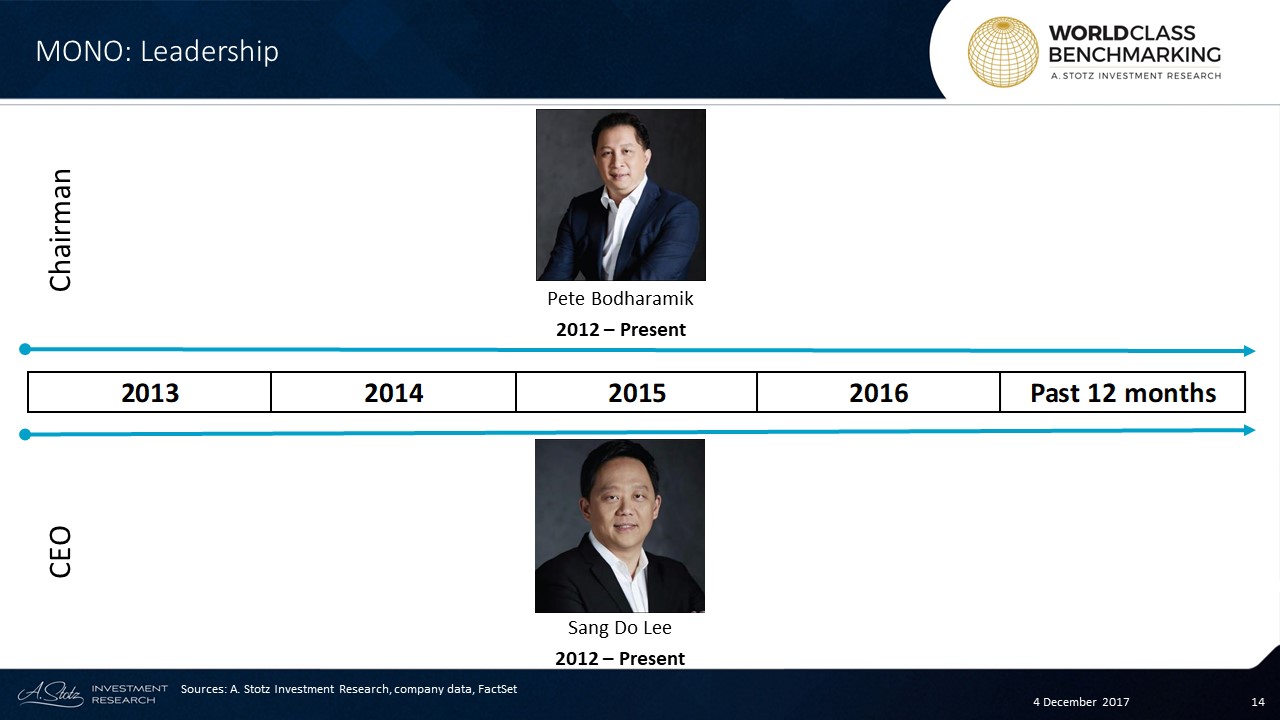 Sang Do Lee is the current CEO of MONO and has been serving in this position since 2012. Subsidiaries of MONO is also managed by him with his position as a Managing Director. Sang Do Lee have a bachelors degree in Computer Science and Industrial Engineering from Yonsei University in Korea.
World Class Benchmarking
Profitable Growth has improved in recent years but still ranked below average among 1,140 small Info Tech companies worldwide in the past 12 months.
Profitability has improved and Growth moved up to #2 from #10 in 2015.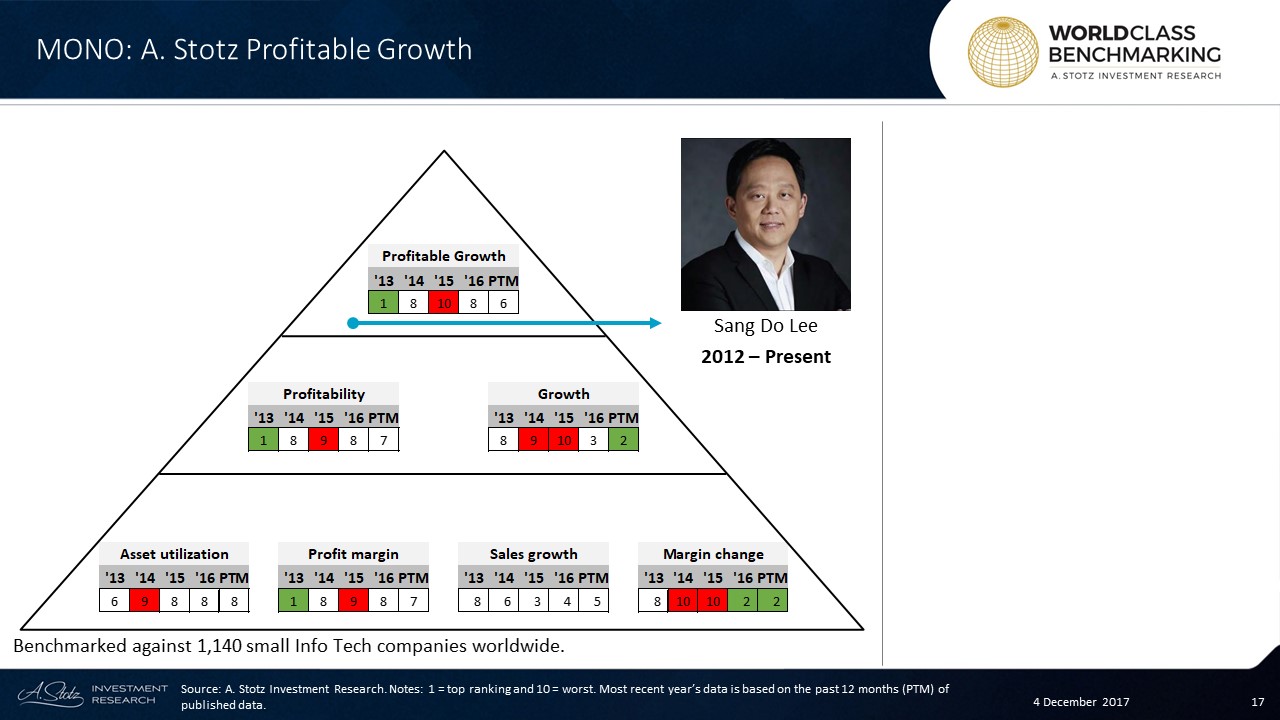 Both Asset utilization and Profit margin remained poor.
Sales growth has been in a falling trend since 2015, but Margin change maintained its rank at #2 which drove the Growth rank.
Article by Become A Better Investor