January 10, 2017
Crescat Capital Quarterly Investor Letter, Q4 2016 Review and Outlook
Also see
Dear Investors,
Crescat's hedge funds ended 2016 on a positive note after the Trump presidential victory shocked the global financial markets. Our flagship Crescat Global Macro Fund was up 8.9% in November and 12.5% net from November 9th through year end. BarclayHedge named it the #4 performing macro fund for the month of November after awarding it as a top-ten performer for the three years ended September.
Crescat's large cap separately managed account product also earned accolades last quarter. Morningstar awarded it a 5-star rating for both 3-year and 10-year risk-adjusted performance through September 2016. That means we are in the top 10% of 514 and 398 large-cap equity managers respectively over those time frames. Below, we show the net results for each of our products.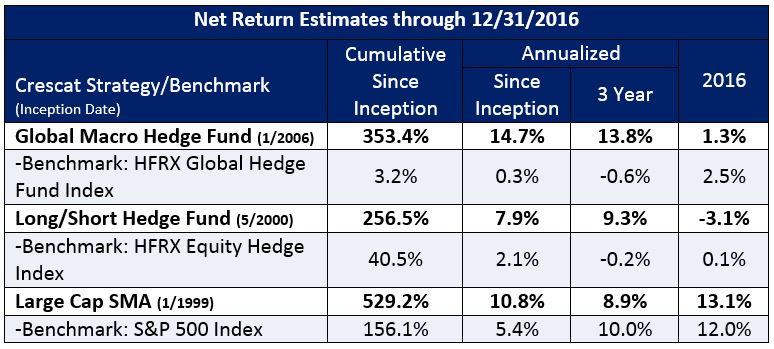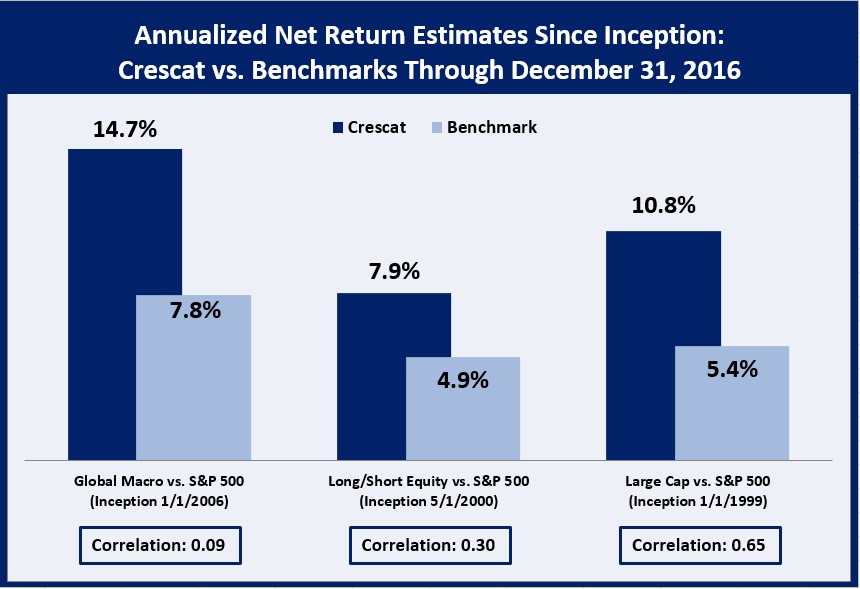 Q4 2016 Profit Attribution and Investment Outlook by Theme
Below, we provide a profit attribution for last quarter and investment outlook based on our macro themes, sorted from best to worst performing theme last quarter in our global macro fund. Our global macro fund was up an estimated 7.4% net overall in the fourth quarter. In our discussion below, we also talk about how the themes apply to our long/short and large cap products.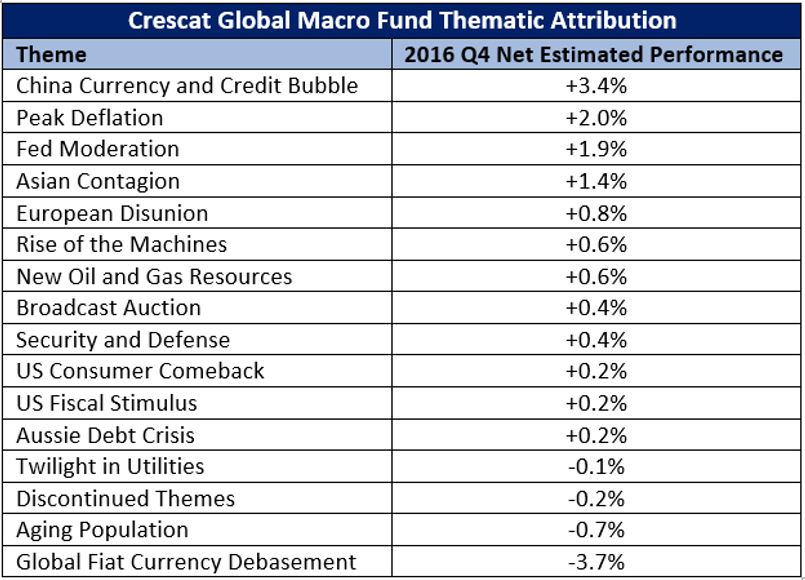 China Currency and Credit Bubble (+3.4%)
We have been warning about the possibility of a twin currency and banking crisis unfolding in China. Which will come first? Lately, China's leaders have been showing more determined moves to stop capital outflows and defend the sliding yuan with monetary tightening including higher interest rates, increased capital controls, and sales of foreign reserves. Also, in the past several weeks, we have seen a net liquidity withdrawal from the banking system through the repo market by the People's Bank of China. These recent tightening measures point to the increased risk that Chinese officials will trigger the credit crisis first. Given China's large corporate debt and non-performing loan problem, a banking crisis would force officials to reverse course with substantial liquidity injections and the currency crisis would follow. Thus, we made two shifts in this theme:
In our Global Macro Fund, we reduced our China FX exposure by exercising two profitable yuan put options into USD cash without adding new exposure. We exercised these options at expirations on December 30th and January 3. In our Global Macro Fund, we still have short exposure to the currency through another yuan put option that expires in February and has an unrealized gain today. We also remain short offshore yuan futures. Ultimately, we believe it is still a twin currency and banking crisis that will unfold in China.
We increased our equity ETF short exposure to China because equities in China should suffer most in the short run under a credit-crisis-first scenario. These ETF shorts get us short exposure to Chinese banks and other debt-burdened Chinese zombie companies. We also get indirect short exposure to the currency through these equity ETFs. We are currently short iShares MSCI China (MCHI), iShares China Large Cap (FXI), Deutsche X-Trackers Harvest CSI 300 China (ASHR) in our hedge funds.
Peak Deflation (+2.0%)
In this new theme, we have been short long-duration, ultra-low yielding fixed income assets, predominantly developed-market sovereign bonds in our global macro fund. In our view, sovereign bonds from several developed economies have reached secular-peak valuation levels corresponding to record low interest rates and inflation expectations. With rising wage and price expectations creeping into developed markets, we believe we have seen the long-term lows in long-term interest rates. This should be a new secular rising interest rate theme for us with lots of trading opportunity.
With unsustainably high debt-to-GDP levels in developed economies, rising inflation is a powerful reconciling force for deleveraging debt-to-GDP. Yet the global developed bond markets today are still priced for the deflation-minded investor set. Inflation is ultimately what the central bank quantitative easing experiments of the last eight years will create. As investors move from a deflationary mindset, we believe we will see rising interest rates on the long-end of the yield curve.
As a further catalyst, for many years, G20 central banks were net buyers of foreign sovereign debt. That trend peaked in 2014 at a record 7.9 trillion USD in worldwide foreign reserves. In the last two years, net global foreign reserve holdings among the G20 declined by more than $1 trillion, predominantly due to Chinese selling. The last time net G-20 central banks sold foreign reserves was during the Asian Financial Crisis in 1997. China is at the helm of another Asian crisis unfolding today. Continued net selling of global foreign reserves held by China will exert upward pressure on sovereign bond yields in the US, UK, Japan, and Germany.
In our Global Macro Fund, we have been short long-duration US Treasuries, UK Gilts, German Bunds, Italian Government bonds, Japanese Government bonds through the futures markets. We believe such shorts are a contrarian, low cost of carry, high reward-to-risk way to get exposure to currently rising global inflation. What could possibly go wrong in the wake of the record eight-year global central bank quantitative easing experiment?
We briefly discuss each of these positions below:
In the US, monetary policy has been ultra-accommodative to boost economic growth since 2009. The Federal Reserve has kept real interest rates well below their theoretical natural rate for eight years, giving us confidence to believe in a rising inflationary environment going forward. Also, lower taxes under Trump are likely to worsen the government deficit which will put upward pressure on Treasury yields.
With the realities of Brexit sinking in, we believe the weakness in UK government bonds will continue. The UK has a large current account deficit and a weakening currency, which is contributing to rising consumer prices even while it is still part of the EU. Possible import tariffs imposed by the EU under a "hard Brexit" could make inflation even worse. From February of 2016 to now, UK 5-year breakeven inflation rate has almost doubled — increasing over 130 basis points. 10-year Gilt yields are still only 1.3%. We expect UK government bond yields to go up much further.
Eurozone issues are complex. We question the effectiveness of a single central bank monetary policy being applied to member countries operating under vastly different economic fundamentals. For example, Germany, a country with near full-employment and pressured by increasing inflationary rates, is operating under extreme accommodative monetary policy. The 10-year bund yield of only 0.3%! Italy, with a long-standing debt problem and unemployment rate at 11.5%, has a 10-year yield that has recently bounce off historic lows but is still only 1.9%, lower than USTs. In our view, neither of these yields are worth the risks of being long these bonds.
At a 0.1% yield on the 10-year, we see an asymmetric risk/reward ratio in being short long-term Japanese government bonds (JGB's). Bank of Japan has monetized over $4.3 trillion in assets, 82% the size of its economy. With government

<!- Push Monkey code -->