This has proven to be a very effective gauge of where the trend in NFP is going to go…..bottom line is we can expect to continue to add jobs
"Davidson" submits:
Of the many indicators of economic activity available the ASA Staffing Index continues to provide one of the more timely measures available. It is issued weekly and its multi-month trend has proven a good forecast to other well known economic measures.

The 2014 trend is the TURQUOISE LINE which is not only trending higher than last year's levels, 2013 PURPLE BLUE LINE, but also is trending higher than that of 2007 GREEN LINE, which reported the highest level of activity ever reported for this index.

With investments, I believe that it is the simplest relationships which are the most important. Rising employment is the NUMBER 1 measure of economic expansion. Individuals gaining employment at any level have more money with which to stimulate further economic expansion.

Stocks rise/Bonds fall with economic expansion.

I think we overthink the details presented to us hourly in the media. Many fail to visualize the underlying economic trend which moves at a snail's pace in comparison. Many think that slight wiggles in the monthly economic data spell out the remaining economic cycle when in fact they only represent the innocuous statistical limitations of measurement.

The ASA Staffing Index is good as a forecasting tool for economic trends. We can see a recent slight dip which can be correlated to our recent spate of harsh winter weather, but there is no impact discernible from Russia's invasion of Ukraine.

All remains a go for future economic growth in my opinion and my best guess is that expansion is likely to be continued by housing and general construction trends for the next 5yrs-7yrs. SPDR S&P 500 ETF Trust (NYSEARCA:SPY)
Here is my chart that I think better illustrates the growth: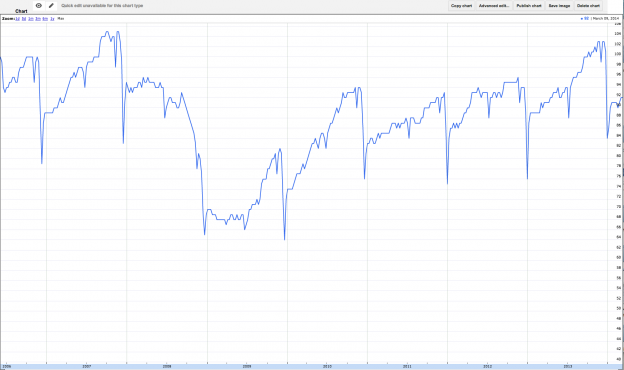 We are comfortably ahead of each of the last 6 years
Via: valueplays
Like Us On Facebook - For Business And General News: ValueWalk - For Tech And Science News: ValueWalk Tech - For Tech Insights, Technical Questions and Queries: Follow Our COO, Sheeraz Raza.