Hottest links for Friday November 22nd, 2013 the very late edition (see Thursday's edition of hottest links). Get our free daily newsletter (which HAS BEEN RECENTLY UPDATED) and never miss a single linkfest. Also, now if you sign up you will get our new e-book on value investing.
Top stories for today are included below. Lots and lots of great Robin Hood coverage please do not miss it! Lots of other great stories as well, see them below.
Hottest Links: Stories
Book Reviews
Empty Suits
Abacab Fund Sees Mispricing In Options As Black-Scholes Has Become "Inadequate"
Abacab Asset Management's flagship investment fund, the Abacab Fund, had a "very strong" 2020, returning 25.9% net, that's according to a copy of the firm's year-end letter to investors, which ValueWalk has been able to review. Commenting on the investment environment last year, the fund manager noted that, due to the accelerated adoption of many Read More
I attempted to describe an Empty Suit before when I explained The Fragilista. Vergil Den, however, does a much better job. In The Simple Man's Burden he explains the concept of Empty Suits. [Shane Parrish, Farnam Street]
Value Investing
You Might Have Really a Long Time Horizon to Invest
The Atlantic published an interesting graphic recently on how the average life expectancy has changed from 1880 to today. [Ben, A Wealth Of Common Sense]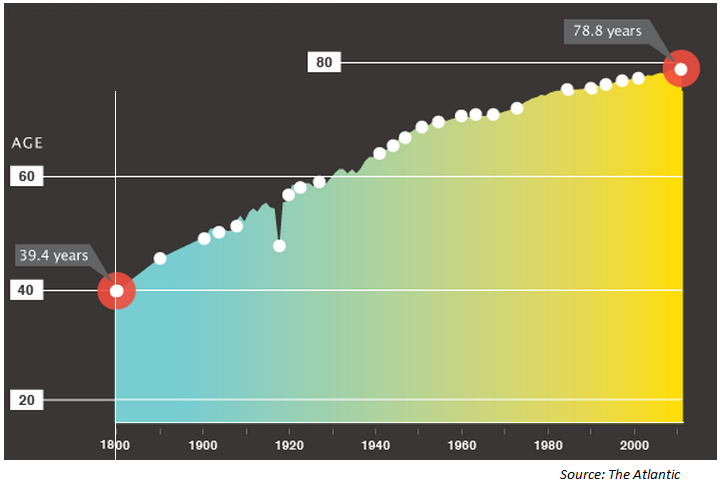 How To Teach Your Kids About Money
Warren Buffett is one of the most famous billionaires in the world. He also loves sharing his advice with kids as part of his Secret Millionaires Club. Here, he answers five questions, including what he thinks the biggest mistake is that parents make when teaching their kids about money and how he learned about money. [Warren Buffett, CNBC]
Nobelist's Valuation Measure Draws Questions
Bubble-hunting economist Robert Shiller's stock-market valuation measure is waving a yellow flag, but there is a debate brewing over whether even that is too alarming a picture. [Alexandra Scaggs, Wall Street Journal]
Funds
An Alternative to Shiller CAPE
The chart below compares the KAPE to the Shiller PE for the S&P 500 (INDEXSP:.INX).  It mostly tells the same story, but with a little less volatility. [Scott Krisiloff, Avondale Asset Management]
Hendry Reveals Why He Has Turned Bullish
Eclectica hedge fund manager Hugh Hendry has said he has been forced to leave his bearish outlook behind as he faces up to a market "which only makes sense through the prism of trends". [Dan Jones, Investment Week]
Corporate Credit Markets Back To Frothy Levels
In September however an event in the bond markets brought investors back. Verizon Communications Inc. (NYSE:VZ)'s massive bond sale went so well, the whole investment grade universe perked up. [Walter Kurtz, Pragmatic Capitalism]
US Gas Loses Thrill For Hedge Funds
The spread between US natural gas futures for delivery in winter and those in other seasons used to be known.. [Jack Farchy, FT]
FINRA Is Cracking Down on 'High-Risk' Brokers
Under pressure from Washington to crack down on rogue stockbrokers, the Financial Industry Regulatory Authority is highlighting a fast-track program it began earlier this year to go after what it calls "high-risk brokers." [Jean Eaglesham and Rob Barry, The Wall Street Journal]
The Spillover Benefits of Hedge Fund Activism
After one company is targeted by activist investors, its industry peers tend to proactively make policy and governance changes to ward off similar attacks, according to a study. [Sage Um, aiCIO]
Why Guru ETFs Beat Human Gurus
Wall Street is no place for shrinking violets, but even by New York standards, Jason Ader has some serious chutzpah: he said today that "the proliferation of index funds and exchange traded funds" helps activist investors like himself make money. [Felix Salmon, Reuters]
Gold Miners Versus Gold
Market Vectors Gold Miners ETF (NYSEARCA:GDX), which got within 2 cents of its 5-year low on Thursday, is up 1.2% to $22.77 Friday morning. SPDR Gold Trust (ETF) (NYSEARCA:GLD) is ahead by 0.3% yo $120.28, bouncing off a four-month low. Leveraged ETFs Direxion Shares Exchange Traded Fund Trust (NYSEARCA:DUST) and Direxion Shares Exchange Traded Fund Trust (NYSEARCA:NUGT) are moving a little more than 3% apiece. iShares Silver Trust (SLV) is down a penny at $19.23. [Brendan Conway, Focus on Funds]
Misc
Quant Giant RenTec Has Best Month Ever In October
The following table showing the monthly return of quant giant Rentech, Inc. (NASDAQ:RTK)'s chief equity fund open to the outside world, the Renaissance Institutional Equities Fund (RIEF B), whose AUM has ballooned to $8.7 billion in the past few years, will come as a shock. [Tyler Durdun, ZeroHedge]
Berkowitz, Ackman Bets On Fannie And Freddie Puzzle Investors
On Thursday, the United States threw cold water on Bruce Berkowitz's daring proposal to recapitalize mortgage finance behemoths Fannie Mae / Federal National Mortgage Association (OTCBB:FNMA) and Freddie Mac / Federal Home Loan Mortgage Corp (OTCBB:FMCC), saying the only way to revamp the home loan market is through proper housing finance reform. [Katya Wachtel, Reuters]
Are Diploma Shares A Good Investment At 700p?
The businesses are run as separate business units in a decentralised fashion to enable them to react to their individual markets more effectively. The chart below shows Diploma PLC (LON:DPLM)'s financial results for the past few years. [John Kingham, UK Value Investor]
No Time Like The Present At Aeropostale
There's been a lot of speculation about Aeropostale Inc (NYSE:ARO) lately, with institutional investors swooping in to try to right the troubled teen retailer. [Footnoted]
Hottest Links: Not The Onion
Tarpon Springs Woman Jailed
A 36-year-old woman accused of killing a duck by running over it with her car was arrested over the weekend. [Tampa Bay Times]