Hottest links for Monday November 25th, 2013 the late edition (see weekend's edition of hottest links). Get our free daily newsletter (which HAS BEEN RECENTLY UPDATED) and never miss a single linkfest. Also, now if you sign up you will get our new e-book on value investing.
Top stories for today are included below.  Today, we've got Jim Cramer saying wacky things, Warren Buffett on how he generates his stock ideas, and the Supreme Court deliberating on SOX's clarification for whistle-blowers in private companies.
Hottest Links: Stories
Value Investing
Supply and Demand
Star hedge fund macro trader Colin Lancaster warns: Inflation is back
Talk of inflation has been swirling for some time amid all the stimulus that's been pouring into the market and the soaring debt levels in the U.S. The Federal Reserve has said that any inflation that does occur will be temporary, but one hedge fund macro trader says there are plenty of reasons not to Read More
Same amount of money chasing reduced supply = PE multiple expansion. [Mebane Faber]
How to Generate Stock Ideas
In an interview with Warren Buffett in 1993, Adam Smith, author of Supermoney, asked how the small investor can find good investment ideas. Here is how the screening and its output look like… [Safal Niveshak]
A Dozen Things I've Learned from Bruce Berkowitz About Investing
"We don't predict. We price. Predictions are terrible."  Value investors put predictions, especially macroeconomic predictions, in the "too hard" pile. Ben Graham and his disciples have developed a system which avoids doing things that are "too hard." [Tren Griffin, 25iq]
ModernGraham Valuation: Bemis Company (BMS)
Bemis Company, Inc. (NYSE:BMS) has fairly healthy financials and appears to be a good company, but the earnings history is not as strong as one would like to see.  The company only passes five of our seven tests for the Defensive Investor, having failed the earnings growth test and the PEmg test. [Benjamin Clark, Modern Graham]
Key Data:
| | |
| --- | --- |
| MG Value | $22.44 |
| MG Opinion | Overvalued |
| Value Based on 3% Growth | $26.21 |
| Value Based on 0% Growth | $15.36 |
| Market Implied Growth Rate | 6.69% |
| NCAV | -$8.88 |
| PEmg | 21.88 |
| Current Ratio | 2.40 |
| PB Ratio | 2.41 |
Funds
A 'Second Wind' for Earnings Could Quiet the Bears' Huffing
You've heard the talk that stocks are now in or will soon enter a bubble, with warnings of varying urgency coming from Carl Icahn, Jeremy Grantham and Doug Kass. In a Bloomberg Global Poll this week, 65% of respondents said they see global equities as being either in or near a bubbly state. [Michael Santoli, Yahoo Finance] Related; Volatility in stocks will always exist, but standard ups-and-downs don't equate to a bubble. The fact of the matter is if you are reading about bubble headlines in prominent newspapers and magazines, or listening to bubble talk on the TV or radio, then those particular bubbles likely do not exist. [Investing Caffeine, ValueWalk]
Is the Rally in the S&P 500 (INDEXSP:.INX) Bigger Than Usual Historically?
The Stock Market tends to be 'mean reverting' … meaning when the pendulum swings too far in one direction, it makes sense to expect it to swing back in the other direction. Recently, the equity market rally has surprised people with its size and duration.  Seemingly everywhere I go, there are traders talking about how they expect a 'Top' but "don't want to fight the Fed." [Howard Getson, Capitalogix]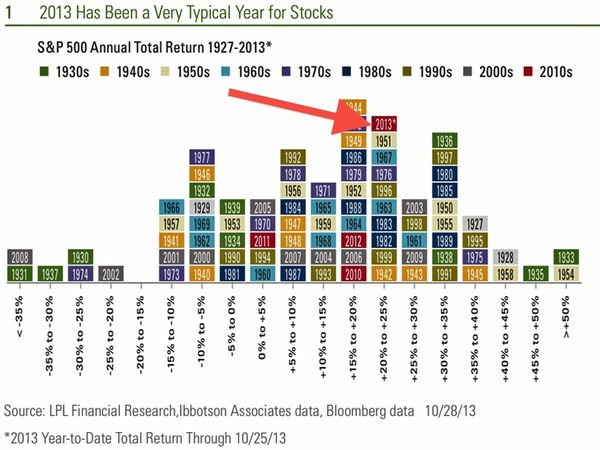 Burned Short Sellers Adjust as Stocks Keep Rising
The U.S. stock market is at all-time highs. Technology stocks have surged, from Twitter Inc (NYSE:TWTR) to LinkedIn Corp (NYSE:LNKD) to Facebook Inc (NASDAQ:FB). Even individual investors who doubted the staying power of the rally are now pouring money into stocks. [Gregory Zuckerman, MoneyBeat]
Decisions Under Uncertainty
One way to realize how ignorant we are is to look back, read some old newspapers, and see how often the world did something that wasn't even imagined. [Shane Parrish, Farnam Street]
DB vs DC Savings: About 3% per Year
Freezing a corporate defined benefit (DB) pension plan would save 3.1% of total firm assets, on average, over a 10-year time horizon, researchers have said. That figure was the net savings calculation, and takes into account the additional defined contribution (DC) matching payouts that most firms take on after closing their pension programs to new members. [Leanna Orr, aiCIO]
The Big Hedge Funds' Greatest Exposures
As of September, exposure to equity risk accounted for 34.4% of the 30 funds' total portfolio risk, according to eVestment's analysis. Fixed income contributed 59.3%, weighted heavily by large allocations to mid- and high-grade corporate bonds. Laurelli wouldn't reveal the full list of funds in the top 30, but it is sure to include giants such as Bridgewater Associates, AQR, Citadel, DE Shaw, Moore Capital, and Brevan Howard Asset Management. [Leanna Orr, aiCIO]
AIG Tarp Warrants
The case for American International Group Inc (NYSE:AIG)'s common equity has been laid out very well by some high-profile value investors. This write-up will mainly focus on the AIG TARP warrants, which everybody knows about now but remain poorly understood. [Stevenoops, Value Venture]
China A-Share ETF ASHR's Textbook Launch
Two weeks ago, Deutsche Bank AG (NYSE:DB) (ETR:DBK) launched the db X-Trackers Harvest CSI 300 China A-Shares Fund (NYSEARCA:ASHR). The second big—and positive—surprise was how it has traded. Here's the opening salvo so far: [Dave Nadig, Indexd Universe]
Did Cramer Really Just Say That?
What Jim Cramer said in a rapid-fire segment on CNBC's Squawk on the Street (and I'm paraphrasing): Forget the fundamentals, the crummy earnings quality, the business model concerns — all of that kind of stuff short-sellers talk about. All that really matters is that "Green Mountain Coffee Roasters Inc. (NASDAQ:GMCR) is selling Keurigs" and that "Herbalife is generating cash flow" and that the "hedge funds short it are only talking their books, so best to ignore them." [Herb Greenberg, The Street] Related; Bill Ackman renewed his short attack on Herbalife Ltd. (NYSE:HLF) today at the Robin Hood Investors Conference. [ValueWalk]
Argentina's Stock Market Is All About US Dollars
In Argentina's stock market, investment decisions are based mainly on the behavior of the US dollar/Argentine peso exchange rate. [Santiago Padua, CFA Institute]
Formaldehyde & Search Warrants
After a brief rally in Q1-11, Lumber Liquidators Holdings Inc (NYSE:LL) shares were effectively cut in half over the next couple quarters, before bottoming at $13.43 and rallying to a high of $120 earlier this year!! [Christopher Pavese, The View from the Blue Rigde] ValueWalk received the following email from Whitney Tilson regarding his short position in Lumber Liquidators Holdings Inc (NYSE:LL). [ValueWalk] Lumber Liquidators is fighting back against hedge fund manager Whitney Tilson's attack on the company and its sourcing practices. [Maureen Farrell, MoneyBeat]
Misc
Why Markets Deserve To Know Audit Partner Names And More
The discussion of naming the lead engagement partner goes back way beyond a first proposed rule in October 2011. Taking a look at the docket for this proposed rule we see that there was a concept release proposed in July of 2009. [Francine McKenna, re: The Auditors]
Selling Below Net Cash
I was purchasing shares of Karnalyte Resources Inc (TSE:KRN) on Friday as the stock trades below net cash. This activity was part of a diversified portfolio. Datawatch Corporation (NASDAQ:DWCH) continues to post operational performance far beyond my expectations. Notable value based insider purchases last week were from the following stocks HORSEHEAD HOLDING CORP. (NASDAQ:ZINC), Farmer Brothers Co. (NASDAQ:FARM), Revett Minerals Inc. (TSE:RVM), Ikanos Communications, Inc. (NASDAQ:IKAN). [ShadowStock]
Here's What Business Insider Readers Like For Financial TV
Over 2,600 people responded to Business Insider's survey on financial TV, and question after question Bloomberg TV beat out CNBC and Fox Business News as the preferred channel among those polled. [Linette Lopez, Bloomberg]
USA Today Thinks We Should Sell Business Insider!
Media guru Michael Wolff wrote a column in USA Today suggesting that we should sell Business Insider. [Henry Blodget, Business Insider] Related; Michael Wolff has a weird column about Business Insider today. (Near the top, he says that Henry Blodget can be seen "at nearly every industry cocktail party", which is hilariously wrong, Blodget hates going to such things, and almost never does.) [Felix Salmon]
Supreme Court Considers Whether SOX Protects Private Company Whistle Blowers
On Nov. 12, 2013, the Supreme Court heard oral arguments in Lawson v. FMR LLC, a case in which the Court is expected to clarify whether the whistleblower protections of the Sarbanes-Oxley Act ("SOX") cover employees of private companies that contract with public companies. [Noam Noked, Harvard Law School Forums]
Hottest Links: Not The Onion
Brits fear drop in home prices
Residents in one British town fear their house prices are about to plummet because their streets look like male genitalia when viewed from above. [Lee Moran, Daily News]