Hottest links for Friday October 25th, 2013 the on time edition (see Thursday's edition of hottest links). Get our free daily newsletter (which is being updated to make it even better) and never miss a single linkfest.
Top stories for today can be found below. Today some good valuation pieces including two on Teledyne; On the other hand, value investors are finding less bargains these days and putting their money into cash; However, if you want to try your luck.. Sydney housing prices are up at a rate of 30 percent CAGR, but many Indices worldwide are still not near their all time highs. That and much more in hottest links.
Hottest Links
Value Investing
Is the Next Teledyne the Old Teledyne?
Dan Sundheim Founder Of D1 At Sohn 2021 On His Favorite Stock
At this year's Sohn Investment Conference, Dan Sundheim, the founder and CIO of D1 Capital Partners, spoke with John Collison, the co-founder of Stripe. Q1 2021 hedge fund letters, conferences and more D1 manages $20 billion. Of this, $10 billion is invested in fast-growing private businesses such as Stripe. Stripe is currently valued at around Read More
Since I read the outsider CEOs book I got to thinking about Teledyne again.  I am embarassed to say that I have the book, Distant Force: A Memoir of the Teledyne Corporation and the Man Who Created It, by George A. Roberts (published in 2007), but haven't read it yet. Teledyne Technologies Incorporated (NYSE:TDY) id still listed and it has been doing quite well. As Buffett would say, here lookit: [KK, The Brooklyn Investor] Related
Teledyne Case Study of Capital Allocation
Warren Buffett, quoted in John Train's The Money Masters, virtually crowned him king. "Buffett," Train reported, "considers that Dr. Henry Singleton of Teledyne Technologies Incorporated (NYSE:TDY) has the best operating and capital deployment record in American business." [Tannorpilatzke, Outlier Allocators]
Sold Enzon (ENZN) And Other Portfolio Notes
I've finally bitten the bullet with Enzon Pharmaceuticals Inc (NASDAQ:ENZN). Last week I sold the entire position at $1.70/share as I finally had to admit that the original investment thesis simply hadn't worked out.  [Long Term Value Blog]
Prizes, Blind Valuation, and Some Bank Stories
I have personally witnessed people get squeezed on loan terms, covenants, and interest rates by banks who were in financial distress, and have myself even been squeezed on interest rates and terms by a bank in the bluegrass that was under a lot of pressure from the FDIC… [Jeff, Ragnar Is A Pirate]
Weitz to Yacktman Hold Cash as Managers Find Few Bargains
"It's more fun to be finding great new ideas," Weitz, whose $1.1 billion Weitz Series Fund Value Fund (MUTF:WVALX) had 29 percent of assets in cash and Treasury bills as of Sept. 30, said in a telephone interview from Omaha, Nebraska. Weitz, whose cash allocation is close to the highest it's been in his three-decade career, joins peers Donald Yacktman and Charles de Vaulx in calling bargains elusive with stocks near record highs. [Charles Stein, Bloomberg]
The Problem with Buybacks
In the report Goldman Sachs Group Inc (NYSE:GS) demonstrates how focusing on total cash distributions to shareholders has performed better than dividends or buybacks alone (shareholder yield book readers already know this). [Mebane Faber]
Books
The Everything Store: Jeff Bezos and the Age of Amazon
I really enjoyed Brad Stone's The Everything Store: Jeff Bezos and the Age of Amazon. Anyone who wants to better understand the dynamics of disruption or just gain a better understanding of the website we've come to love, must read this book. [Shane Parrish, Farnam Street]
Activism/Hedge Funds
Activist Bet on Evercore Would Have Beaten One on Lazard
Nelson Peltz must be happy with his stake in Lazard Ltd (NYSE:LAZ). The activist investor jumped into the stock early last year. Since then, Lazard's stock has gone up 50 percent, and its third-quarter results on Thursday show the firm is on the right track. [Antony Currie, DealBook]
Hoplite Capital Adds to H&R Block Stake: Q3 Letter
John Lykouretzos' hedge fund Hoplite Capital is out with its Q3 letter.  In it, we see that they added to positions in SeaWorld Entertainment Inc (NYSE:SEAS), Monster Beverage Corp (NASDAQ:MNST), and H & R Block Inc (NYSE:HRB) during Q3 as shares sold off but their theses remain unchanged. [Market Folly]
Accounting
I See Your Footnote 88, and Raise You Footnote 513
London-based ICAP plc (LON:IAP) (OTCMKTS:IAPLY), one of the largest swap brokers, told the banks it didn't agree with their interpretation, said the people, who spoke on condition of anonymity because the discussions weren't public. [Craig Pirrong, Streetwise Professor]
'Hempton's Fork': The Herbalife Fallacy
A week from Monday we are told that Herbalife will reclassify its most junior distributors with no downline as "members." Investors like John Hempton at Bronte Capital point to their personal experiences visiting a Nutrition Club to see people consume F-1 in real life as evidence that Herbalife Ltd. (NYSE:HLF) is not a pyramid scheme. [Matt Stewart, Seeking Alpha]
Bubbles
Australia: Sydney Housing Price Gains
Find below the latest RPData daily house price chart for Sydney up to the dayOver four months it has added 10%, an annualised rate of 30%. [Climateer Investing]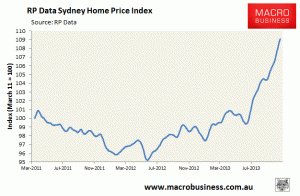 IPO Follies: Mistakes 'R' Us In New ETF
Consider the most recent IPO on the street, VOXELJET AG (NYSE:VJET). VJET priced at $13 on Oct. 17. Today is the fifth day of trading, so the issue should become one of IPO's holdings tomorrow. [Dave Nadig, IndexUniverse]
| | | |
| --- | --- | --- |
| Index | All Time highs? | 2013 highs? |
| Dow Composite | No | No |
| Dow Transports | Yes | Yes |
| Dow Utilities | No | No |
| Nasdaq 100 | No | Yes |
| Russell 1000 | Yes | Yes |
| Russell 2000 | Yes | Yes |
| Russell 3000 | Yes | Yes |
| S&P 100 | No | Yes |
| S&P 400 Mid Caps | Yes | Yes |
| S&P 600 Small Caps | Yes | Yes |
| Wilshire 5000 | Yes | Yes |
| EAFE | No | Yes |
| EEM | No | No |
| Brazil | No | No |
| China | No | No |
| France | No | Yes |
| Germany | No | Yes |
What Indices Are At All Time & 2013 Highs?
A hedge fund manager friend had mentioned a research report that had noted the Dow Jones Industrial Average (INDEXDJX:.DJI), FTSE 100 (INDEXFTSE:UKX) and Nikkei 225 (INDEXNIKKEI:NI225) were at neither all time nor 2013 highs. [Barry Ritholtz, The Big Picture]
Silly Little Bitches
It only took five years, $2.5 trillion in stimulus and 140% in S&P 500 (INDEXSP:.INX) gains for you to go right back to acting like a silly little bitch again with your money. [Joshua M Brown, The Reformed Broker]
Misc
How The "Navy SEALs" of Trading Are Taking on Predatory Robots
A plague of predators are eating away at Americans' retirement funds. But the "Navy SEALs" of trading are here to help. [Simone Foxman, Quartz]
Bank Born Out of Black Death Struggles to Survive
Banca Monte dei Paschi di Siena SpA (BIT:BMPS), Italy's third-largest lender, is struggling to survive as it seeks to repay a second bailout or face nationalization The investment banks, including Merrill Lynch & Co., JPMorgan Chase & Co. (NYSE:JPM) and Deutsche Bank AG (NYSE:DB) (ETR:DBK), earned more than $200 million in fees from 2008 through 2011, filings and deal memos show. [Elisa Martinuzzi & Vernon Silver, Bloomberg]
Hottest Links: Not The Onion
Attorney General Against Underage Drinking Fails
Maryland State Attorney General Doug Gansler's been busted being at a teen party and doing nothing to stop the likely rampant underage drinking that was all around him. How "likely"? Well, here's a photo of him obtained by the Baltimore Sun, you tell me whether you think underage drinking was taking place. [Elie Mystal, Above The Law]