"Davidson submits:
The media has been reporting over and over that the "Market rise is due only to low rates set by Fed Reserve". And that, "The markets (SPDR S&P 500 ETF Trust (NYSEARCA:SPY)) are set to collapse at any moment."

Industrial Production Index tells a different story! The chart below comes from the St. Louis Fed economic data site FRED. The link for the Industrial Production Index is St Louis Fed IndPro. The Industrial Production Index is based on the total production of goods and services in the US. In 2009 during the recession this measure had fallen from the high of 100.82 posted in December 2007 to a low of 83.75 posted in June 2007. The most recent report was for March 2013 where it stands at 99.04 and it is in an observable trend where one can see it hitting all-time highs within the next 2mos-4mos.

Despite 60% Loss On Shorts, Yarra Square Up 20% In 2020

Yarra Square Partners returned 19.5% net in 2020, outperforming its benchmark, the S&P 500, which returned 18.4% throughout the year. According to a copy of the firm's fourth-quarter and full-year letter to investors, which ValueWalk has been able to review, 2020 was a year of two halves for the investment manager. Q1 2021 hedge fund Read More

Contrary to the media reports that there is no economic evidence to support the markets at the current level, the current Industrial Production Index is at 2007 levels. Not only is Industrial Production at the 2007 level, the trend is threatening to break through to new all-time highs any month now. The current Industrial Production Index indicates a level of economic activity which should at least support markets near 2007 levels which is exactly where we are today.

The Industrial Production Index shows all indications of driving higher as do Light Vehicle Sales, Employment and Housing activity. Historically, these trends have meant higher and higher equity prices which is precisely what we are witnessing this week.

The economic evidence indicates today that equity prices should move higher until economic activity comes to a natural stall somewhere in the ~4% Real GDP pace of growth range. This still appears to be ~5yrs in the future in my opinion, but the various economic indicators should alert us when to become more prudent when the time arises to become so.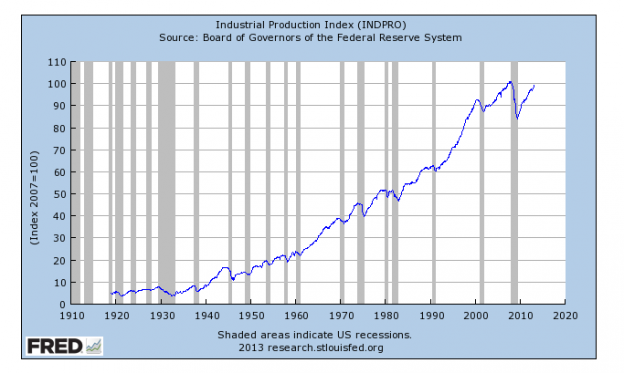 By: valueplays