Total N. American rail traffic came in at 702k cars last week maintaining current levels for the past 4 weeks (not an unusual pattern). This report is pre-Sandy, so I would expect the numbers for the next few weeks to be wholly inaccurate for YOY comps. Again, if we adjust for the decrease in coal traffic, we have YOY growth in volumes. I have not heard reports on rail conditions yet, but given the widespread flooding we have seen, I think it is more than likely that we have some damage out there and that it will effect volumes over the next few weeks. Even road or warehouse damage at ports will affect rail traffic. More when I hear anything
That being said, last week's #'s do show an economy that continues to grow, albeit at a slow pace. This is backed by today's ISM report and initial claims numbers.
Here is the chart: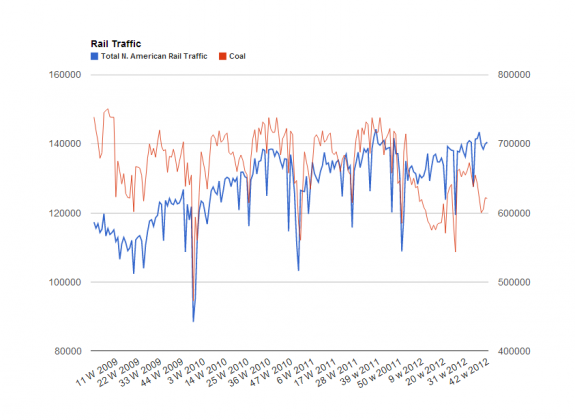 By: valueplays
Like Us On Facebook - For Business And General News: ValueWalk - For Tech And Science News: ValueWalk Tech - For Tech Insights, Technical Questions and Queries: Follow Our COO, Sheeraz Raza.