Total N. American rail traffic was flat again last week at 690k cars (vs 693k week prior). I got a little fancy with the charts this week (fancy for me) and combined them into one. I think it gives us a better look at the coal/rail correlation and why the current numbers, while on an absolute basis do not look strong in reality are.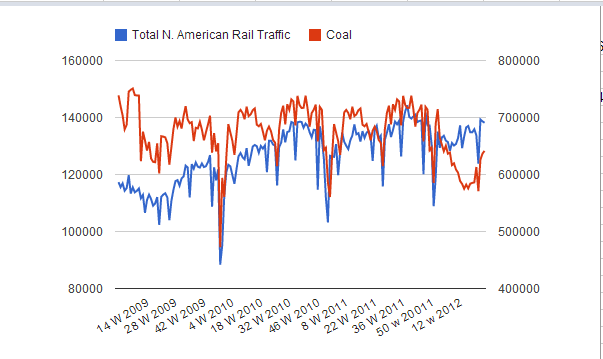 Were we at historical coal shipping levels (last 3 years), total rail traffic would have been >700k cars for much of this spring/early summer. Again, as we have said throughout this time period, growth….not great growth, but growth nonetheless.
One interesting data point. Lumber (Forrest products category) has not made an appreciable move yet. I would expect that to begin soon as home builders begin to ramp up production to meet increasing demand from home buyers. We have seen the housing numbers and new home starts and those going under contract as rising at an increasing rate. It is only a matter of time before that starts to show in the rail data.
All in all benign but in no way negative data
By: valueplays