The EU is dominating the news but behind that is continued strength in US labor markets. We are seeing it in new housing demand, oil/gas drilling, auto production (new plants being built and shifts added) and elsewhere.
"Davidson" sumbits:
Apollo Global is no longer the "king of distress": Josh Harris
Historically, Apollo Global has been known as the king of distressed investments for its track record of taking distressed assets and turning a profit on them. However, the pandemic has changed the firm's approach to the markets, at least temporarily. Q2 2020 hedge fund letters, conferences and more At CNBC's Institutional Investor Delivering Alpha Conference, Read More
The Conference Board released its Help Wanted Online Index (HWOL) this morning revealing that the trend from May 2009 continues to be strong. The release can be viewed as a pdf using this link: http://www.conference-board.org/data/helpwantedOnline.cfm

"The Supply/Demand rate stands at 2.6 unemployed for every vacancy. In May the number of unemployed was 7.7 million above the number of advertised vacancies — compared to 10 million above in the fall of 2011.

"After rising 564,000 over the last five months, labor demand dipped in May. Despite this drop, strong employer demand has created growing opportunities for both job-changers and the unemployed and has also helped significantly lower the unemployment rate," said June Shelp, Vice President at The Conference Board. In May over half of the 50 States are now posting advertised vacancies that are above their pre-recession highs. The largest gains were in the Midwest with Michigan up 53 percent from its pre-recession high. Other Midwestern States with increases above 40 percent include North Dakota (46%), Indiana (44%), and Ohio (41%)."

As usual it is the direction and strength of the trend over the past 12mos which is important (viewed in conjunction with other labor demand indicators) and not whether a particular month is higher or lower than the previous month.

The HWOL has been a good forecaster of future employment trends and today's report indicates that the employment indicators should be higher in the months ahead. Recent anecdotal reports of increased auto sales and housing demand support expectations of higher employment growth.

At this point in the economic cycle with investor expectations still pensive, positive economic surprises have a history of driving equity prices higher.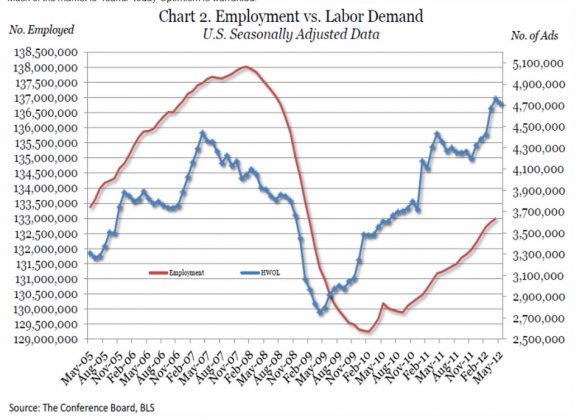 When we add this to the latest Temp Staffing Index that shows temp employment accelerating again, it is clear demand for labor is there and firms are indeed adding to payrolls. At a level of 94 the index has now passed the end of the year high levels (normally peak temp employment) for the past three years.
The index began this acceleration in early March. That correlates to a June time period in which we ought to see NFP numbers start to once again improve over current levels which have flat-lined as of late that was also predicted by the temp help index doing the same thing late Jan through Feb.  For the record this is nothing new here, we have been saying since April that we expected June NFP to start to show more improvement. Remember the index has a 3-4 month lead time.
Here is the multi-year comparison in several charts: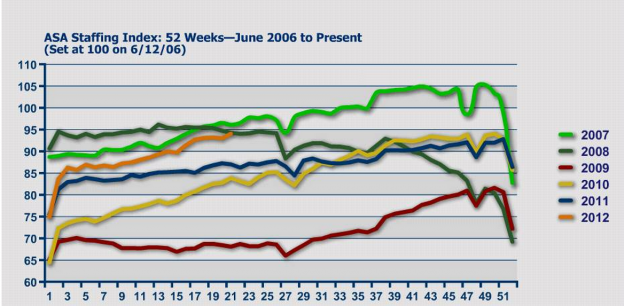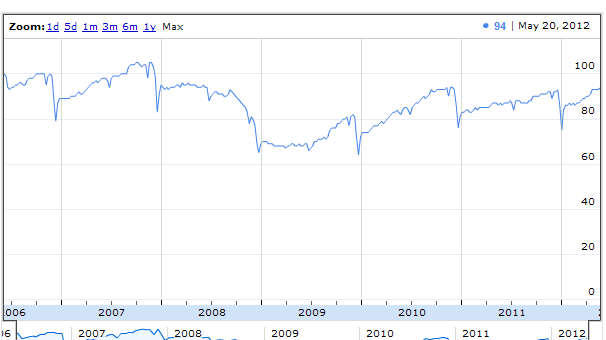 By: valueplays