By Global Slant
There is no better news distributing medium for the relentlessly whining Prez-Elect than the relentlessly cash burning Twitter.
How ironic is this?
Technology's left leaning Silicon Valley Nerds created the perfect communication platform for the Prez Elect…assisting their political enemy to the most powerful/influential position on the planet.
And for someone who frequently reminds the American public how intelligent, he believes, he is Trump's multiple tweeting spelling miscues are just another gaping hole in his Swiss Cheese life…a lot of air without much substance…oh so perfect for 2017 Americ'er.
Like him or not the Twitter platform isP erfect for the "media victim" Trump so frequently claims to be.
Likely Reasons Trump Prefers To Tweet:
1. Un-Edited
2. Broadly Distributed
3. No Meaningful Cost
4. Controlled Time Release
******************************************
I truly wonder how Twitter co-founder Jack Dorsey feels about Trump's fondness for tweeting. Not only did his company help Donny T. distribute his polarizing message…but he also helped to reduce much of Americ'ers reading attention to a maximum 140 characters.
How efficient…or maybe…how deficient Americ'er has become?
A deficit in attention, literacy and adherence to facts…as just about anybody can post and boast on Twitter without much interference …which is Trump-Perfect.
And so it seems Trump + Dorsey = Un-Official/Un-Intended Partners in "Dumbing Down" Americ'er.
******************************************
However in this quasi-partnership the ultimate leverage resides with Dorsey and Twitter's liberal San Francisco editorial staff…as in… they could simply delete Trump's Twitter account whenever they'd like…immediately cutting off his crucial propaganda channel.
It would be SO LIBERAL + SO POLITICALLY CORRECT + SO CONSISTENT with Dorsey's quote in the titled photo. Throw a dart at any of Trump's collective tweets and you are likely to find, at least, some HATE/INSULTS/BASELESS & INFLAMMATORY COMMENTARY.
The plain explanation from Twitter could be = "You are a mean spirited, overly sensitive bully. And you also peddle in a lot of fabricated information. So, since we reserve the right to refuse service to anybody, YOU ARE FIRED FROM TWITTER…sort of like the FIRING'S on your Apprentice television program. We really do not care if you are the President of the United States. ADIOS Donny."
******************************************
But then Twitter is still burning shareholder cash… so they require all the advertising revenue that Trump's clicks, "likes" and "retweets" can muster. To "FIRE" Trump from Twitter would not only be controversial it could be a financially imprudent maneuver.
However CEO Dorsey Is Far From A Financially Prudent Custodian Of His Stakeholder's Assets.
Dorsey's ONLY regard for "Free Cash Flow" is that which flows into in his PA [personal account]…rather than the ignored company cash flow statements.
******************************************
And Dorsey, like most nerds, seems most well suited pontificating his future technological vision for Twitter while ignoring his company's serially scorched financial earth.
How frustrating it must be to have lassoed > 300M users and still not generate any free cash?
Or maybe not…as Dorsey is actually replicating his TWTR shareholding shredding strategy at Square [SQ]…his other part-time CEO gig.
The All Too Common Nerdy Mission =
1. Burn Through As Much $$ As Possible…As Quickly You Can
2. Give Your Product/Services To Anybody Remotely Interested
3. Tout User Growth To The Bought/Paid for Board of Directors [who are awarded shares at pennies on the $]
4. Create Confusing Non-GAAP Accounting Measurements So That Nobody Really Understands Company Financial Metrics
5. Perpetually Dilute The "Greatest Fools of All" = Public Shareholders = via equity offerings + employee stock options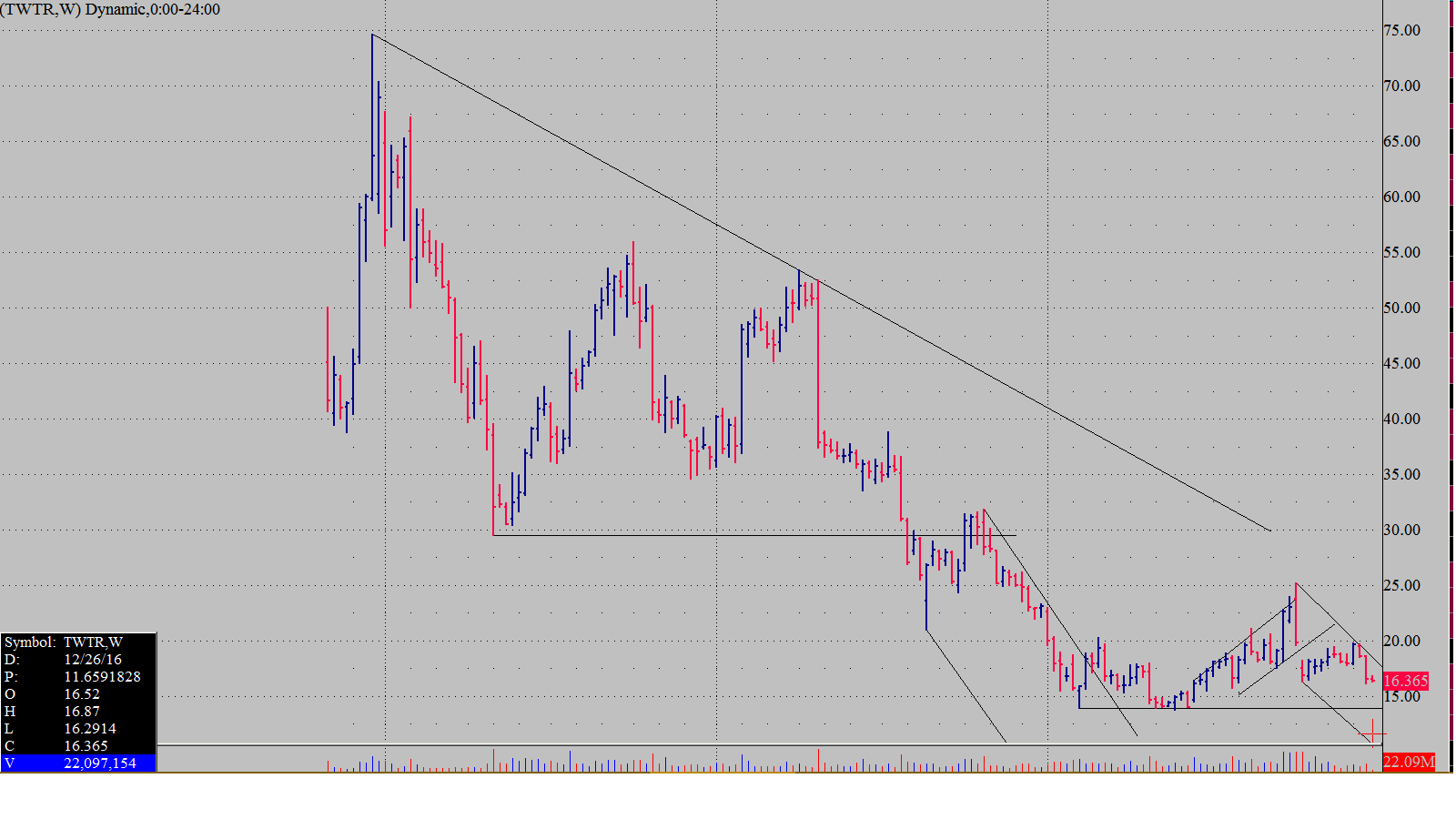 ******************************************
Naturally, Dorsey could not care any less about the financial wherewithal of TWTR…and why should he? He is a modern day billionaire …the kind that aggressively sells his personal stock..while simultaneously "socking" it to public shareholders.
In the meantime the executive suite's exit doors permanently swing at a rapid pace [see below post]
.
So for all of Dorsey's notoriety as a technology visionary, and Disney board member, he really resembles a modern day carpetbagger [sort of like Trump]…albeit dressed sharply in his monochrome black uniform adorned by his hipster/stylish tattoo on his left forearm. It is his world…you just live in it [again…sort of like Trump].
******************************************
Is it any wonder, given the modest similarities, that Supreme Idiot Donny T. discovered Twitter's unedited + broad + free reach?
Donny T's unsolicited opinions on much far ranging, seemingly irrelevant, subject matter [i.e. Saturday Night Live skits + Vanity Fair magazine + Miss Universe's body weight] are definitely fodder for the internet trash pile…not surprisingly…classic Twitter dog pinch.
And his extreme sensitivity to, and insistence on responding, any/all critique…suggest a great concern of being cast unfavorably. In other words = A PERFECT TWITTER USER THAT CANNOT CONTROL HIMSELF. So narcissistic and self-consumed…and NOW JUST LIKE MUCH OF AMERIC'ER.
What a pathetically perfect match. The proud pussy-grabbbing, offshore good manufacturing [Trump apparel] egomaniac framing his divisive political message for Americ'er on Dorsey's money losing/fading/foundering Twitter.
******************************************
Yet despite Twitter's shortcomings many of its users are quite loyal + attentive. Plus, 300M users is nothing to permanently ignore. Especially for a carpetbagger like Trump who is ALWAYS ON THE PROWL FOR SUCKERS. And with 300M in one place the "hit rate" does not have to be too high to make it worth your while.
Well prior to Twitter's existence Trump had already developed his dubious craft/skill of duping people…be it be the students at his scandal ridden Trump University or the contractors/employees at his bankrupted casinos and other losing ventures…still damaging but on a relatively small scale.
Now, as President, the potential damage meter expands toward 100…as the scale-able model has definitely SCALED UP…for Ameic'er. The 50M +/- Americ'ers that voted for him are just his latest, but most dangerous, patsy's…along with the unsuspecting Dorsey.
However there are some folks that see Trump for who he truly is…like Mitt Romney…who aptly stated in March '16: "Here's what I know. Donald Trump is a phony, a fraud. His promises are as worthless as a degree from Trump University."
Never mind that Romney, too, actually fell for the insincere query that Trump might consider him as Secretary of State. Oh, the sweet smell of political seduction.
Trump must have loved placing the phone call to Apprentice Mitt informing him that the Secretary of State role was not his. If it is possible to be fired without ever being hired then this was the case…and we all know Trump loves firing people.
******************************************
So what now for Trump? The suckers are sucked and the grand promises have been made. How is he to achieve his primary policy objectives?
Like ALL POLITICIANS He Has Massively "Over-Promised" and Is Certain to "Under-Deliver".
Let us review Trump's Highly Confident Goals For Americ'er + The Likely Outcomes:
1. Nominal GDP Growth of 5% = Pipe-Dream
2. Meaningfully Increasing American Manufacturing Jobs = Pipe-Dream
3. Levying A Broadly Based Import Tax = Pipe-Dream
4. Building A Wall on The Mexican Border = Possible But Unlikely
5. Simplifying The Tax Code = Possible But Unlikely
6. Lowering Corporate Income Tax = Likely
7. Decreasing Federal Business Regulations = Likely
8. Tougher Immigration Standards = Likely
9. Repealing Obamacare = Likely
10. UTILIZING HIS NEW DC HOTEL FOR OFFICIAL GOVERNMENT BUSINESS = ABSOLUTE CERTAINTY
11. FREQUENTLY INSERTING HIS FOOT INTO HIS MOUTH ON TWITTER = ABSOLUTE CERTAINTY
******************************************
Furthermore, if Romney's brutal assertions about Trump are correct then