Perspective from Franklin Templeton Fixed Income Group®


US Federal Reserve Continues to Wrestle with Rate-Hike Decision
Optimists regarding the US economy received somewhat of a jolt when the latest nonfarm payrolls report showed a sharp downturn in job growth during September, as well as downward revisions to figures for the previous two months. The outsized monthly gains in nonfarm payrolls seen in 2014, when they averaged 260,000, have slowed to average gains of 198,000 in 2015. Snippets of more positive data were buried in the Bureau of Labor Statistics report, such as the broader U-6 measure of unemployment,1 which fell to 10.0% in September from 10.3% in August. In addition, the strong jobs gains of the past mean the economy is required to create "only" about 100,000 new jobs per month to keep up with the population rate, and the headline unemployment rate held steady at 5.1%, which is well down from 5.9% a year ago. In a nutshell, as the United States edges toward full employment, slower job growth was to be expected.
Leaving short-term international concerns aside, we still believe a Federal Reserve (Fed) move will depend on continued signs of domestic labor market tightening and on inflation trends. With fewer jobs needed to bring the unemployment rate even lower than it is today, with US consumers still spending, and with headline inflation set to rise in the short term as the base effect of the steep drop in oil prices in the second half of 2014 fades, we still believe there is a window of opportunity for the Fed to begin raising rates soon.
It is possible to find legitimate reasons in the United States as well as abroad for the Fed's decision to stay its hand. Part of the positive trend in the headline unemployment rate is due to Americans who are no longer counted in job statistics, while the labor force participation rate declined to 62.4% in September, its lowest rate in 38 years. Additionally, the relatively disappointing nonfarm payroll numbers came on top of a decline in the Institute for Supply Management's (ISM's) index of national factory activity to 50.2 in September from 51.1 the month before, suggesting that manufacturing activity is barely expanding.
In contrast, though it fell back a little from the prior month's reading, the ISM survey of the service sector still came in at 56.9 in September, well above the 50 dividing line between expansion and contraction, pointing to continued buoyant domestic demand in the United States. The health of the US consumer is further underlined by data for personal spending, a measure of how much Americans paid for everything from health care to home appliances, which advanced at a month-on-month rate of 0.4% in August. Consumer spending was the main support in the United States' strong growth in the second quarter, when gross domestic product (GDP) rose at a 3.9% annual rate, and a number of indicators—such as healthy car and new-home sales—have continued to point to the robust health of the US consumer in the third quarter.
All eyes are now focused on the corporate earnings season, with a number of observers fearful that while cost-cutting and productivity gains for much of corporate America have been boosting profitability for some time, top-line revenues are declining, at least for energy-related companies (which have been hit by weak commodity prices) and for exporters (hit by weakening growth in emerging markets and a strengthening US dollar). Prospects for US exporters have certainly dimmed, with statistics showing that the US trade deficit jumped sharply in August due to a drop in the export of goods to their lowest level since June 2011 and a rise in imports.
A faltering manufacturing and export sector on the one hand, and continued expansion of services thanks to strong US consumer spending on the other, offers a contrasting vision of prospects for the US economy, and GDP growth for the third quarter is set to be markedly lower than in the second. But since consumer spending accounts for about 70% of US GDP, we believe the US economy should be able to withstand global headwinds.
At the same time, gathering clouds in the global economy, plus signs of continued slack in the jobs market and low inflation, complicate the Fed's efforts to normalize monetary policy by moving base rates up from close to zero, where they have been stuck since December 2008. The Fed passed on its chance to do so at the conclusion of its policy-making committee in mid-September. In comments after the meeting, Fed Chair Janet Yellen arguably fed confusion among market participants about the Fed's intentions by dwelling on the global economic and financial developments that could damage US growth and inflation. Since then, however, Fed officials have tried to be more upbeat and opined that the slowdown in China would have only a small or fleeting impact on the US recovery. We likewise continue to believe the US economy should be well able to withstand a modest hike in rates, and we remain in step with a majority of Fed policymakers who, as the minutes from the September Fed meeting revealed, still believe it would be appropriate to raise rates by the end of this year.
Emerging Markets: Confidence Needed
Prospects for global markets have taken a downturn in recent weeks. In September, the Organisation for Economic Cooperation and Development (OECD) cut its 2015 forecast for global growth to 3% from a previous forecast of 3.1% and its 2016 prediction from 3.8% to 3.6%. In early October, the International Monetary Fund (IMF) also lowered its forecast for global growth to 3.1% this year (down from 3.4% in 2014) and 3.6% in 2016.2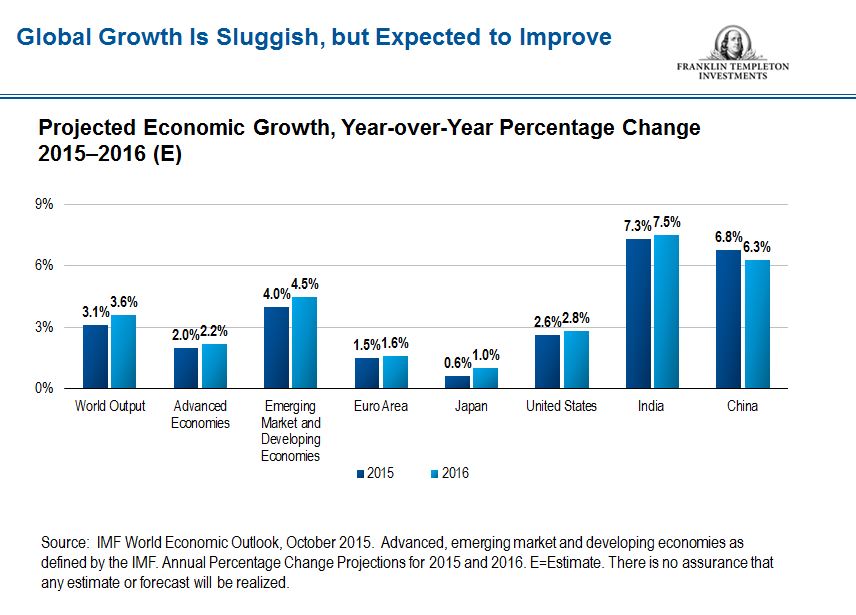 Both the OECD and the IMF pointed to the slowdown in emerging markets. Investors also continue to question prospects for emerging markets and have been removing money from these markets at a steady clip amid falling commodity prices, China's slowdown and uncertainty over US interest rates. As a result, some emerging-market currencies had slid to their lowest levels in 16 years by the end of September. The extent to which emerging markets are out of favor can be gauged by a forecast from the Institute of International Finance that this year they face net capital outflows (of the order of US$540 billion) for the first time since 1988.
Although the late-September decision by the Fed to keep rates on hold for the time being may have helped to steady some investor nerves, at least in the short term, and although some