Whitney Tilson;s email to investors discussing the last day for discount on shorting conference; Stansberry podcast; Evolve or Die; Buffett bets on Banks; FAANG stocks; Facebook; bitcoin.
1) Our shorting conference is coming up a week from today (Monday, Dec. 3) at the NY Athletic Club and I can't wait – it's going to be awesome! Below is the agenda for the day, featuring 16 top short sellers who will teach the hard lessons they've learned, reveal the questionable companies they've identified, and share their best, actionable short ideas.
[REITs]
Q3 hedge fund letters, conference, scoops etc
Since a lot of folks were out of pocket over the weekend (and it's Cyber Monday!), we've extended our huge discount offer for folks on this email list, but only until midnight tonight: the list price is $2,495, but we are offering a 10% discount for in-person and discount for the livestream . For both, you'll be able to access the video of the entire conference, which we'll post shortly afterward. Just use discount codes VW10, respectively, when you register at: www.kaselearning.com/short.
I hope to see you there!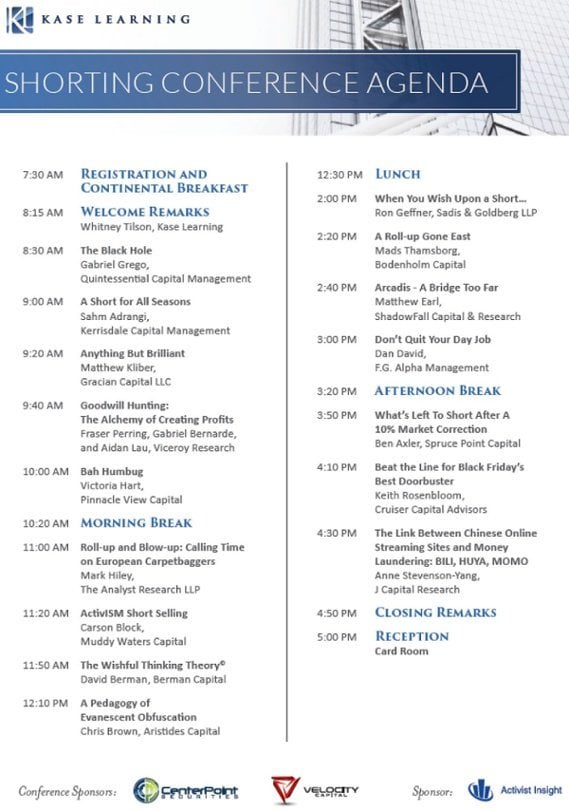 2) I had fun talking with Dan Ferris and Buck Sexton on their Stansberry Investor Hour podcast, which you can listen to here (episode 78).
3) A very insightful article: An Evolve-or-Die Moment for the World's Great Investors. Excerpt:
There is a deep and important debate going on in the investment community, one with profound repercussions for both professional money managers and their clients. Some believe that Buffett is right—that we have become an asset-light economy and that value investors need to adapt to accommodate such changes. Noted value managers like Tom Gayner of Markel Corp. and Bill Nygren of Oakmark Funds, for instance, count companies like Amazon and Alphabet among their top holdings. The fact that these stocks often trade at above-­market valuations—a factor that once scared away orthodox value investors—hasn't deterred them, because the companies' futures are so bright that they're worth it.
Other value managers like David Einhorn at Greenlight Capital and Bruce Berkowitz at Fairholme are betting on the very same old-economy companies that Buffett long favored. Berkowitz, Morningstar's domestic equities Manager of the Decade from 2000–10, has seen his performance suffer this decade, thanks to positions in AT&T and, most notably, Sears Holdings, which declared bankruptcy earlier this fall. Einhorn's performance has also suffered; his largest position is GM, and he says he has been short what he calls a "bubble basket" that includes Tesla, Netflix, and Amazon.
All value investors continue to agree that price is an important component of value—that's why we're called value investors. What's happening now is a debate about what the drivers of value are—of what constitutes value in the 21st-century economy—and what will drive both the economy and the market forward over the next generation.
4) A smart Barron's article on Buffett Bets On Banks. Excerpt:
Berkshire Hathaway CEO Warren Buffett is famous for having a good eye for value. These days, he has been looking hard at big U.S. banks.
Berkshire Hathaway (ticker: BRK.A) bought more than $13 billion of bank stocks in the third quarter, highlighted by a new, $4 billion holding in JPMorgan Chase (JPM) and an almost $6 billion purchase of Bank of America (BAC), the first major open-market buy by Berkshire.
Buffett's company now holds stakes in seven of the country's top 10 banks: Wells Fargo (WFC), U.S. Bancorp (USB), Goldman Sachs Group (GS), PNC Financial Services Group (PNC), and Bank of New York Mellon (BK), as well as JPMorgan and Bank of America. (Citigroup (C), Morgan Stanley (MS), and Capital One Financial (COF) are the ones left out.)
"Buffett's investments offer validation for what we see as the value in the group," says Mike Mayo, a banking analyst with Wells Fargo. "Banks are less cyclical than they have been in decades and have more resilient earnings streams because of improved financial discipline and risk control." He sees earnings growth of 50% or more for JPMorgan, Citigroup, and Bank of America over the next four years.
5) Also in Barron's, an article on The FAANG Stocks: A Case-by-Case Analysis. Its favorite (and mine) is Google, followed by Facebook. Excerpt:
For investors, the next opportunity for the FAANGs could come from picking them apart. One of Warren Buffett's maxims is that there are no "called strikes" in the stock market as there are in baseball. Individual investors don't have to swing at everything. They can wait for the best "fat pitch."
Barron's has analyzed the cause of each FAANG's decline and assessed the ongoing uncertainties. For each stock, here's our opinion on whether to swing now—or wait for a better pitch.
6) Lastly, a Barron's article on the most hated of the FAANG stocks: Facebook Trades Like a Value Stock Amid the Tech Turmoil. Excerpt:
More than two billion consumers use Facebook 's free, advertiser-supported services each day. There are better values that reach more people—sunshine, oxygen—but not many. And yet Facebook has few friends. In the U.S., it is under siege for permitting election meddling by Russia. In Europe, regulators are tallying fines under new privacy laws.
On Wall Street, Facebook stock is down 25% during a year when revenue is expected to jump 36%. Based on its stock price relative to this year's earnings forecast, Facebook is now cheaper than McDonald's . And Walmart . Guess which one of these companies is expected to double its revenue over the next four years?
 ……….
…Facebook traded recently at 18.3 times the 2018 earnings consensus. That's a 12% premium to the S&P 500 index, according to FactSet—the lowest since Facebook's 2010 initial public offering.
7) Even on a day when stocks are rallying, bitcoin continues its well-deserved plunge. This is what happens to scams whose intrinsic value is zero. Bitcoin Falls Below $4,000 as Cryptocurrency Collapse Worsens. Excerpt:
Many speculators have fled the market, as shown by falling trading volumes. And a split this month in a smaller currency called Bitcoin Cash has created tensions. The prospect of large investors selling bitcoin to cover the risks of a fall in the value of their Bitcoin Cash holdings has hurt sentiment.
Now, another worry has emerged: Cryptocurrency miners, the outfits that solve complex equations to generate new digital coins, seem to be losing interest. The amount of computing effort expended by miners, known as the hash rate, has started falling.
… "It's hard to look at the price charts of the big crypto assets and not cringe," Fred Wilson, a partner at Union Square Ventures in New York and an early bitcoin investor, wrote on his blog. He drew a parallel to the moves seen when the tech bubble burst.
Back then, Amazon.com Inc. lost 95% of its value from December 1999 through October 2001. The online retail giant has long since recovered.
"I think things will get worse before they get better," Mr. Wilson said.