Did "FAANG" stocks resurrect from the dead?
Giant tech stocks got crushed last year. But Facebook (NASDAQ:META) has doubled since January.
Apple (NASDAQ:AAPL)… Amazon (NASDAQ:AMZN)… Netflix (NASDAQ:NFLX)… and Google (NASDAQ:GOOGL) each jumped at least 20% this year, too.
If you made money from these big bounces, congratulations.
Four decades of stock market history tells me it's time to take your winnings and get out…
I'll share a little-known stock to buy instead.
But first…
This Table Illustrates The Most Important Concept In Investing
It charts the world's largest companies by decade since the beginning of 1980.
Do you know which under-the-radar stocks the top hedge funds and institutional investors are investing in right now? Click here to find out.
You'll notice each "list" has a dominant theme…
The 70s were all about oil companies. Japan dominated the 80s. Tech surged in the 90s. Oil companies made a comeback in the noughties… then, a new breed of tech stocks dominated the 2010s.

Source: companiesmarketcap.com
See How The "Top 10" List Completely Changes Every Decade?
Most of the world's dominant companies falter and fall out of the "Top 10" list.
In fact, once the current dominant theme peaks, you should avoid it like the plague.
Japanese stocks kept sliding through the 1990s. Only two tech stocks made it on the 2010s list. And commodities were a disaster in the 2010s.
Tech giants were in total control of the "Top 10" list in 2020. But they took a battering last year.
FAANG stocks were cut in half. Amazon broke an unwanted record: the first company to shed $1 trillion in market cap. Facebook crashed out of the "Top 10" altogether.
But big tech staged a comeback this year. Here's the "Top 10" list today:

Source: companiesmarketcap.com
If you made money in these stocks, great job. Now, it's time to cash in your winnings.
There are always good reasons why the dominant companies of today will keep winning. But at least four decades of stock market history tell us these stocks won't stay on top.
By 2030, FAANG stocks will take two, maybe three spots on the leaderboard.
The Stocks That Make Up The Bulk Of 2030's "Top 10" List Will Be..
Politicians and bureaucrats have declared holy jihad against climate change.
It doesn't matter whether you think this is the most important issue in the world or a hoax.
What matters is everyone from the UN… to the US government… to Amazon will spend more money on "green" initiatives than they've ever spent on anything over the coming decades.
When you total up all the clean energy spending commitments, they dwarf all the "megaprojects" throughout history.
We'll spend more money fighting global warming than we did fighting Nazis during WWII.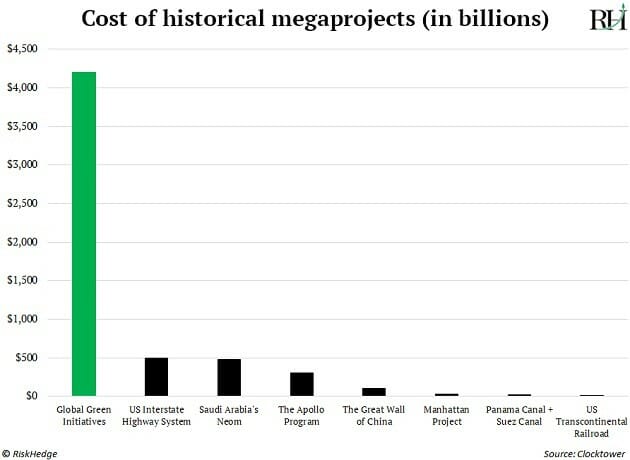 Mark my words: The "Race to Zero"—politicians' rallying cry to halve global emissions by 2030—will be the dominant investing theme for the rest of this decade.
It's the driving force behind many of today's most disruptive trends.
Electric vehicle sales hit record highs last year. "Green" investments also topped $1 trillion for the first time ever.
And did you know solar power accounted for half of all new energy capacity added to the US grid last year?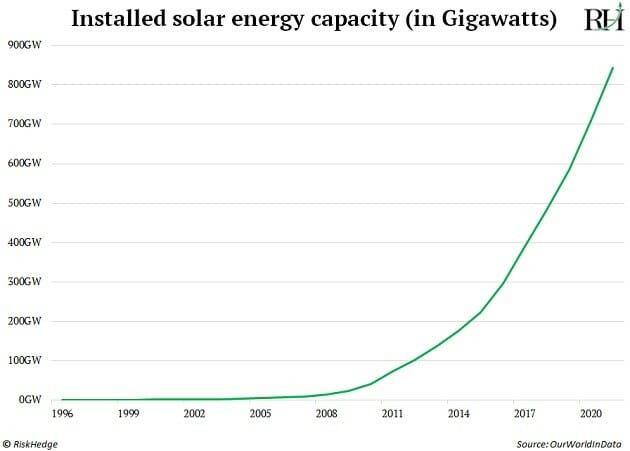 The "Race to Zero" will become a national mania that turns into an investment mania.
"Okay, Stephen, should I put my retirement savings into solar and wind stocks?"
NO!
Companies making solar panels and giant wind turbines could do well. But that's not where the real money will be made.
The best way to profit from the clean energy boom is to buy filthy mining companies. This is the inconvenient truth climate change protesters must deal with.
A humongous amount of "stuff" is needed to power green technologies.
For example, replace a natural gas heating system with solar panels… and your home will use 10X to 20X more copper.
Then there's the storage problem…
Say you get solar panels installed. You live in Arizona, where the sun beams down all day. That's great, except you don't get home from the office until dusk. And solar power only "works" when the sun is shining.
You need a bulky battery to store the power produced during the day. These batteries are made from tons of "dirty" metals like cobalt, graphite, lead, and nickel.
Speaking of batteries… the International Energy Agency forecasts lithium demand will spike 13X by 2030, fueled by record EV sales.
And did you know there's 5X more copper in a Tesla than your old gas guzzler?
The biggest winners from the "Race to Zero" will be companies using excavators, diggers, and dump trucks to pull materials out of the muck.
In fact, Bloomberg recently estimated the world will need $10 trillion worth of metals like copper… aluminum… steel… and lithium over the next 25 years to reach its "net zero emissions" goal.
Here's A New Career Path For Your Kids…
Ask parents, "What do you want your kids to be when they grow up," and many will say, "Software programmer."
That's because they watched hoodie-wearing Silicon Valley coders get mega-rich for the past decade.
If I'm right about the "Race to Zero," petroleum engineer and mine operator will be the new superstar careers. Envision dinner table lectures in 2030: "Forget it, son. You'll never get a job if you don't know coding geology."
Almost nobody is talking about this today. But the trend is crystal clear. Our appetite for "stuff" is about to go through the roof.
I believe copper miners like Freeport-McMoRan (NYSE:FCX) are set to surge over the next decade.
Linde PLC (NYSE:LIN) is another little-known winner from the "Race to Zero." Linde makes gases that are used in various clean energy technologies.
For example, solar panel manufacturing is one of the most energy-intensive processes in the world. Solar firms use Linde's special gases to reduce emissions during manufacturing.
It's also one of the world's largest hydrogen suppliers, an alternative fuel source used to replace buses that spew fumes from their exhaust pipes.
Sounds boring, right? But there's nothing boring about Linde's stock: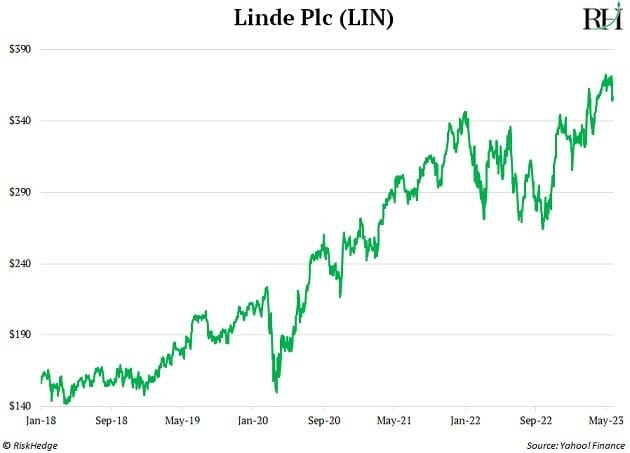 Linde might be the least-well-known $170 billion company in history.
It's a huge winner from the "Race to Zero." My research suggests it has a shot at cracking into the "Top 10" list by 2030.
Don't be fooled by FAANG's temporary comeback. It's time to take profits off the table and reinvest in the new breed of winners.
Article by Stephen McBride – Chief Analyst, RiskHedge
---
To get more ideas like this sent straight to your inbox every Monday, Wednesday, and Friday, make sure to sign up for The RiskHedge Report, a free investment letter focused on profiting from disruption.
Expect smart insights and analysis on the latest breakthrough technologies, the big stories the mainstream media isn't reporting on, and much more… including actionable recommendations.