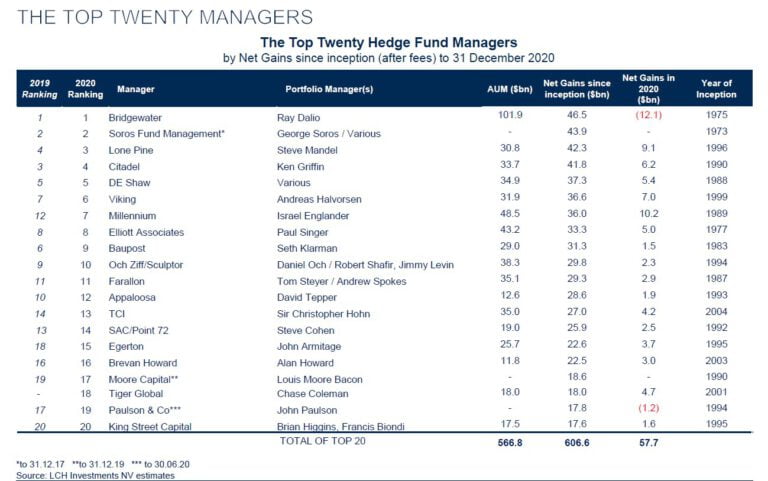 The top 20 greatest money managers made $63.5 billion net of fees for their investors in 2020.

Q4 2020 hedge fund letters, conferences and more
Hedge fund managers have made net gains of $1,422 billion since inception, of which $615.1 billion or 43.3% has been made by the top 20 managers.
[Exclusive] ExodusPoint Is In The Green YTD Led By Rates And EM/ Macro Strategies
The ExodusPoint Partners International Fund returned 0.36% for May, bringing its year-to-date return to 3.31% in a year that's been particularly challenging for most hedge funds, pushing many into the red. Macroeconomic factors continued to weigh on the market, resulting in significant intra-month volatility for May, although risk assets generally ended the month flat. Macro Read More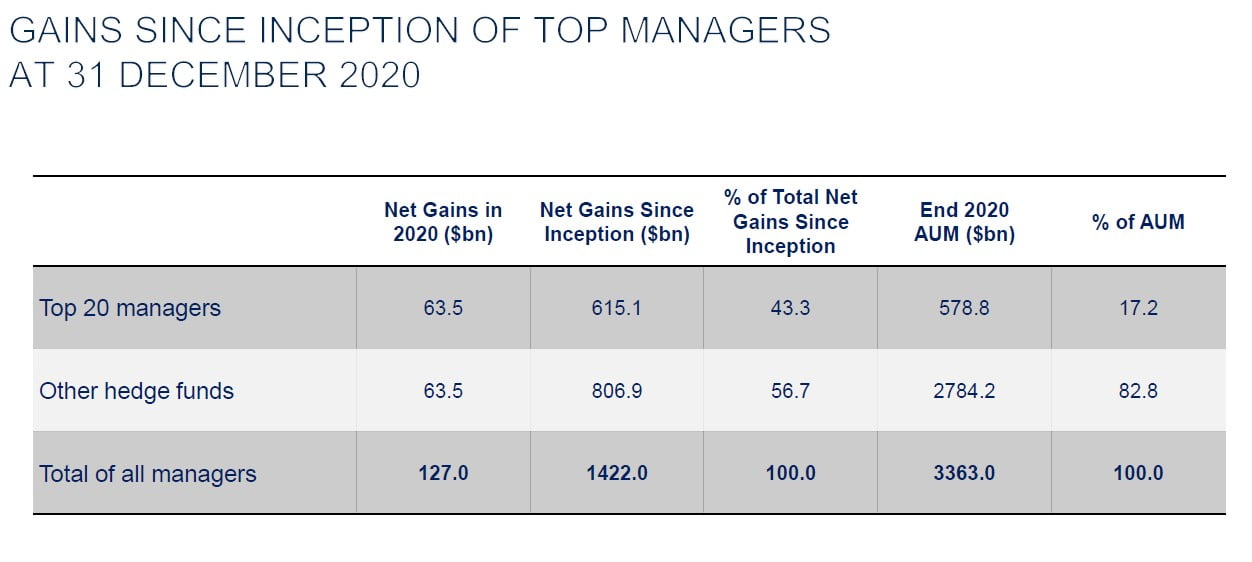 Comments from Rick Sopher
Commenting on the data, Rick Sopher said:
On The 2020 Results Of Hedge Funds:
"In 2020 the best hedge fund managers generated substantial returns while limiting downside risk, which is exactly what they are meant to do. The net gains generated by the top 20 managers for their investors of $63.5 billion were the highest in a decade. In that sense, 2020 was the year of the hedge fund."
"In navigating the especially volatile markets of 2020, talented individual managers with vision and flexibility performed better than programmed machines. Those managers able to differentiate between sector winners and losers made spectacular gains. Several managers playing directional macro themes also achieved exceptionally good results."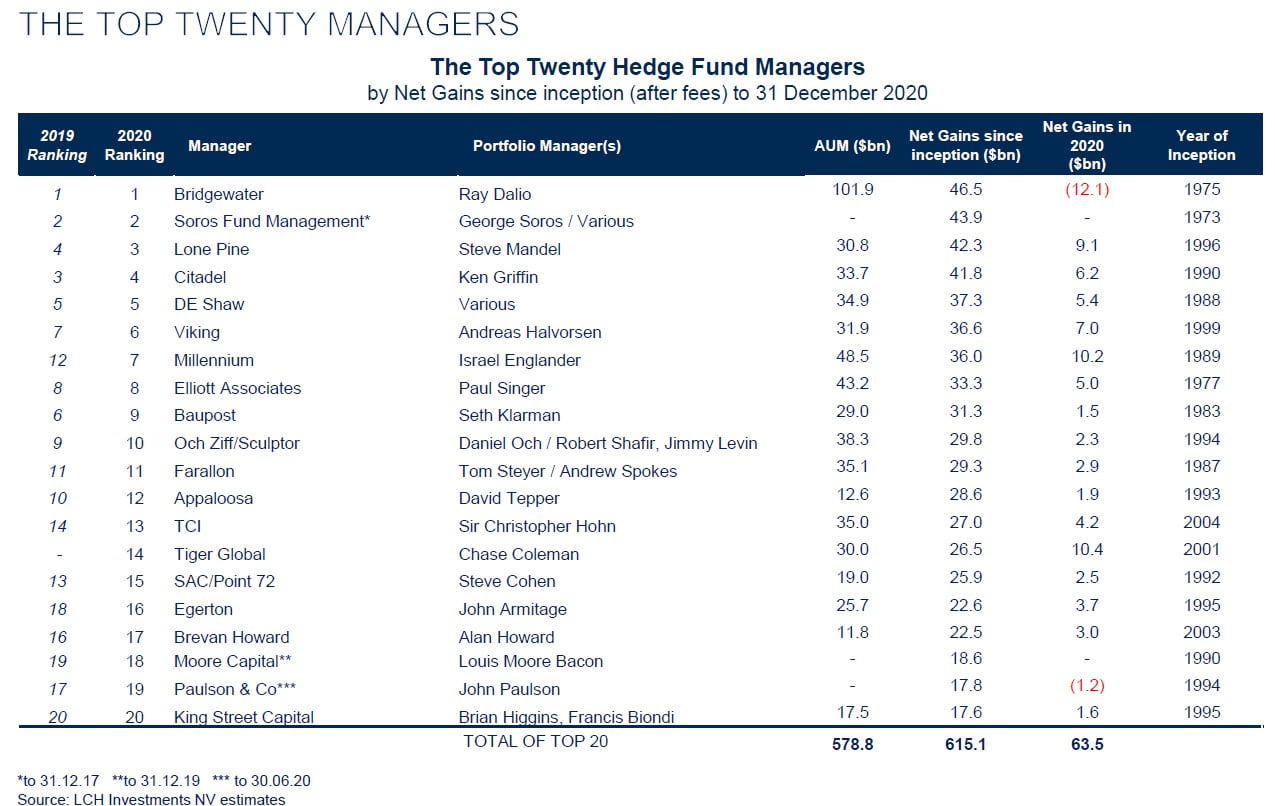 On The Top 20 Greatest Money Managers:
"Several managers in the top 20 recorded very strong gains in 2020, much of which was generated from equities. This was especially true for managers who were long "growth equities" such as in the technology sector, which benefitted not only from the acceleration of pre-existing business trends but also from falling bond yields."
Of The Stronger Performers In The Top 20:
"In 2020, the hedge fund managers who did best for their investors were, once again, managers such as Tiger Global, Viking and Lone Pine who were positioned net long equities."
(Note: these firms' results include long only strategies alongside their hedged fund.)
"Other stand out performers in the top 20 were Millennium and Citadel, diversified firms with risk management and capital allocation strategies that generated significant returns for their investors in 2020."
On The New Entrant To The Top 20:
Tiger Global enters the top 20 for the first time with 2020 gains of $10.4 billion, the largest gain in the top 20. These gains were generated substantially from its net long biased equity strategy.
Tiger Global is one of the many spin-outs of the Tiger Management family founded by Julian Robertson. We have identified 178 firms that are descended from Tiger Management and a common characteristic seems to be a strong discipline in equity investing. This has been particularly useful in recent years. Indeed 3 of the top 20 (Tiger Global, Viking and Lone Pine) are spin-outs of the remarkable Tiger Management firm.
On Hedge Funds Generally:
"The further fall in bond yields and soaring equity markets have further reduced the appeal of traditional bond /equity portfolios. The strong performance of hedge funds in 2020 is a reminder that they offer an alternative that can provide strong returns, while limiting downside risk."
"The data tends to hide another important trend we can observe from anecdotal evidence: Many younger emerging managers have been early adopters of many growth equity sectors, especially in technology."
"Conditions favoured man over machine and it was notable that Renaissance Technologies, a machine driven manager, has dropped out of the top 20."
(Note: the top 20 referred to above are the top 20 at 31.12.20)
Updated on