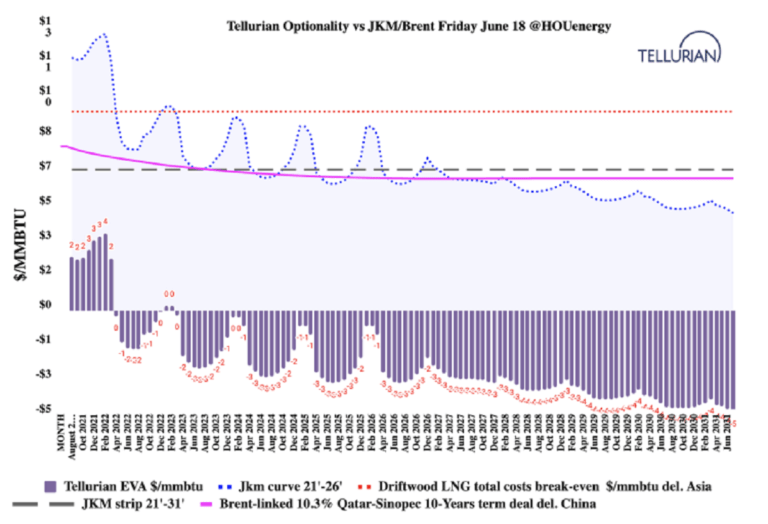 In our first 3 installments we have debunked Driftwood LNG Economics, break-even costs. We have laso scrutinized  its netback formula deficits with Gunvor and Vitol and Total S.A's motives to totally write-down their equity investment. We feel that you are now ready for more.
Q1 2021 hedge fund letters, conferences and more
Tellurian (NASDAQ:TELL) promoters talk month after month about optionality. The narrative is diversity of supply or increased level of volatility. As a matter of fact is the pricing of a real option and we have the model to price this energy option.
According To Jim Chanos, This Is The Biggest Story No One Is Talking About
When a liquidity crisis struck China's Evergrande Group in the summer of 2021, it shook the global markets. Debt payments by China's second-largest property developer by sales were estimated in the hundreds of billions of dollars, and the company missed several payments. Those missed payments led to downgrades by international ratings agencies, but the Chinese Read More
If Driftwood is an option to build today something for 15 years, will the market reward this physical option ?Visually, the answer should be intuitive:
Chart 1: Tellurian's Physical Option Valuation
Tellurian Inc (NASDAQ:TELL) is a CALL option on the JKM, precisely between the project total-break even costs and the index.
Black-Scholes Merton (BSM) option valuation is a framework to value Driftwood. It`s a call option on the Driftwood LNG construction based on six variables:
–Asset Price : On chart 1 one the blue dot line is a 10-year curve with a trend model for seasonality. The JKM only trades up to 2026′ but you would have to estimate this curve to 31′ for the valuation of a 10-years contract and then average this curve to get what we call the JKM Strip.
By using the proper strip corresponding to contract maturity we also want to remove the noise created by the prompt months.
Volatility: monthly JKM in %, we choose the highest- case but we can also use 6-month trailing vol.
Strike, K: It's Driftwood TTL LNG`s break-even in $ per mmbtu re-calculated here
Maturity: We use the next 240 days as a timeline to Issue a notice to proceed with EPC
construction for an investment decision in Driftwood LNG.
Risk-Free Rate: We use the 8-mth treasury bills rate.
| | |
| --- | --- |
| Asset Price (JKM strip) | 6.47 |
| Volatility % | 45.00% |
| Maturity, t (days) | 240 |
| Strike, K | 9.13 |
| Risk-Free Rate | 0.009 |
| Dividend | 0 |
| Call or Put? | call |
| Barrier | 9.13 |
| Down or Up? | up |
| In or Out? | in |
| | |
| --- | --- |
| Results | phase 1 |
| volume mtpa | 16.6 |
| volume mmbtu | 863200000 |
| | |
| Option per mmbtu | 0.2632147834 |
| value | $ 170,405,251 |
| Optionality per tell share | $0.58 |
| | |
| TELL NASDAQ | 3.87 |
| discount (-) premium (+) | 84.89% |
| @44% daily σ scaled to monthly vol., $6.47 JKM strip | |
Not only there is no Intrinsic value (because JKM strip is < K), but the non intrinsic value is 0.58C a share while the share is traded at $3.87…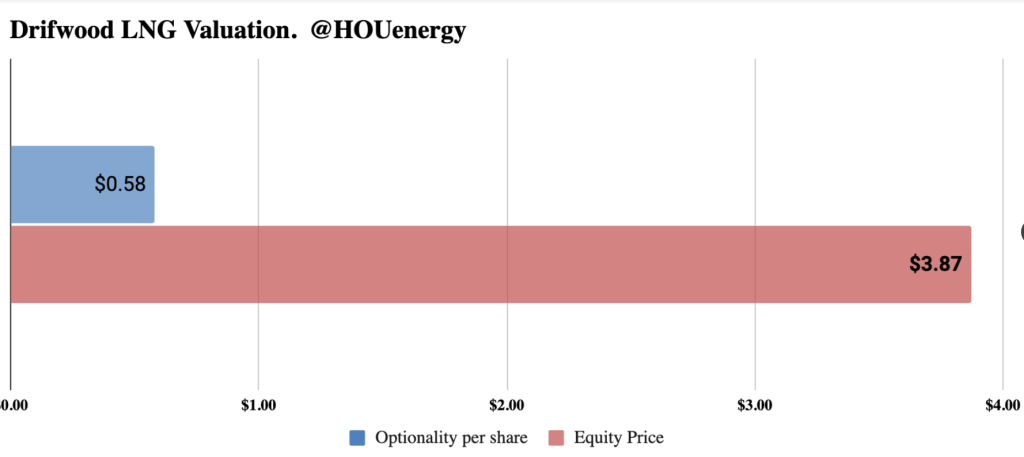 The gap between equity-driven expectations and the commercial value is more than 8X…
Also we perform Tellurian's sensibility to the volatility/price scenarios.
This non-intrinsic value accounts mainly for the supply security plus the possibility of higher jkm stochastic volatility that is not seen by the curve at the moment.
If Tellurian call option is a function of vega:
In a 6 months trailing volatility environment of 12% at the current strip level, Driftwood LNG has no value.
At an extreme 45% vol Tellurian optionality is worth between $0.22 and $0.63 per share.
Corporate Finance Approach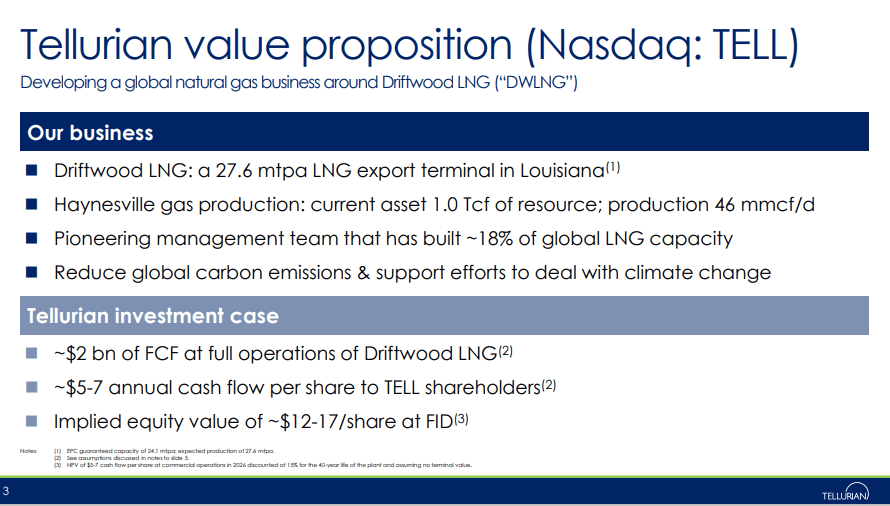 Corporate Presentation – Jan 27, 2021
If we are less mathematical or don't have time to run these models, don't worry. We can use the Corporate Finance approach. These financial statements are a goldmine of information.
Numbers are not lying. Tellurian has burned $455,900,000 in equity cash since 2017.
Tellurian and its promoters are shamelessly floating $5-7 annual cash flow per share. This is not a good thing.
Website Gurufocus.com puts Tellurian`s FCF at $-2.03  while ours, based on the material definitive agreement releases of transactions with Gunvor and Vitol pro format 16.6MMT on 10 years is negative -$6.72 FCF per share.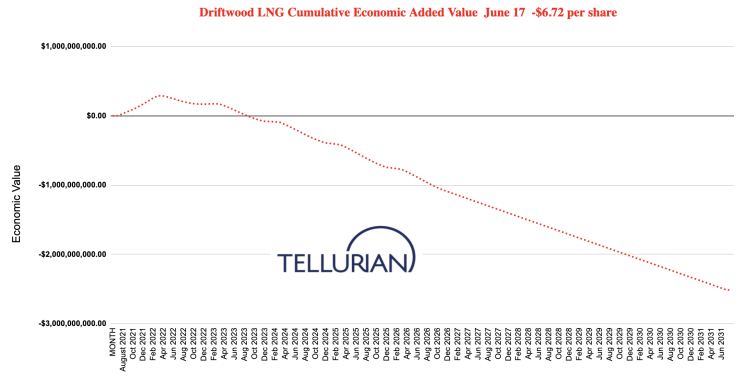 What surprises us is that nobody at FT has seemed to put it all together. Some people in Houston know about the circus since 2019.
If they had to inflate their numbers to sell their project, at this point the FID of 2016 was already a constructive loss. The Telluriangate was just asking to get covered. The great success of the Driftwood 22 disclosure Project has been to expose in depth what was already in place: the incoherences, nonsense with the incompetence of Tellurian's management were all there.
We don't see any financial surface in Driftwood LNG and there`s no intrinsic value in this project.
Since our first disclosure on Value Walk hedge fund letters on June 1st, the company share price has dropped by 20%. That's our record.
When we saw that Tellurian was sitting on a large and inflated equity premium and after we did our due diligence-based research on the company's statements and accounts, we`ve decided to enter a short.