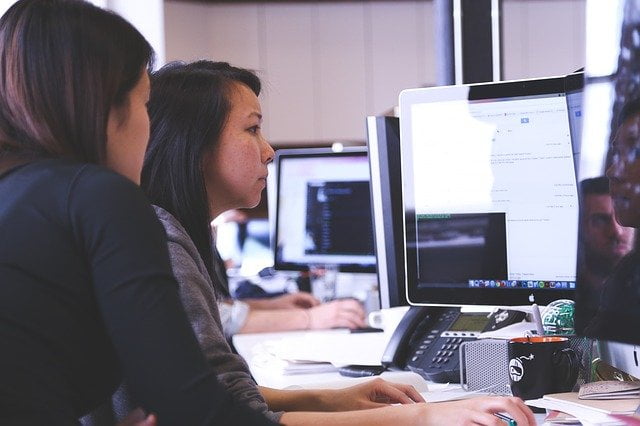 Digital marketing is as important as ever with traditional marketing techniques relying on foot traffic and direct mail marketing dwindling in the ROI they provide. People are in their homes which means they will research any business they decide to go to. Consumers will be far more discerning with the businesses they visit for a potential purchase. Clients working with marketing agencies will be far less likely to meet physically when a Zoom meeting can achieve identical goals. Honing the digital marketing strategy during this time can give a business the advantage over competitors once life returns to normal. Below will discuss improving your digital marketing strategy during social distancing.

Schedule a Zoom Meeting Button on the Website
A client being able to schedule a Zoom call via a button on the website provides ultimate convenience. People might be willing to do a Zoom meeting where screenshare is possible to go over things like issues with software or a platform. Lawyers can do consultations while doctors can meet virtually and even prescribe medication. Not all potential clients/customers will want to meet physically so making appointments easy is imperative. Sending out notifications after a meeting has been scheduled can help hold people to these meeting times.
Improving Your Search Engine Rankings
Search engine rankings are the lifeblood of organic online leads. Depending on the industry, the keywords will differ in how competitive they are. Personal injury keywords are extremely competitive as getting a single client can mean thousands of dollars for a firm. PPC ads are extremely expensive when compared to other types of law. Important aspects of things like moving a site to a new URL without losing rankings is not something all web designers have a grasp of.
This Too Value Fund Explains Why Turkey Is Ripe For Investment Right Now
The Talas Turkey Value Fund returned 9.5% net for the first quarter on a concentrated portfolio in which 93% of its capital is invested in 14 holdings. The MSCI Turkey Index returned 13.1% for the first quarter, while the MSCI All-Country ex-USA was down 5.4%. Background of the Talas Turkey Value Fund Since its inception Read More
Content marketing needs to be done weekly in a variety of ways. Podcasting is an easy way to create in-depth content that is easy to consume for a potential customer/client. Written content is easily searchable and can be blasted out via a weekly newsletter content roundup. Do not waste money on subpar content that any person could have created. Quality content that addresses a common problem or question in a simple way is important. Generating backlinks which will be discussed below is just a result of quality content being put out consistently.
Link building is going to play a huge role in improving search engine rankings. Backlinks have always been a huge part of website ranking especially when they come from reputable publications. A few links from Forbes or Huffington Post will be far more valuable than lower-tier websites due to traffic. The editorial processes for these larger publications will be strict when compared to smaller online publications. Local backlinks for certain businesses are more important than nearly anything. A link on a local newspaper website can attract the traffic in the target demographic for a doctor or law firm.
Monitor Online Reviews
People that might have not looked at many reviews before have extra time due to distancing. They could even be looking up the comments about how distancing and masks are enforced. Responding to online reviews can help salvage a relationship with a customer and every customer counts especially now. Online reviews can take to social media which also need to be responded to in a constructive way. Showing care for the customer's experience online is something that consumers look for.
Social Media Used to Promote and Inform
Social media should be used to promote new services or offerings due to social distancing. Restaurants are marketing their drinks as they have been given permission to make drinks to-go. The truth is that people might be checking social media accounts rather than Google listings. These are not always updated although they should be. Telling customers they can come into an establishment might be all that has to be done on a social media account. Addressing safety concerns is also important so highlighting social distancing guidelines for an establishment can clarify any questions one might have.
Take This Time to Create the Perfect Website
The website being flawless is only going to boost leads and sales. People want a simple layout that they can easily navigate. A searchable website if selling directly from the website is important as a person could have the exact name of what they want. There might just be a few small changes that need to be made within the keywords on the website. Page speed is also important so consider switching hosts if you have a media-heavy website that seems to lag when loading.
Once you have completely set up, start looking into the best ways to monetize your website. There are endless opportunities to make money from your website, you just need to understand and implement them!
Digital marketing is becoming more efficient during this time will generate continued success post-pandemic. Take time to assess each area of your digital marketing strategy to see where improvements can be made.
Updated on