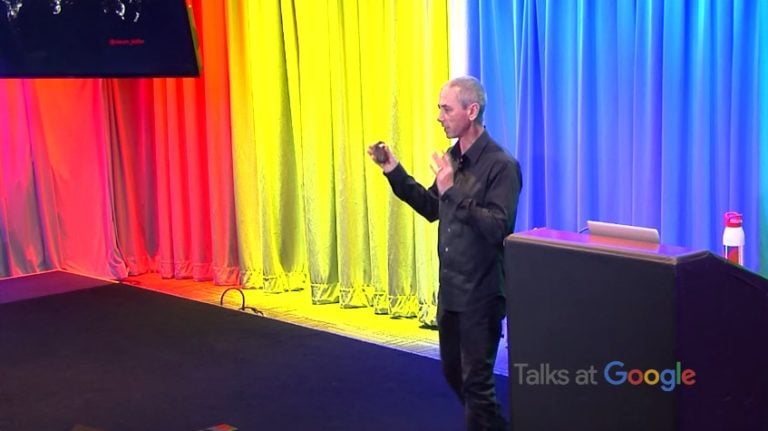 Steven Kotler is an American author, journalist and entrepreneur, and is regarded as one of the world's leading experts on Ultimate Human Performance. He is the Co-Founder and Director of Research of the Flow Genome Project, an interdisciplinary, global organization committed to mapping the genome of Flow by 2020. He is also the author of numerous books, including "Abundance", "Bold", and "The Rise of Superman."
Q1 hedge fund letters, conference, scoops etc, Also read Lear Capital: Financial Products You Should Avoid?
In his talk, he discusses the subject of his latest book, "Stealing Fire: How Silicon Valley, the Navy SEALs, and Maverick Scientists Are Revolutionizing the Way We Live and Work." He presents revolutionary insights into human brain that have led to surprising shortcuts for enhancing creativity and performance, and gives practical tips on how to apply them.
Gates Capital Management Reduces Risk After Rare Down Year [Exclusive]
Gates Capital Management's ECF Value Funds have a fantastic track record. The funds (full-name Excess Cash Flow Value Funds), which invest in an event-driven equity and credit strategy, have produced a 12.6% annualised return over the past 26 years. The funds added 7.7% overall in the second half of 2022, outperforming the 3.4% return for Read More
Steven Kotler: "The Science Of Maximizing Human Potential"
Transcript
It's good to be back at Google. I think it's been four or five years since I've been here. I said I am an author. I am a journalist and I'm the co-founder and director of research at the float genome project. And what we study the flow genome project is ultimately human performance or what does it take to be your best when it matters most. And what we're really interested in is what does it take for individuals organizations and institutions to sort of level up their game like never before. What does it take to achieve paradigm shifting breakthroughs. Nothing is ever the same again breakthroughs and it kind of in a phrase of the heart of the work that I do is really the question of what does it take to do the impossible and at a serious level if you can sort of get past the hyperbole built into that question and we are in the middle. No it works. We are in the middle of kind of a giant revolution in our ability to do the impossible. And it's a strange revolution. It is extremely counter-intuitive. It's overturning a lot of conventional wisdom about high performance and it's going to be the subject of what I talked about today and it's sort of this revolution is sitting at the intersection of two smaller revolutions and two overlapping ones.
One is a revolution in peak performance that if you've seen my other Google talks I talked about that going to cover a little bit the same ground and the other is a revolution and what we could call the science of spirituality and I'm using the term spirituality in the most secular possible definition of the term. These two things are colliding and the collision is really really overturn and almost everything we knew about human performance and as a way of introducing this topic I thought I'd start where I started I came to the question of how do you accomplish the possible through a really weird door. I walked in through the door of journalism a journalist in the early 1990s. And back then action sports surfing skiing rock climbing and whatever getting a lot of attention and the X Games restarting the Gravity Games and there was a lot of work if you could write and ski and write and rock climb or write and surf. There was a lot of work and I couldn't do any of those things very well. But I needed the work. So I lied to my editors and I was lucky enough to spend about 10 years chasing professional athletes around mountains and across oceans and I will tell you if you're not a professional athlete and you spend all your time chasing professional athletes around mountains and across oceans tend to break things. I broke a lot of things as you can say and what this meant is I ended up taking a lot of time off. So I'd be hanging out I'd snap this or that and I have to take three months four months five months off and when I came back the progress I saw was really amazing.
It was leaps and bounds kind of stuff it didn't make any sense stuff that was absolutely impossible never been done never going to be done just three or four months ago. Was it just being done. It was being iterated upon. And this caught my attention for a lot of reasons but it's not just the obvious. If you go back to the early 1990s action adventure sport athletes were a rowdy punk rock irreverent bunch of people without a lot of natural advantages so most of the people I knew in this community didn't have a lot of education. They had very little money and most of them had horrific childhood experiences. And yet here they are not like semi regular basis or reinventing what was possible for our species right. Bending the limits of physical possibility and I want to know what the hell was this possible. But I'd also broken about 80 bones at that point and I knew what won example sorry will come back to them. One example I forget to give this to. I want to give you one example of what I was looking at. If you haven't read rise of Superman and are familiar with it and if you saw my earlier talking I'm repeating myself I apologize.