Whitney Tilson's email to investors discussing individual-investor boom reshapes U.S. stock market; Hertz's unwarranted rise; Robinhood users say accounts were looted, no one to call; no, Robinhood traders aren't affecting the stock market; coolest things I learned in 2019.
Q3 2020 hedge fund letters, conferences and more
Individual-Investor Boom Reshapes U.S. Stock Market
1) I have mixed feelings about this: Individual-Investor Boom Reshapes U.S. Stock Market - The Wall Street Journal. Excerpt:
Gates Cap Management Reduces Risk After Rare Down Year
Gates Capital Management's ECF Value Funds have a fantastic track record. The funds (full-name Excess Cash Flow Value Funds), which invest in an event-driven equity and credit strategy Read More
It's one of the year's biggest market stories: Mom-and-pop investors have fallen back in love with stocks, lured by free trading apps, a resurgent bull market led by technology companies and a pandemic that has left millions of Americans at home with little to do.
New data show a number of ways in which the individual-trading boom has reshaped the U.S. stock market. Here are five takeaways:
Individual stock trading is at a decade high
Small investors are powering big moves in some stocks
Asia is where individual investors truly dominate
More of the U.S. stock market is going dark
Big winners may be electronic traders
I'm all in favor of investing in stocks being made accessible at low cost to a wide range of investors... but I worry that a lot of novices are getting in over their heads and will be crushed because they're doing crazy things like speculating in options and the stocks of bankrupt companies.
Hertz's Unwarranted Rise
2) Speaking of which, I don't know why the U.S. Securities and Exchange Commission ("SEC") or the New York Stock Exchange ("NYSE") don't halt trading in the stock of bankrupt car-rental company Hertz (HTZ). The stock soared 143% on Friday after the company announced it secured commitments of $1.65 billion in debtor-in-possession financing.
While this likely staves off the near-term dissolution of the company, it doesn't change the reality that there's almost certainly no recovery for the equity – meaning the stock is worthless.
Sure enough, the Wall Street Journal article above highlights that Hertz is one of the stocks with the highest correlation between its share price and its popularity on trading app Robinhood: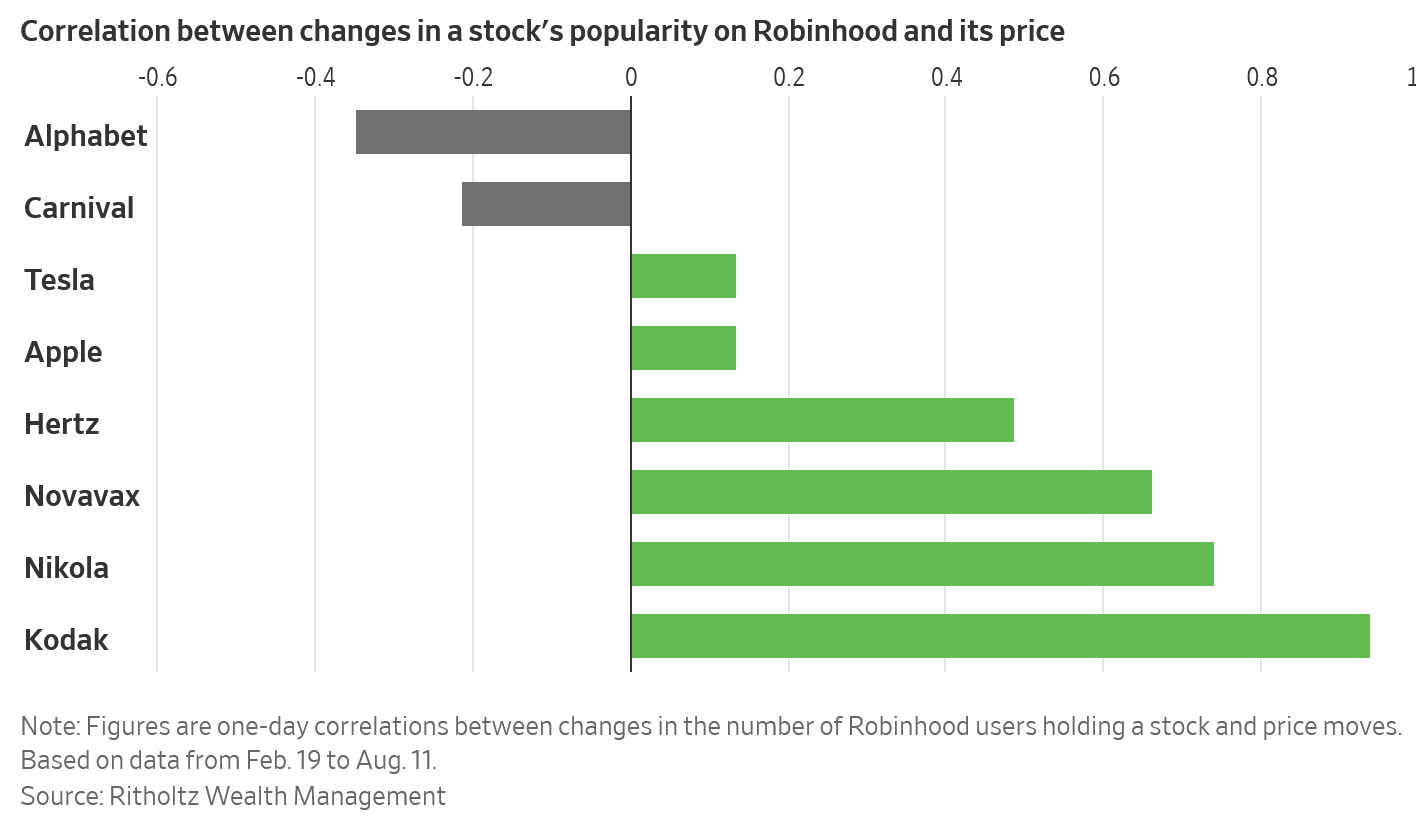 Robinhood Users Say Accounts Were Looted, No One To Call
3) Here's another risk I'll bet most Robinhood investors aren't even thinking about: Robinhood Users Say Accounts Were Looted, No One to Call - Bloomberg. Excerpt:
It took Soraya Bagheri a day to learn that 450 shares of Moderna had been liquidated in her Robinhood account and that $10,000 in withdrawals were pending. But after alerting the online brokerage to what she believed was a theft in progress, she received a frustrating email.
The firm wrote it would investigate and respond within "a few weeks." Now her money is gone.
No, Robinhood Traders Aren't Affecting The Stock Market
4) While Robinhood traders are undoubtedly boosting the prices of a handful of speculative stocks like Hertz, Eastman Kodak (KODK), and Nikola (NKLA), they're likely not affecting the overall market, as this article notes: No, Robinhood Traders Aren't Affecting the Stock Market - Of Dollars And Data. Excerpt:
Yes, Robinhood traders are impacting Kodak, but that doesn't imply they are materially impacting larger stocks (like Apple or Amazon) or the stock market overall.
This illustrates that there seems to be some stocks in which the Robinhood effect is real, but for most stocks this isn't true. Popularity on Robinhood is not predictive of price changes, but it is predictive of what will make the headlines.
Nikola Stock Drops 16%
5) Speaking of electric-truck developer Nikola, the stock dropped 16% on Friday on this news: Nikola Shares Plunge After CEO Says Startup Can Go It Alone - Bloomberg. Excerpt:
Nikola shares sank as much as 16% in Friday trading after the electric-truck startup's chief executive officer said he sees a path for his company even if it can't come to terms with General Motors (GM) on a proposed strategic partnership.
Talks between the two companies are ongoing, but if a tentative technology-sharing and manufacturing deal announced last month falls apart, Nikola will revert to a "base plan" without GM's help, CEO Mark Russell said in an interview late Thursday.
Mark my words: GM is going to drop Nikola like a hot potato!
Coolest Things I Learned In 2019
6) It's hard to explain... but I really enjoyed this collection of photos, charts, and short blurbs compiled by blogger David Perell: Coolest Things I Learned in 2019.
Best regards,
Whitney