One might think that with Bitcoin and other cryptocurrencies off 70% or more from their 2017 highs, and with the SEC and other regulators remaining less than accommodating toward digital assets in general, that crypto funds would be closing down en masse, or at least slowing down their launch rate. Instead, new crypto funds have continued to launch at a record rate, according to new analysis from Crypto Fund Research.
Q2 hedge fund letters, conference, scoops etc
The first seven months of 2018 saw the launch of 96 new crypto funds, including hedge funds and venture capital.  This puts 2018 on pace for 165 new fund launches, 11 more than the 156 last year.
It's not completely clear what's driving so many funds to launch in a seemingly inhospitable environment. One explanation is that many funds started organizing amidst the euphoria of late 2017 when Bitcoin prices were 3 times higher than they are today and only officially launched once the downturn in crypto prices began in 2018. However, this fails to explain why seven months into the year, new funds are continuing to launch.
Josh Gnaizda, CEO of Crypto Fund Research suggests, "Much of the growth in the number of new crypto funds is probably not being led so much by investor demand, as it is by fund managers optimistically hoping to get ahead of the adoption curve." Crypto Fund Research provides market intelligence on crypto investment managers, in addition to its flagship list of crypto funds.
The conclusion that the push is led by fund managers more than investors is supported by some of the numbers. Whereas more than half of traditional hedge fund managers have assets under management of at least $100 million, in the crypto space less than 10% do. In fact, there are currently 466 crypto funds. Cumulatively, crypto funds have just $7.1 billion in assets under management. That comes to an average of about $15 million per fund, hardly enough for most funds to survive long-term on management fees alone. Most of those assets are concentrated in a few established names like Polychain Capital, Morgan Creek Capital, and Pantera Capital with little in the coffers of hundreds of smaller funds.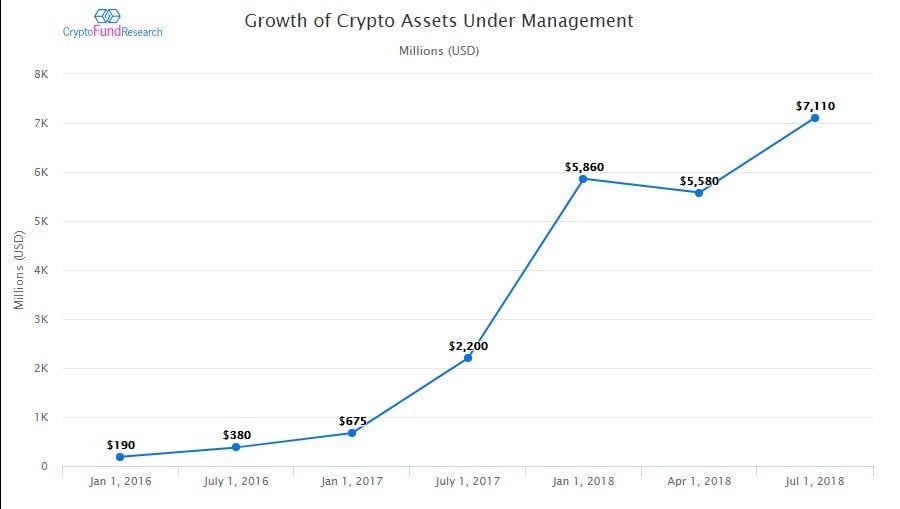 Though still meager compared to traditional funds, crypto funds have seen assets under management grow somewhat in 2018. Total assets through July had increased by about 20% since the start of the year, even while cryptocurrency prices fell dramatically. This does seem to indicate new money is flowing into the space.
It also remains to be seen how new products aimed at institutional investors will affect existing funds. Coinbase and Northern Trust have both recently announced cryptocurrency custodial services aimed at hedge funds and other institutional investors. While this has the potential to bring new money into the arena, it also may pave the way for traditional hedge funds to displace smaller crypto funds that have fewer resources and minimal track records.
Meanwhile, the SEC has delayed its decision on a potential new Bitcoin ETF, the Van Eck/SolidX Bitcoin Trust until at least September 30. "An SEC registered Bitcoin ETF, if approved, would likely bring significantly increased institutional activity," says Mr. Gnaizda. This too could bring traditional investment managers into crypto.  What effect, if any, this will have on the growth of crypto funds remains to be seen.