Mullen Automotive Inc (NASDAQ:MULN) is a Southern Californian based electric vehicle car maker that was founded in 2014. Mullen owns several additional businesses including: Mullen Auto sales dealerships, Mullen Energy which is focused on battery technology and CarHub, which is a digital platform that uses AI to offer an interactive digital solution to buying.
Q1 2022 hedge fund letters, conferences and more
MULN shares have fallen -77.8% since the beginning of 2022 and is now -81.1% below its annual peak of $15.89. With such an excessive fall in price and company valuation, we have noticed buying interest dramatically picking up in the stock. The stock has jumped 10 ranks this week and is now the 4th most widely held stock among retail investors. If you want to see more on this data and the leaderboard - click here.
When looking at recent developments in the stock, we noticed a bearish stock report that circulated in early April from Hindenburg Research that claims Mullen Automotive is just another fast talking EV producer that is "yet to produce a sellable vehicle". This may have been attributed to the April sell-off that saw recent retail investor euphoria fade away. A link to the note can be found here for those that are interested - reference.
Later in the month on the 18th of April, Mullen announced that they would begin construction for the EV battery pack production at the high voltage R&D facility in California. The move was described as a push to reduce dependency on third-party suppliers and reduce risks associated with material supply shortages that are currently sending shockwaves through the industry.
Yesterday, the company filed a loan application with the U.S. Department of Energy for the Mullen ONE EV Cargo Van Program. The ONE EV light commercial cargo van will be one of the first EV offerings in this category. The program started in 2007 and was designed to support the manufacturing of eligible light-duty vehicles and qualifying components in the U.S.
The chart below from the Fintel platform visually shows the rising interest in the stock over the past 3 months. To see more on this data - click here.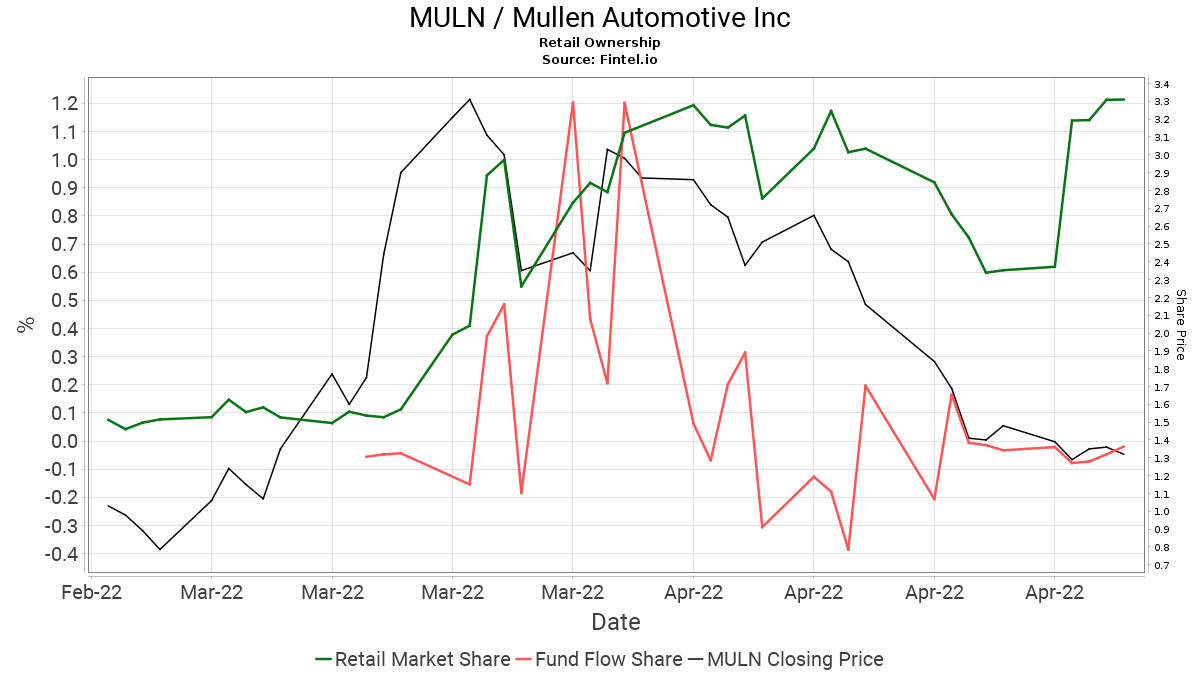 When looking at sentiment for the stock, we noticed Mullen has a very high Put/Call ratio of 0.28, indicating bullish sentiment. The Put/Call Ratio shows the total number of disclosed open put option positions divided by the number of open call option options. Since puts are generally a bearish bet and calls are a bullish bet, put/call ratios greater than 1 indicate a bearish sentiment, and ratios less than one indicate a bullish sentiment. We have included a chart below that shows how the ratio has tracked over the last 3 months. To find more on this chart and data - click here.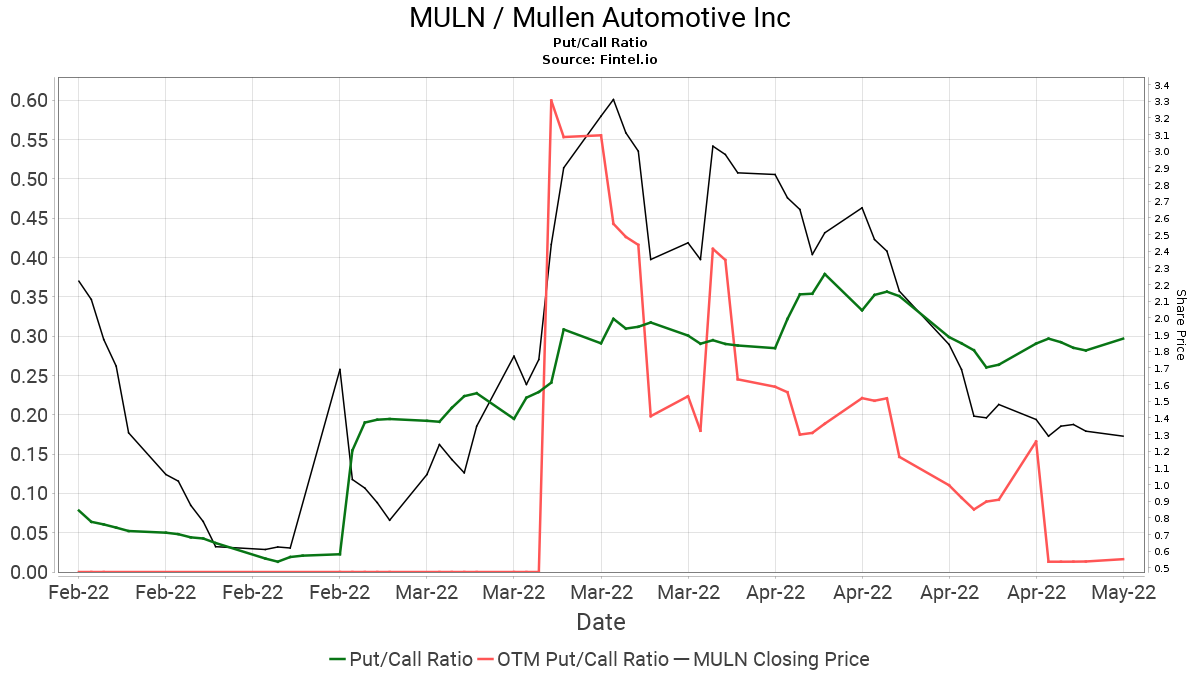 We also noticed MULN has a very high Fintel Short Squeeze Score score of 87.96, ranking it in the top 3% of companies that are likely to see a short squeeze rally. Mullen has ~15% of its float currently shorted. The Short Squeeze Score is the result of a sophisticated, multi-factor quantitative model that identifies companies that have the highest risk of experiencing a short squeeze. The scoring model uses a combination of short interest, float, short borrow fee rates, and other metrics. The number ranges from 0 to 100, with higher numbers indicating a higher risk of a short squeeze relative to its peers, and 50 being the average. To find out more on this - click here.
Article by Ben Ward, Fintel