Papyrus Capital's investment thesis on Maui Land & Pineapple (MLP).
Q2 hedge fund letters, conference, scoops etc
I'll preface this by saying I've never really invested in land banks (except a small CTO position for a short time) after seeing the JOE back and forth between Einhorn and Berkowitz earlier in my career – to me, they are usually uninvestable value traps never monetized.
However, Maui Land & Pineapple (MLP) is an exception given the incredible location of their land in Kapalua, development/sale/monetization plan, quality of management/insider ownership and massive discount vs. the stock price, offering 250% upside to $41/share.
Interest 'Piquer' - Recent Sales
Shops at Wailea, 16 acres (including the mall though) sold for $342m
https://www.bizjournals.com/pacific/news2015/08/13/mauis-the-shops-at-wailea-scooped-up-by- html
Wailea Beach Marriott, 22 acres (including the hotel) sold for $325m
https://www.prnewswire.com/news-releases/sunstone-hotel-investors-to-acquire-the-544-room- wailea-beach-marriott-resort--spa-263873991.html
Ritz Carlton Kapalua, 54 acres (including the hotel) sold for $200m
https://www.bizjournals.com/pacific/news/2016/09/02/mauis-ritz-carlton-kapalua-hotel-may-be- sold-for.html
Maui Land & Pineapple owns 900 acres in Kapalua comparable to the land above (and in some cases better) that's fully entitled and includes water, two very high barriers to development in Hawaii and the company has a market cap of only $200m and no net debt, along with a slight cash flow generating operating business!
They also own another 10,800 comparable acres of agriculturally zoned land and 9,000 acres in comparable conservation land in West Maui. In addition, they own 2,100 acres of lower quality agricultural land in Upcountry Maui (to which we attribute no value).
We see conservative upside to $41 or 250% based on NPV values on future developments and a multiple on the core business.
Brief Company History
Maui Land & Pineapple began as a pineapple plantation over 100 years ago, diversifying into sugarcane shortly thereafter. The pineapple fields were outfitted with infrastructure to irrigate which is a huge advantage today since water entitlements/infrastructure is so important in Hawaii for development permitting. The previous management team levered up the business (with onerous covenant restrictions on development) and continued to run the loss-generating pineapple operations through 2009. While the losses were obfuscated by profits from selling land before the recession, when property prices fell, the board shut down the pineapple operations, sold non-core assets (including the Kapalua golf courses) and worked to delever the balance sheet over the following 8 years, finally reducing net debt to 0 by late 2017. Post delevering, the company is now entering its next phase, development/sales of their incredibly valuable land bank. Steve Case owns the majority of the company after buying the stake owned by the Weinberg Trust in 1999; he joined the board in 2008.Strength in the overall Hawaii/Maui Real Estate Market
We initially researched another publicly traded Hawaii tourism exposed business and noted the strength in tourist traffic and occupancy rates at hotels, especially luxury hotels in Maui and Hawaii, overall. Conversations with experts on the ground also confirmed that hotel occupancy rates are very high and according to them, there's 'almost no place left to build'. Those comments got us looking at MLP since we believe they own some of the most valuable real estate in the world, adjacent to the Kapalua Plantation course. We believe there's very little fully permitted available land like this in the world.
Maui Land & Pineapple (MLP) Operating Businesses:
1. Leasing
MLP owns commercial property that it leases out and reports by location, Kapalua Resort, Other West Maui and Upcountry Maui. They disclose square footage and occupancy rates by location which gives us the ability to back into overall price per GLA (square feet). The Kapalua Resort segment is pretty self explanatory as they receive revenue from their ownership in the resort and its facilities while Other West Maui is more commercial and Upcountry Maui is more industrial/farm. However, they have undertaken a plan to convert some of the Upcountry Maui land from industrial to commercial in order to realize a higher rent per square foot. They are also increasing resort amenities to include ziplines…etc while reducing their own usage of square footage that they can rent out. The leasing segment is very stable given the aforementioned tourism strength and their colocation with the Kapalua Plantation course which I'd argue is one of the best golf courses in the world. We estimate that the new leasing revenue streams and property renovations should result in about 250k in gross leasable square footage, $36 price/square foot and 95% occupancy rates, resulting in about $8.5m in leasing revenue by 2019 with costs relatively fixed.
2. Utilities
The utilities segment consists of two regulated utilities, the Kapalua Water Company and Kapalua Waste Treatment company. MLP provides water to the Kapalua Resort, golf courses and other nearby properties. Given that this is a regulated utility, revenue/costs are extremely predictable and vary mainly based on the amount of rainfall which has remained relatively constant. Owning these water utilities provides MLP with significant flexibility over new development properties, as previously mentioned. We assume constant revenue/costs in the utilities segment.
3. Resort Amenities
Maui Land & Pineapple owns and operates parts of the private Kapalua Club which provides members access to resort amenities, including the spa, pool and beach club. While membership has decline in recent years, the new Kapalua Mahana development should drive increased membership. That said, we assume flat revenue and costs in this segment.
Earnings Power: The operating segments above result in about $12.8m in total revenue and $4.3m in FCF or $0.23/share – we apply a 14x multiple given the very stable/predictable nature of the business and pricing power in Leasing, resulting in $3.21/share in value from the core operations.
Land Bank – the Interesting Piece!
1. Kapalua Central Resort
Kapalua Central Resort is the first development project that MLP will undertake. The Kapalua Central Resort's plan consists of 46 total acres with 61,000 square feet in commercial GLA and 188 condo units in Kapalua. This is prime land and comparable to the recent Kapalua Mahana project (where MLP sold the land to a developer) and in which lots are selling for $2m and homes for $10m. Given that Kapalua Central Resort is 'shovel ready' and will be the company's first project, we estimate that it will be finished in 2-3 years and estimate the value as follows.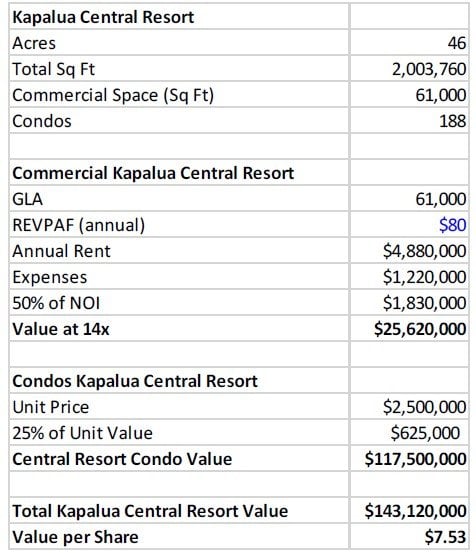 Given the aforementioned commercial property sales at a premium to MLP's entire market cap, we believe our value of the commercial properties is extremely conservative. We estimate condo unit prices based on comparable condos in the area and assume 25% of unit value in land value (condos are higher margin than homes where we typically use 20%).
How will the property be developed? MLP is unlikely to develop the land themselves so they will either sell the land and likely receive the values shown above or JV with a developer and receive half the NOI (why we discount NOI of the commercial property above by 50%) and receive 25% of condo unit value at the end of the day. We are not NPVing this development since we believe they will realize value within 2-3 years, as mentioned above.
2. Land Parcel Adjacent Ritz Kapalua
MLP owns 50 acres adjacent to the Ritz Carlton Kapalua ($1,500+/night). We believe the Ritz wants to own and develop this property also resulting in likely monetization very soon. As discussed above, commercial properties in the area at half the size have sold for multiples of MLP's market cap. We assume $2.5m/acre in land value.

3. Kapalua Mauka
Kapalua Mauka is MLP's longer term shovel ready development project in the area with an estimated timeframe of value realization of 2025-2035. It consists of 800 fully zones acres in Kapalua (impossible to recreate this) with a plan for 27 holes of golf and 639 residences (mix of homes and condos). This development is likely worth many multiples of the current market cap but in an effort to be conservative, we NPV this based on the development assumptions below. Note that this assumes a small increase in condo/home prices over the next 20 years though we believe this is some of the highest quality real estate in the world.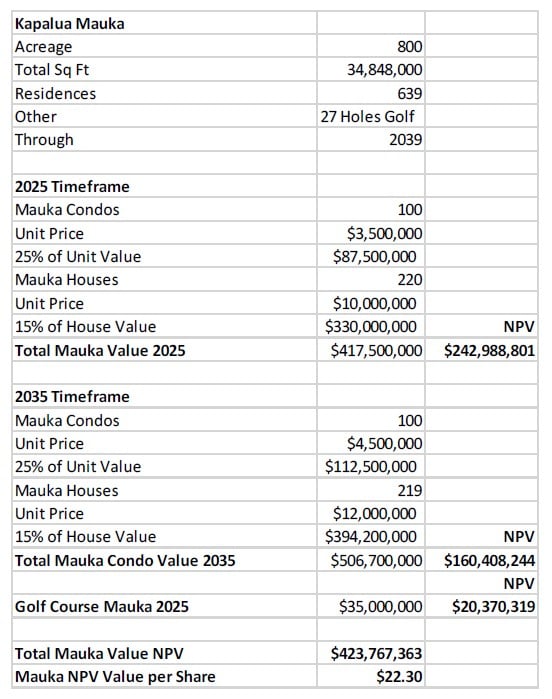 4. Hali'imaile Town
Different from the Kapalua developments above, MLP plans to develop a small, medium density town that they call a holistic traditional community with agriculture and sustainable development at the core. Reading through the development plans and speaking to management, I view this as a somewhat higher end town for locals, the Hawaiian equivalent of the South Park SoDoSoPa! i.e. a gentrified town for Hawaiian residents with trendy but affordable restaurants and homes. The plan involves 100 homes and 500k in GLA square feet. Given the lower prices, we value the development at 15% of $500k per home and $30/square feet in GLA with a 2025 timing NPV.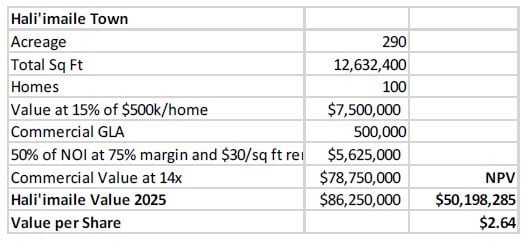 5. Other Land Value
MLP also owns an additional 10,800 acres in agricultural land and 9,000 in conservation land. The recent Honua'ula Piilani Highway Project converted 670 conservation acres into residential and commercial property at a property value of $204m. That said, after reading through the City/State council meeting approvals, there's a large lobby against converting additional conservation land into zoned property so we attribute very little value to the 9,000 conservation acres. We also attribute only $20,000/acre to the 10,800 agricultural acres (old Pineapple/Sugercane fields) though we believe there's a real possibility that this land is zoned over time. That said, for the same reason we dislike so many land bank investments, we ascribe a small amount of overall value here. However, even if 10% of the acreage is converted over time, we believe we are being extremely conservative with our valuation.
http://the.honoluluadvertiser.com/article/2007/Aug/16/br/br3058921647.html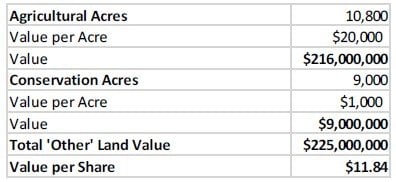 Conclusion:
We believe the hidden value in MLP is incredible with land values in Kapalua only increasing in value over time given the beauty, brand value and limited supply. We also believe that unlike most land banks, we see a real path to value monetization over time hence 250% upside to $41/share.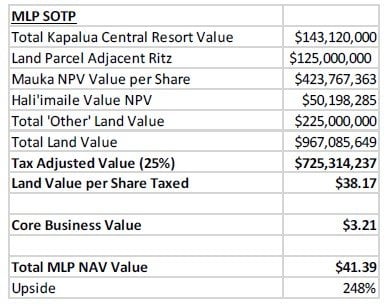 Other Land/Property Sales:


This article originally appeared on ValueWalk Premium