We have noticed buying activity ramp up in Aterian Inc (NASDAQ:ATER) this week with the stock currently the 5th most bought security on Fintel's Retail Fund Flow analysis page. ATER has risen 39 spots this week and is now the 5th most widely held security among retail investors on the platform.
Aterian is a global technology-enabled consumer products company. Aterian offers home and kitchen appliances, health and wellness, beauty, and consumer electronics. ATER shares have had a tough 12 months with the stock down -70% over the past year trading well below the 52 week high of $21.07. Shares began a bull run at the beginning of April and have gained +111% with some of the Reddit community calling it the next GME/AMC.
Q1 2022 hedge fund letters, conferences and more
The chart below shows the growth of Retail Ownership in ATER over the past 3 months.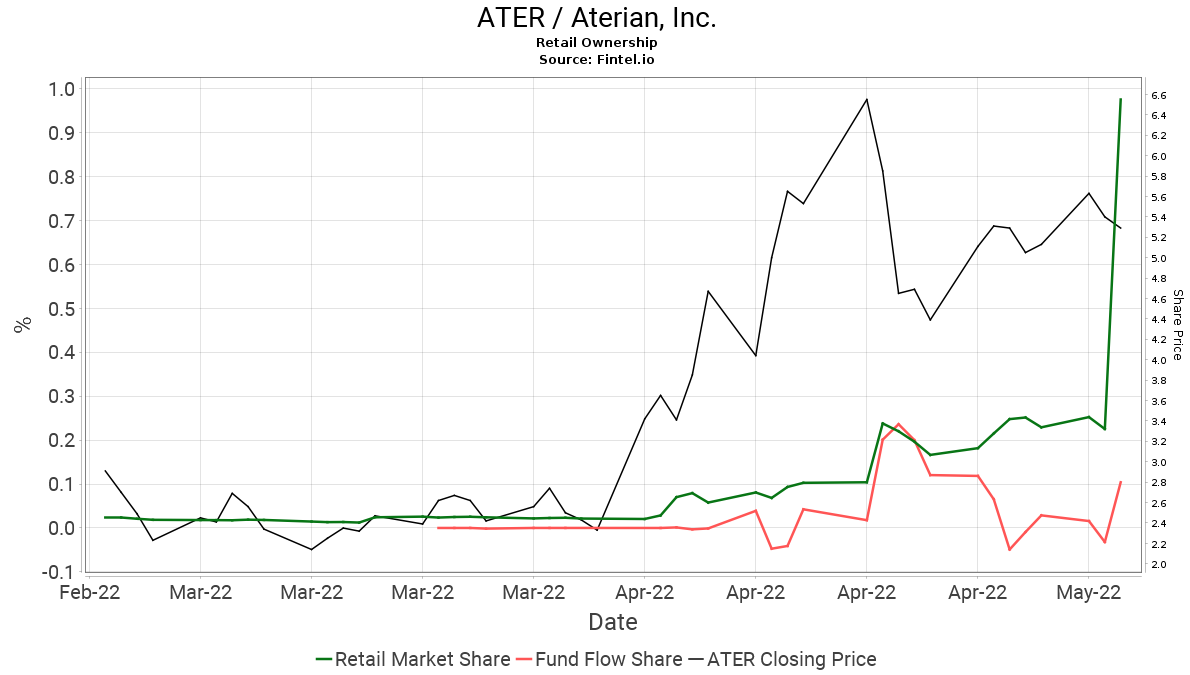 We decided to take a closer look at the stock to see how it has been performing and how it stacks up. ATER last reported fourth quarter results on the 8th of March that beat analysts' forecasts at both the top and bottom line. The firm posted EPS of ($0.11) compared to the market's forecast of ($0.27) and group revenue of $63.3 million, coming in $3 million above expectations. We note specific comments in the press release from CEO and Co-Founder Yaniv Sarig that give confidence in the year ahead; "we believe that our improved balance sheet will allow us to weather the ongoing storm" and "we will be well-positioned to drive growth organically and through our accretive M&A strategy". ATER is scheduled to report Q1 results on Monday May the 9th with the earnings call at 5:00PM ET. For the first quarter, the market is expecting sales of $43 million and an EBITDA loss of -4.8 million.
In April, Aterian appointed Anton von Rueden as the new COO. Rueden has COO experience with various firms prior to joining, most recently for Boosted Commerce where he oversaw Business Operations and Marketing for Boosted Commerce's portfolio of brands. Previous COO, Pramod K C will stay at ATER as COO and general manager of the firm's Asian operations.
Analyst Commentary
Tom Forte from DA Davidson will be focusing on supply-chain challenges, inflation commentary and any updates on Thrasio layoffs on the Q1 earnings call. While the firm revised sales and adjusted EBITDA estimates lower, they reiterated the 'buy' rating with a price target of $7.
Brian Nagel from Oppenheimer post Q4 results said that better cost controls and recent debt refinancing had allowed ATER to navigate ongoing macroeconomic issues pretty well. While they note that the firms 'outperform' rating is longer-term, the target remains at $15.
ATER has a market consensus 'buy' rating with an average target of $6.80, implying +38% capital upside to the price. Out of 5 observed ratings, 4 are 'buy' rated with 1 'hold' rating.
We decided to take a look at Institutional Ownership to compare to retail accumulation. We found that Institutions have been building positions over the past three years. Aterian, Inc. (US:ATER) has 159 institutional owners and shareholders that have filed 13D/G or 13F forms with the Securities Exchange Commission (SEC). These institutions hold a total of 10,472,371 shares.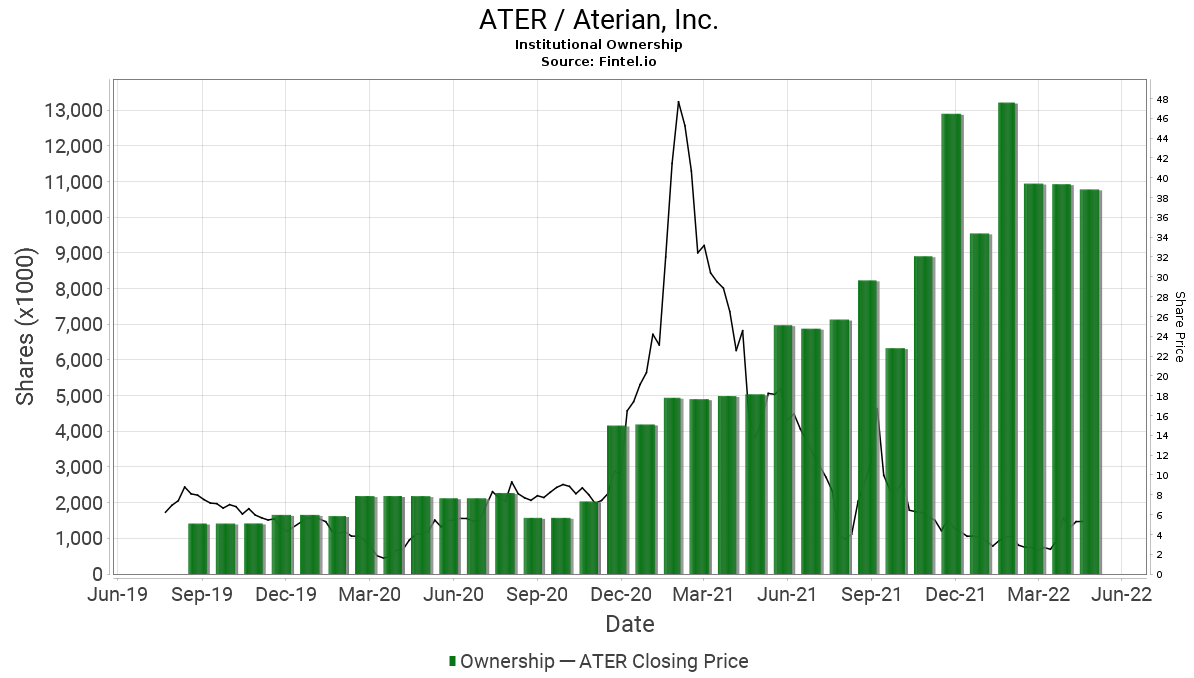 ATER continues to have a high Short Squeeze Score of 98.60 ranking it 4th highest out of 5,500 companies. The Short Squeeze Score is the result of a sophisticated, multi-factor quantitative model that identifies companies that have the highest risk of experiencing a short squeeze. The scoring model uses a combination of short interest, float, short borrow fee rates, and other metrics. The number ranges from 0 to 100, with higher numbers indicating a higher risk of a short squeeze relative to its peers, and 50 being the average.
ATER has a Put/Call Ratio of 0.17 which indicates bullish sentiment in the stock to us. The Put/Call Ratio shows the total number of disclosed open put option positions divided by the number of open call option options. Since puts are generally a bearish bet and calls are a bullish bet, put/call ratios greater than 1 indicate a bearish sentiment, and ratios less than one indicate a bullish sentiment. The chart below shows the trajectory of the rate over the last 3 months.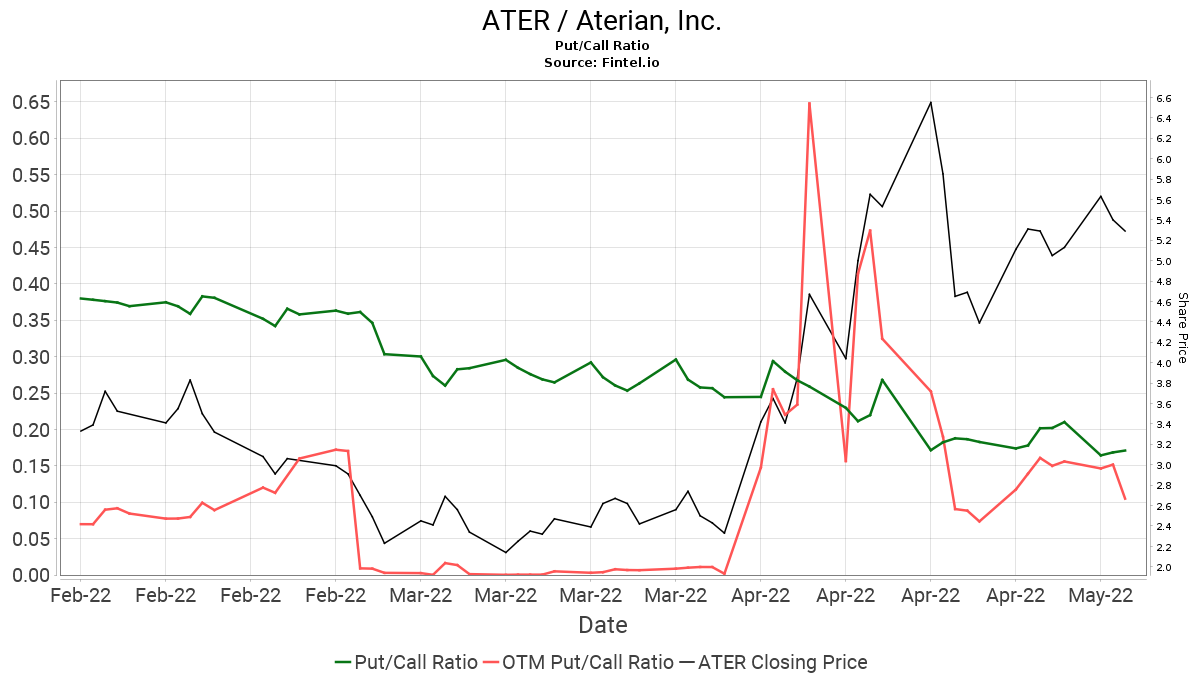 Article by Ben Ward, Fintel