I'm kicking off 2022 with a big call…
Q4 2021 hedge fund letters, conferences and more
One of the longest-running disruptive trends is set for a surprising reversal this year.
This trend sits at the center of one of America's largest and most important industries—autos.
Everyone from Ford Motor Company (NYSE:F) to General Motors Company (NYSE:GM) and Tesla will soon be talking about it. It will be plastered on the front pages of The New York Times and Wall Street Journal too.
Yet virtually nobody has a clue this reversal is coming.
I'm betting this will become one of 2022's biggest investment stories. And today I'll show you the one stock set to make a killing from it.
Bloomberg data shows 6.3 million new battery-powered cars were sold last year.
That's a 98% jump over 2020. And the number of electric cars registered in America has more than quadrupled in the past few years.
And the EV boom has barely begun…
Elon Musk's Tesla (NASDAQ:TSLA) has been the only game in town when it comes to high-performance electric vehicles. Now other manufacturers are jumping into the race.
Ford's electric F-150 truck hits the roads this year. Ford closed the waitlist after reservations topped 200,000. The first battery-powered Cadillac is expected to hit the roads in 2022 too. And Mercedes-Benz announced it's going all-electric by 2030.
EVs make up just 7% of the auto market today. Governments and carmakers are pushing for every second car sold to be battery powered by 2030.
Why have EVs suddenly become so popular?
Automakers have been trying to sell electric cars for decades.
Remember Ford's battery-powered Ranger from the late '90s? It sold a measly 1,500 trucks before scrapping the idea. General Motor's EV1 only lasted three years.
Even Tesla's first car, the Roadster, only sold 2,400 units.
The problem was these cars all came with hefty price tags. Tesla's Roadster cost over $100,000.
Even worse, it used to take up to eight hours to fully "charge" the battery-powered engine… which lasted roughly 70 miles. Who has time for that?
Today's battery-powered cars are on another level.
You can buy a Tesla Model 3 for under $40,000. A Tesla Supercharger will fill up its "tank" in under an hour… which will get you over 250 miles.
The Cost Of Batteries
Here's what's behind this big improvement…
Lithium-ion batteries power our wireless earbuds, smartphones, and laptops. Long-time RiskHedge readers know they also power the growing fleet of electric vehicles.
Do you know what happened to the cost of these batteries over the past few decades?
Prices plunged 89% since 2010. A battery that would have set you back $1,200 twelve years ago costs just $130 today.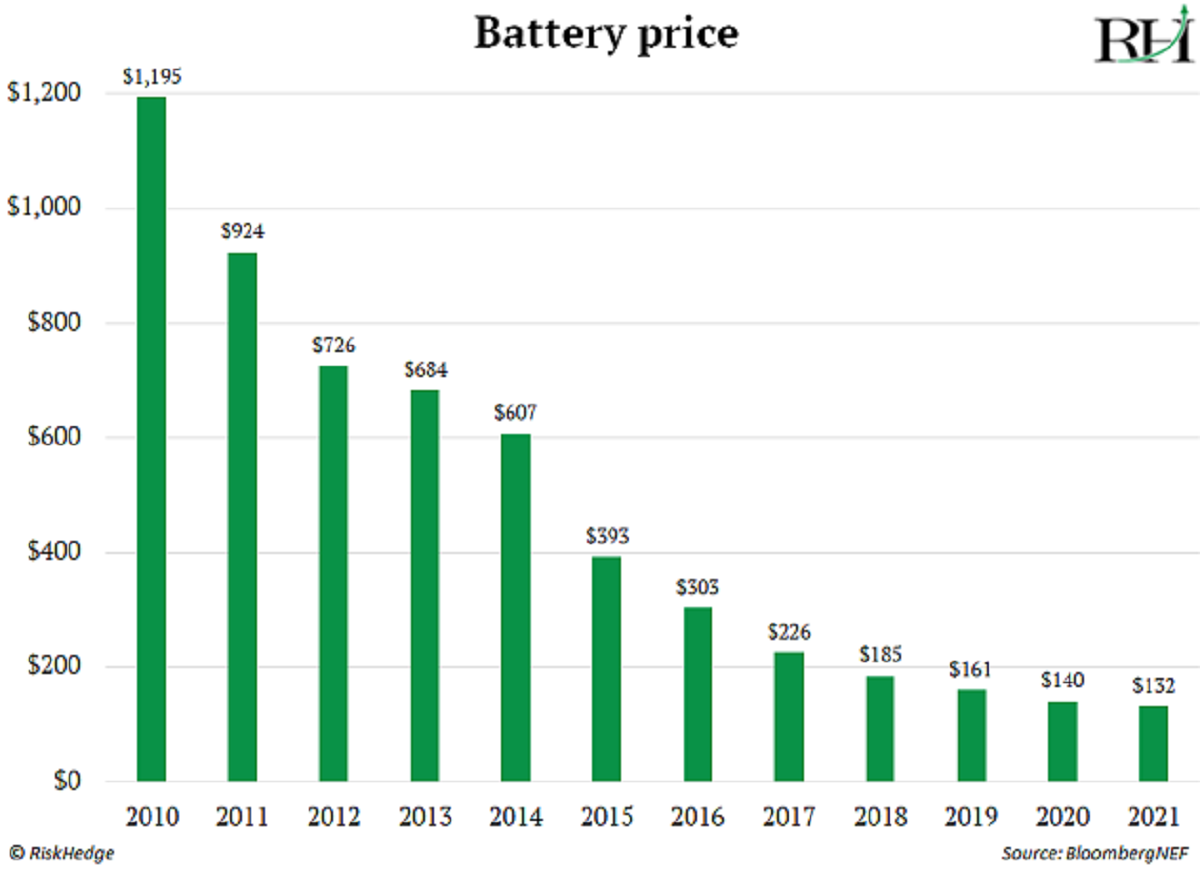 This rapid price decline is one of the most remarkable trends over the past decade. It's made EVs affordable for millions of drivers.
Take Tesla's Model S, for example. There are roughly 140 pounds of lithium inside its battery, which costs around $13,000. In the early '90s, it would have set you back $564,000.
This long-running disruptive trend is set for a dramatic reversal in 2022.
As I mentioned, EV sales are breaking all kinds of records.
Last month alone, there were over 700,000 battery-powered cars sold. That's fueling a boom for lithium.
Leading mining research firm Benchmark Mineral Intelligence forecasts a 70,000-ton shortage of lithium this year.
Every automaker in the world is trying to get their hands on large amounts of lithium right now. That's caused prices to more than triple in 2021. Now they're hitting all-time highs.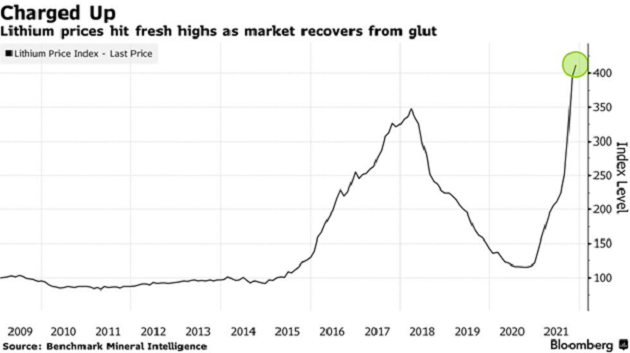 Source: Bloomberg
This has set the stage for a dramatic reversal…
Roughly 40% of the cost of a battery is tied to raw materials like lithium. And lithium prices have spiked so high they are pushing up the cost of EV batteries.
The world's largest battery manufacturers like LG, CATL, and Panasonic have already started hiking prices.
It's been a one-way street for EV battery prices for almost 30 years. But this streak will likely end in 2022 because of surging lithium prices.
This is only the tip of the iceberg.
EV sales just had a record year… but we haven't seen anything yet.
Governments and carmakers are pushing for every second car sold to be battery powered by 2030.
There are going to be millions more EVs, all powered by bigger batteries. That means lithium will be the most sought-after metal in the world. Benchmark Intelligence expects lithium demand to surge 17X by the end of the decade.
Right now, demand for lithium is growing 3X faster than supply. That means prices are likely headed much higher over the coming years.
Albemarle (NYSE:ALB) stands to make a killing from the lithium boom.
Long-time readers know Albemarle is one of my favorite disruptor stocks.
The company controls 25% of the lithium market and owns the purest lithium mines on the planet.
Carmakers like GM, Ford, and Tesla are going to need truckloads of battery-grade lithium. Albemarle will be their prime supplier. It sold over $2 billion worth of battery-grade lithium to electric car makers in the first half of 2021.
Rising prices aren't great for automakers who must now fork out more cash for batteries. But they're great for Albemarle.
Over the coming years, the world's largest lithium producer will sell huge amounts of the white metal to carmakers… at record prices.
In fact, Albemarle plans to expand the amount of lithium it produces by roughly 5X over the next decade.
Disruption Investor subscribers are sitting on a 188% gain in ALB after accounting for our "free ride." (A free ride is a strategy I use when one of my stocks shoots up 100%+. The idea is you sell enough of a winning trade to recoup your original stake… and let the rest "ride for free.")
On the back of surging lithium prices, Albemarle could easily double in 2022. Today, you have the chance to snap up ALB shares for a 15% discount to where it was trading in December.
What disruptive trends are you looking to invest in this year? Tell me at [email protected]
The Great Disruptors: 3 Breakthrough Stocks Set to Double Your Money"
Get my latest report where I reveal my three favorite stocks that will hand you 100% gains as they disrupt whole industries. Get your free copy here.
Article By Stephen McBride, Mauldin Economics