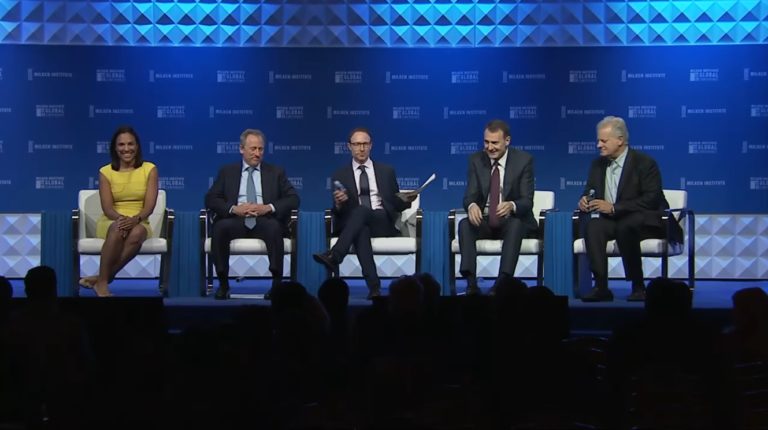 Following a dismal 2017, oil prices have remained above $60 for most of this year as U.S. shale producers relentlessly maintain production levels, offsetting reductions by OPEC nations. Meanwhile, renewable sources like wind and solar energy continue to significantly disrupt traditional energy markets, even as the advent of shale production mitigates their near-term impact. Where are the investing opportunities and caveats, and how will they change if oil prices move higher or, as some predict, lower? Also, what are the geopolitical implications of the U.S. dethroning Russia as the world's largest oil producer, potentially as early as this year?
Q1 hedge fund letters, conference, scoops etc, Also read Lear Capital: Financial Products You Should Avoid?
Speakers
Q3 2022 Hedge Fund Letters Database Now Live!
Q3 2022 hedge fund letters database is now up. See what stocks top hedge funds are selling, what they are buying, what positions they are hiring for, what their investment process is, their returns and much more! This page is updated frequently, VERY FREQUENTLY, daily, or sometimes multiple times a day. As we get new Read More
Moderator
Gregory Zuckerman, Special Writer, The Wall Street Journal; Author, The Frackers
Speakers
Helima Croft, Managing Director and the Global Head of Commodity Strategy, RBC Capital Markets
Joshua Harris, Co-Founder and Senior Managing Director, Apollo Global Management, LLC
Bernard Looney, Chief Executive, Upstream, BP
Michael Smith, Chairman and CEO, Freeport LNG
Energy Markets: The Year Ahead for Oil, Gas and Renewables
Transcript
Please welcome your panelists for energy markets the year ahead for oil gas and renewables moderated by The Wall Street Journal's Gregory Zuckerman. Good afternoon everybody. It's so hard to see you but hopefully everyone can see us. Well my name is Greg Zuckerman. Reporter at The Wall Street Journal. And I'm really thrilled to be here. We've got a really interesting panel a nice mix of experts from Wall Street and investors and producers and major producers and foreign as well as domestic. So it's a great privilege and I'm excited to be here. What I thought I do is ask everyone first just introduce themselves rather than I do it and give us just a little sense of what your focus is and what you're excited about this year. You want to start us off. Great thank you. I'm home. KROFT I'm head of commodity strategy at the Royal Bank of Canada and I'm particularly focused on the geopolitics of the market. Great. Josh Harris co-founder of Apollo Management where 250 billion alternative asset manager with very large private equity and credit effort and we're really focused on North America and in North American Midstream and also lending to middle market energy companies. Bernard Bernard Luny responsible for upstream business that's our exploration development and production business around the world we operate in 27 or so countries and very focused on the energy transition at the moment.
Michael Smith the CEO founder of Freeport LNG we're building a two day LNG export facility to take about two and a half percent of the U.S. natural gas to foreign countries who don't have access to clean burning natural gas would hopefully supplant dirty burning coal ice in places like China and elsewhere which would be quite helpful. So I first thought we would lay out where we are in the oil markets obviously in energy broadly a year or so ago. Things were kind of down in the dumps. People worried in the industry about where profits would come from. And then suddenly things have kind of surged. Now we're about 70 dollars a barrel. I thought we discussed kind of why we are where we are how we got here so fast. And I think my colleague to my right maybe will start soften. Is this sustainable we've kind of surged we're at 70. Can we stay at this high level. Yeah I mean I'm I'm tend to be much more constructive on oil prices. I mean I think one of the things that people didn't anticipate a couple years ago was the willingness of O pact to stay the course on the production cut. And we thought of OPEC as a very dysfunctional group of producers that would cheat every opportunity. And we've seen tremendous discipline of the OPEC producer cartel working with Russia which is something entirely new to basically drain the global inventory overhang and bring it down to the five year average. So they've been actually very successful in doing the whole rebalancing strategy. Now they've been helped by the fact that some of the countries that are the traditional cheater's with no pact like Venezuela. Their production is dropping like a lead balloon because of the internal political and economic problems in that country like Venezuela is actually the most compliant OPEC country today.
They like 200 percent compliance. But the demand picture is actually very very constructive as well this year. So we're looking at demand growth of one point six one point seven million barrels a day. So even with a very healthy U.S. production story when you have that backdrop of strong demand plus OPEC's staying the course and then other key producers seeing very large production declines as well as renewed concern about the Middle East potentially having effects snapback on Iran sanctions. I think that's the mix that got us to where we are now. Were you surprised by this surge and did you call it. Yeah we called it. I mean I follow geopolitics so it's not something that we were surprised by one of the things that we were surprised by actually was this view that was prevalent last summer when oil was selling off very sharply post OPEC meeting that shale would be the forever Superman that U.S. production could make up for any major outage in another producing state. And this is the year that shale has really been put to the test with that. And so I think we were surprised that people weren't paying enough attention to how unstable.