he Dow just posted a record-high close every single day for 10 days straight…

A feat not seen since 1987 as the Dow surged 1,059% as a secret economic force drove the biggest bull market in U.S. history.
And according to Wall Street legend Paul Mampilly, the same economic force that drove this  last bull market is hitting the market again — only this time, it's going to be even bigger — MUCH BIGGER!
Exodus Point Outperforms As Rates Trading Profits Jump [Exclusive]
Michael Gelband's Exodus Point launched in 2018 with $8.5 billion in assets. Expectations were high that the former Millennium Management executive would be able to take the skills he had learned at Izzy Englander's hedge fund and replicate its performance, after a decade of running its fixed income business. The fund looks to be proving Read More
Take a look at this chart…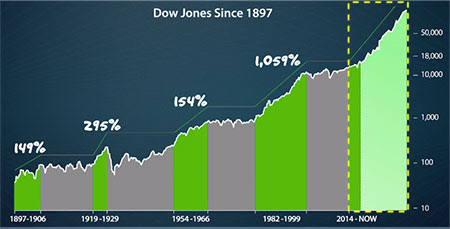 See the repeating pattern?
Bull market … bear market.  Bull market … bear market…
For the last 120 years, this pattern has never been interrupted.
And right now, this pattern and the record-setting highs in the Dow day after day prove we are entering a massive new bull market.
According to Paul Mampilly … This chart proves that this next bull market will be bigger than every other bull market in U.S. history … combined …
Dow 50,000 Is Inevitable!
If you don't know Paul, he gained legendary status when he won the prestigious Templeton Foundation investment competition by making a 76% return … during the 2008 and 2009 economic crisis (without shorting stocks or making risky investments).
Not to mention that his $6 billion hedge fund was voted by Barron's as one of the "World's Best."
Point is, when Paul talks, Wall Street listens.
And right now Paul is saying, "This new bull market will mint more millionaires than any bull market in history."
That's why I urge you to watch Paul's new video where he breaks down this chart and explains — in plain English — how everything will rapidly unfold as this new bull market sends the Dow to historic heights.
In fact, Paul even gives you three stocks that he says you should buy today … And while nothing in the market is guaranteed, these  are the stocks he believes are best-positioned to give historic windfalls like 27,504%, 28,894% and even 91,863% — the same as stocks did during the last massive bull market run.
But you need to hurry … the stock market is already hitting new highs.
You need to buy these stocks now.
Click here to watch the video, or click the play button below.
Updated on