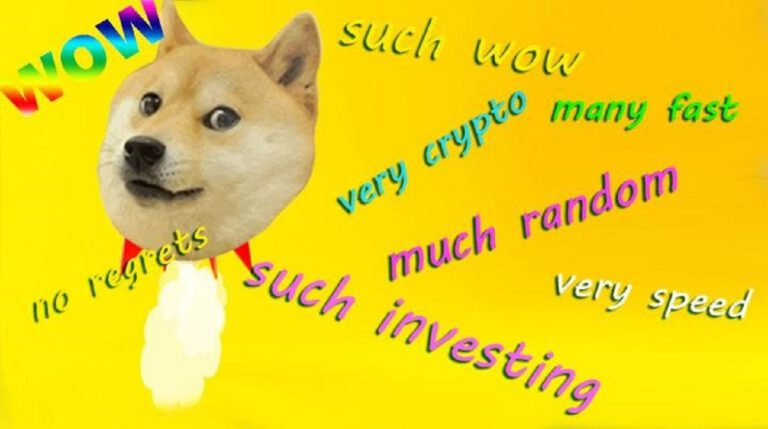 Whitney Tilson's email to investors discussing hunt for next crypto winner; Dogecoin skyrockets because it's funny; Cathie Wood's Ark battered by selloff; four comments on bitcoin; At Home being acquired; Hertz is up 123% in the past two weeks.
Q1 2021 hedge fund letters, conferences and more
Hunt For Next Crypto Winner
1) I'm not calling a market top yet, but it would be hard to find a better sign that we're getting close (maybe six months?) than the rampant speculation in the cryptocurrency sector, as this story on the front page of today's Wall Street Journal highlights: Dogecoin's 12,000% Rally Spurs Hunt for Next Crypto Winner. Excerpt:
Robinhood 2021 Conference: Cathie Wood discusses her investment process with Lee Ainslie [Exclusive]
ARK Invest is known for targeting high-growth technology companies, with one of its most recent additions being DraftKings. In an interview with Maverick's Lee Ainslie at the Robinhood Investors Conference this week, Cathie Wood of ARK Invest discussed the firm's process and updated its views on some positions, including Tesla. Q1 2021 hedge fund letters, Read More
The jump from one speculative asset to another is indicative of the broader frenzy that has driven up prices for a range of assets including stocks, commodities such as silver and cryptocurrencies. It also shows how new investors with savings bolstered by stimulus checks and who are spending more time at home during the COVID-19 pandemic have become a volatile new force in financial markets.
Their bets, usually fueled by rumors and speculation in online forums and chat groups, are prompting more seasoned money managers to warn that markets are overheating, and that small investors could be hurt when prices reverse course.
Dogecoin Skyrockets Because It's Funny
2) Among the most absurd cryptos is dogecoin – a cryptocurrency that was created as a joke (I think it's pronounced "doezhe-coin" but I insist on pronouncing it "doggy-coin").
As you can see in this chart, as of yesterday's close, it has skyrocketed more than 12,000% this year and now has a market cap approaching $90 billion (a year ago, it was $315 million):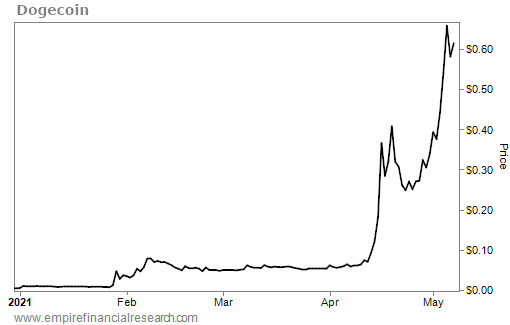 Bloomberg's Matt Levine had a wonderful take in his column yesterday: Dogecoin Is Up Because It's Funny. Excerpt:
Look I enjoyed GameStop (GME) as much as anyone. It was dumb fun, it seemed to say something weird and alarming but not too serious about financial capitalism, nobody got too badly hurt, it had some good characters, it kept us entertained for a while. Non-fungible tokens are exasperating, but in an interesting way. I thought the deli was pretty good. Financial news in 2021 is incredibly stupid, sure, but I can take pleasure in it.
But Dogecoin ... man, I don't object to Dogecoin; the basic thing of "Dogecoin is a parody of Bitcoin that is now worth a lot of money" is fine, that is funny, fine fine fine...
Just imagine traveling 10 years back in time and trying to explain this to someone; just imagine what an idiot you'd feel like. "There's going to be this online currency that people think is a form of digital gold, and then there's going to be a different online currency that is a parody of the first one based on a meme about a talking Shiba Inu, and that one will have a market capitalization bigger than 80% of the companies in the S&P 500, and its value will fluctuate based on things like who is hosting Saturday Night Live and whether people tweet a hashtag about it on the pot-joke holiday, and Bloomberg will write articles and banks will write research notes about those sorts of catalysts, and it will remain a perfectly ridiculous content-free parody even as people properly take it completely seriously because there are billions of dollars at stake."
For that matter, imagine being me, now, and trying to say something interesting about this; just imagine what an idiot I feel like. I hope Elon Musk is funny on SNL! That will make the value of Dogecoin go up! Me, I want to write about dynamic hedging of inverse exchange-traded notes on volatility indexes, but that's not how finance works anymore. "Don't forget to pencil in the SNL opening as a key market event risk for next week," tweeted Bloomberg's Tracy Alloway.
In the last dumb, dumb year I have proposed two very dumb theories of financial markets, both of which seem relevant to Dogecoin:
I will make my usual prediction related to absurd bubbles that my "spidey sense" tells me are at a top: from $0.5853 (the price of dogecoin when I wrote this), it will be down 30% within a month, 50% within three months, and 80% within a year.
Cathie Wood's Ark Battered by Selloff
3) While these are nowhere near as foolish as dogecoin, my friend Doug Kass, my colleague Berna Barshay, and I have been warning investors for months about the ARK Invest funds, which are managed by Cathie Wood, whom I call "the queen of hype and speculation."
As this Bloomberg article notes, her funds are crashing and the outflows are rising, which can trigger a vicious feedback loop: Cathie Wood's Ark Battered by Selloff, Worst Run of Outflows. Excerpt:
The selloff that's tearing through high-valuation tech shares has battered Cathie Wood's flagship ETF.
The ARK Innovation exchange-traded fund (ARKK) dropped for a seventh straight day Wednesday in its longest slide in nearly two and a half years. After surging roughly 150% in 2020 thanks to a string of prescient bets on Tesla (TSLA) and stay-at-home tech darlings, the negative stats are starting to add up.
ARKK, which edged lower in early trading on Thursday, is down more than 10% for the year and investors are piling into protection against more losses. Put volume hit 190,000 Tuesday, the most in six weeks and the fourth-most on record. The latest data show outflows for a sixth consecutive day, the longest streak since the fund launched in 2014.
The slide comes with many of the fund's top holdings caught up in a rotation out of highly-valued tech companies. Investors have turned on the likes of Zoom Video Communications (ZM), Roku (ROKU), and Teladoc Health (TDOC) – all top 10 holdings in ARKK. Once coveted for the promise of strong future profit growth, the specter of inflation now makes stretched valuations harder to justify after robust earnings from tech giants failed to revive investor interest.
Comments On Bitcoin
4) Speaking of cryptos, here are four interesting comments on bitcoin by:
Today, apparently infinite quantitative easing (printing money) is our problem ... and it is bitcoin's opportunity. Cryptocurrency, sitting at a $2T market capitalization, is no threat to the dollar today, but the trends are not favorable.
Should bitcoin and other cryptocurrencies usurp the scarcity credibility of major currencies and emerge as the dominant form of money, the dollar – and the role it plays in world stability – would be drastically undermined. Widespread use of currencies that evade the existing financial system could blind U.S. authorities to tax fraud, sanctions evasion, and other criminal conduct. Indeed, it would degrade the ability of governments across all democracies to collect taxes and enforce financial laws. Less investor interest in the dollar would increase U.S. government borrowing rates, and reduce discretionary spending as interest on debt increases.
After losing an epic battle with Mark Zuckerberg over ownership of Facebook and being shunned in Silicon Valley, CAMERON and TYLER WINKLEVOSS are back – this time as budding Bitcoin billionaires at the center of the future of money, the creative economy and quite possibly a new operating model for Big Tech itself.
P.S. The Winklevii spoke at my conference to 500-plus people in New York City on September 17, 2013, when bitcoin was around $130. Here are the 25 slides they presented. In the post-conference evaluation forms, the attendees – mostly followers of Warren Buffett and Charlie Munger, like me – rated them the worst, by far, of the 21 speakers. The Winklevii sure had the last laugh!
4:00 – Philosophy on ETFs and the leap into bitcoin
4:43 – The light-bulb moment
11:45 – Crypto: the next big disruptive area of finance
14:40 – The reason behind why there is more than one cryptoasset
17:29 – What role, if any, should cryptoassets have in a professionally managed portfolio and for individual investors?
20:26 – What should financial advisors be thinking about, and should they be caring about crypto? What should they be doing about the clients in crypto?
22:30 – What does Matt think the biggest misunderstanding about crypto is? What is the actual reality?
24:36 – What do you say to the naysayers on crypto?
26:35 – Matt discusses allegations that the benefits of blockchain are exaggerated
29:11 – Five most widely used cryptoasset valuation techniques
23:19 – What should we watch out for on the horizon?
36:24 – What Matt holds in his crypto portfolio
There is a mania rising in the country these days about cryptocurrency, and how the train is leaving the station so you'd better get on... The whole thing is a joke. I fully understand that our financial system isn't perfect, but at least it's real... I've read articles about cryptocurrency and had it explained to me, and I don't get it – and neither do you or anyone else! I'll explain why. There's these things called nerds...
At Home Being Acquired
5) I mentioned retailer At Home Group Inc (NYSE:HOME) as my Stock Idea of the Day nearly two years ago in my July 24, 2019 e-mail, when it was trading for $6. It rallied to over $10 within three months, but then the company almost went under when the pandemic struck and the stock fell to a low of $1.55 13 months ago.
Ever since, however, it's been on a tear... And yesterday, the company announced that it's being acquired by private equity firm Hellman & Friedman for $36 per share. (The stock actually closed yesterday above this price, at $37.67, as investors anticipate the possibility of a topping bid.)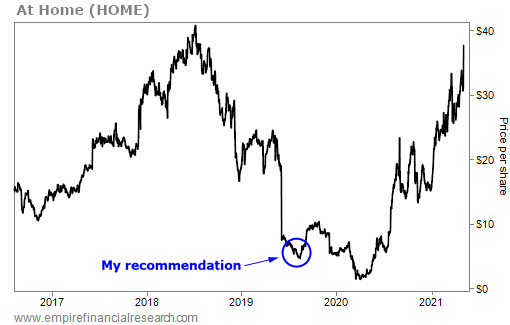 Hertz Is Up 123% In The Past Two Weeks
6) Silly me – when I wrote in my April 22 e-mail that "I might end up being wrong on car-rental giant Hertz Global Holdings Inc (OTCMKTS:HTZGQ)," one of the 25 stocks in my "Short Squeeze Bubble Basket," I should have announced that I was removing it from my list at that day's closing price of $1.73.
In the two weeks since then, it's up 123% to close yesterday at $3.85 – and is the sole reason the entire basket hasn't lost a cumulative 50% of its value, as I predicted (it's "only" down 45% as of yesterday's close... the other 24 are all down, 23 by double digits).
Best regards,
Whitney