I've seen a lot of posts this week on stocktwits regarding CNBC and the fact its viewership has never really been worse……..
CNBC is allegedly "business" news.  But, is it really?
I'd argue it has tragically morphed into a 50/50 mix of "business and politics". The problem with that is NBC already has its "political" news station in MSNBC. It really doesn't need CNBC doubling up on that effort. Simply check out its "top videos" from today. I just randomly went on it a few min ago and screenshot the top 10:
ValueWalk's December 2021 Hedge Fund Newsletter: Hedge Funds Avoid Distressed China Debt
Welcome to our latest issue of issue of ValueWalk's hedge fund update. Below subscribers can find an excerpt in text and the full issue in PDF format. Please send us your feedback! Featuring hedge funds avoiding distressed china debt, growth in crypto fund launches, and the adapting venture capital industry. Q3 2021 hedge fund letters, Read More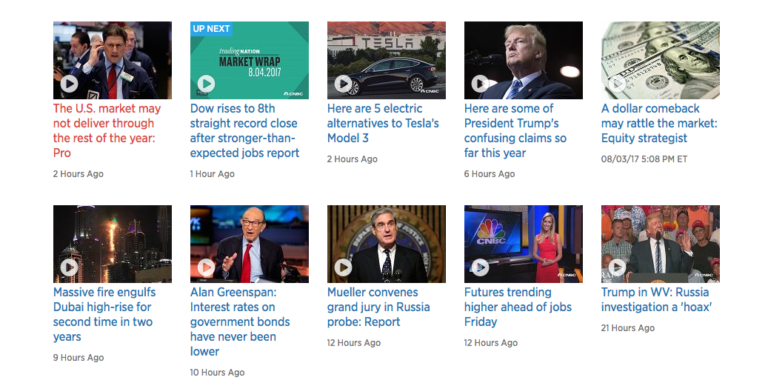 Trump, Trump, Mueller (Trump), and a Dubia fire. 40% of their Top 10 videos have nothing to do about business, nothing.  Now, I'm sure CNBC will argue "investors care about politics". I am sure they do but they are in no way clinging to every news headline before they make investing decisions.
Bloomberg:
Donald Trump's Russian woes are deepening. North Korea is pressing ahead with its nuclear-missile program. And worries about Brexit are increasing.

But global markets don't seem to care. Take the reaction to yesterday's news that special counsel Robert Mueller is now using a federal grand jury as he investigates alleged collusion between Russia and the Trump campaign. The Dow Jones Industrial Average initially fell – but only by 0.2 percent and it promptly resumed a rally that this week saw it charge through 22,000 points. In South Korea, stocks are up 18 percent this year.

The fact remains that traders are much more attentive to the latest thinking at the Federal Reserve and other central banks about how quickly interest rates will rise and balance sheets will be reduced. And with the 10-year Treasury yield unlikely to go back above 2.5 percent any time soon, traders seem optimistic that rates will stay low.

It's exactly a decade since the subprime crisis started rumbling through global financial markets, a reminder that the world can change very quickly. But for now, traders seem content that the good times will last for a while yet, whatever Donald Trump or Kim Jong Un do.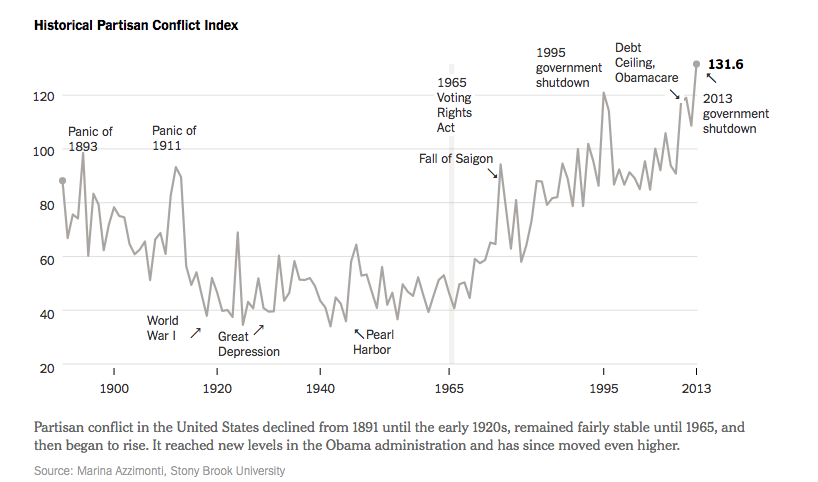 The United States is so sharply divided that political consensus appears to fray almost daily. Yet two truths about politics can be demonstrated with hard numbers.

The first is that partisan conflict doesn't just seem to have become more intense this year: It has actually reached new levels of nastiness.

The second is that the stock market simply doesn't care. In fact, the rising acrimony has been a fine environment for stocks, though possibly detrimental to the economy itself.

Nearly everything is quantified these days: how much we eat, how frequently we exercise, how much time we spend glancing at a Facebook post or reading an article. In the age of Big Data, why not measure trends in political vituperation?

The Federal Reserve Bank of Philadelphia is doing just that. It maintains a monthly Partisan Conflict Index, building on the work of Marina Azzimonti, formerly a research economist with the Philadelphia Fed and now an associate professor at Stony Brook University. The monthly index peaked in March and remains at historically high levels.

"The long-term trend is pretty impressive," Professor Azzimonti said. "And it's safe to say that this year, partisan conflict in the United States has reached an all-time high."

Professor Azzimonti also created an annual historical index that begins in 1891 and continues through 2013. Both indexes use a common methodology — searches in newspaper databases that measure the frequency of "articles reporting lawmakers' disagreement about policy," as she explains in her academic article, "Partisan Conflict and Private Investment."

Despite periodic spikes around elections and specific political battles, conflict generally declined from 1891 until the early 1920s, remained fairly stable until 1965 — the year that the landmark Voting Rights Act was signed into law — and then began a long climb to its current stratospheric levels, she has found. One striking discovery is a clear "rally 'round the flag" effect: Conflict ebbed in the early crisis of the Great Depression, in World War I and World War II.

But contentiousness increased in the 1960s, accelerated during the Great Recession and leapt during the debt ceiling crises and health care battles of the Obama administration. It catapulted to previously unexplored levels with the election of President Trump and kept moving higher, the monthly Philadelphia Fed index shows.

"You might not have expected that, with both branches of Congress and the presidency controlled by the same party," Professor Azzimonti said. But the kinds of conflict measured by her indexes require three basic ingredients: disparate political preferences or views; the power to block or obstruct; and constraints, usually fiscal, that cause political eruptions. All of those are abundant now, she said.
There are so many great business stories going on out there right now. CNBC would rather have us watch that scumbag Martin Shkreli's congressional testimony which was a joke vs giving a detailed insight into a company doing something extraordinary.  That is a shame. Shkreli was convicted, good, here comes another 2 hours of video on it….
CNBC seems to think they actually "influence" trader's minute by minute actions which is why they do the "quick hit" type of news.  Rarely are we treated to an in depth analysis of anything that does not involve 2-8 people screaming at each other.  That is theater, not "business news".
The really good/great traders I know, they don't make a single investment decision based off anything they see on TV. They have their own methods and a 2min drive by recommendation by someone on CNBC isn't going to make them do anything.
Louis Rukeyser invented the modern "business program" with his show Wall Street Week. It was a calm,  rational dissection of the week's events with more than a few good ideas discussed in detail. I know of no one my age who did not watch the show and not a single person has a negative thing to say about it.  Here is Louis on after the Crash of '87:
Today if the DOW drops 300pts CNBC trots out Peter Schiff who screams "I told you so, we're all doomed…..buy my gold fund!!". They will follow him up with Marc Faber who will instinctively predict another 3,000 down points to whatever level the DOW is at the minute he walks on and then claim we are on the verge of a second Great Depression.  It is the standard playbook……nothing sells like fear.
But does it???
A 22 year low in ratings…..let that sink in.
It what other business would that be ok?  A 22 year low in attendance for a sports team? GM and Head Coach gone…..
A 22 year low in sales for any company in existence? CEO gone.
Not only would the guys in charge be gone but one could be sure there would be an entire organizational shakeup.
Yet, CNBC keeps running the same playbook out there day after day after day……..and sheds more viewers day after day after day.
Admittedly, I'm not a "TV guy". I have no media experience other than watching i. I stopped watching CNBC years ago when I could not watch it for more than 5 min without the conversation drifting to politics for the next 20min.They simply ceased giving me a reason to watch it anymore. If people want to watch political based news, they'll watch those networks that specialize in that.
They want to watch CNBC for business news…….if only CNBC delivered that
Save
Updated on