A new survey of 1,200 people, conducted by Select Car Leasing, has found that a startling 98% of Brits believe themselves to be 'safe drivers'. But with the RAC foundation reporting that 65% of fatalities in reported road accidents had driver error or reaction (including failing to look properly, loss of control, and poor turn or manoeuvre) as a contributory factor.
Q2 hedge fund letters, conference, scoops etc
So are we kidding ourselves about how safe we are behind the wheel?
Drivers Admit to a Range of Driving Offences
In contrast to this almost universal belief in ourselves as 'safe drivers', and despite increasingly strong Government legislation and penalties, Select Car Leasing's survey shows Brits readily admit to a wide variety of driving offences, the top ones[1] being:
Over 4 in 10 driving with just one hand on the wheel (43%)
4 in 10 speeding in areas with no speed cameras (39%)
4 in 10 eating/drinking while driving (37%)
One third accelerating through yellow lights (34%)
1 in 5 not using indicators (22%)
The survey also reveals that despite the well-publicised threat of additional penalty points and a fines, a variety of phone-related offences continue, including 1 in 7 checking mobile devices for messages (14%), 1 in 20 texting (5%) and 1 in 20 reading emails and accessing the internet (5%).
The New Car Safety Features That Consumers Are Demanding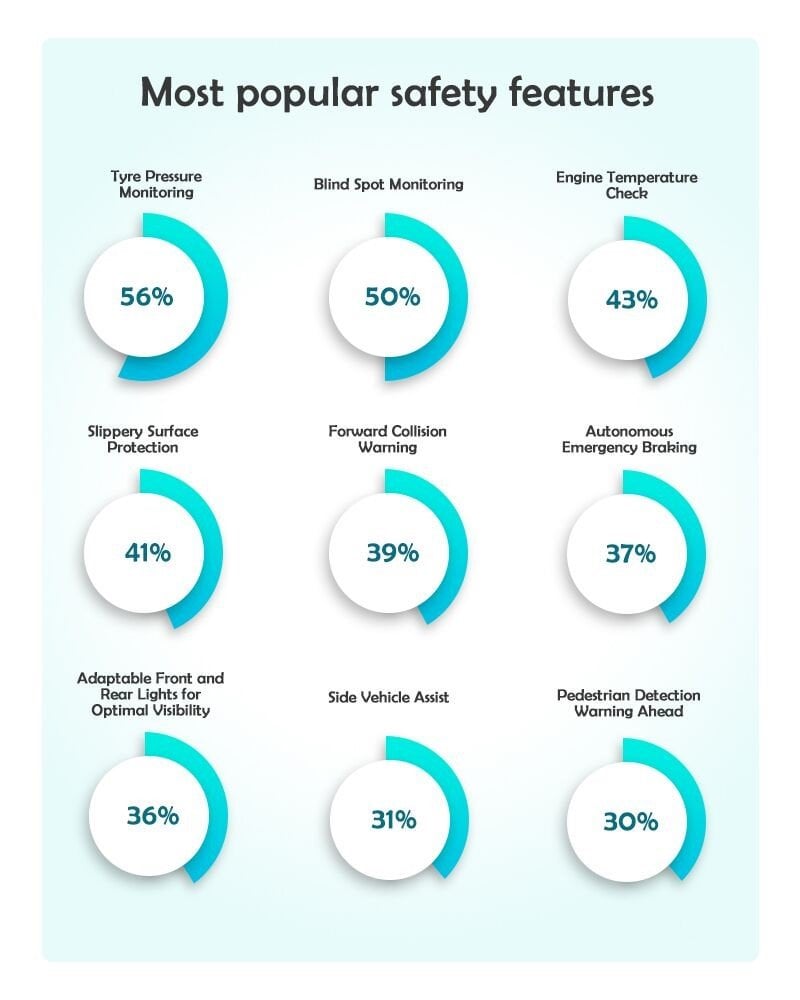 The research revealed that the public see a broad range of new safety technology as important to have on a new vehicle, with the most important or wanted features believed to be:
Tyre Pressure Monitors – 56%
Blind Spot Monitoring – 50%
Engine Temperature Check – 43%
Slippery Surface Detection – 41%
Forward Collision Warning – 39%
Autonomous Emergency Braking – 37%
Adaptable Front and Rear Lights for Optimal Visibility – 36%
Side Vehicle Assist – 31%
Pedestrian Detection Warning Ahead – 30%
(% of respondents stating that this is an important feature on a new vehicle)
Given poor tyre maintenance is the most common cause of car accidents in Britain in 2017 (according to Department for Transport), it's positive here to see congruence between what is needed and what is rated as important.
It's also clear from the results there's also significant desire from consumers in the UK for the many other new technological advancements being introduced by car manufacturers.
Given the contrast that the survey has revealed between people's beliefs about how safely they drive vs. their actual driving behaviour, there's clearly even more work to be done by both Government and the motoring industry in raising awareness about what constitutes truly safe driving practices.
Moreover, in the overall battle to reduce road fatalities and serious injuries, the survey reveals there may be a need for greater education around Euro NCAP safety ratings, as well as new car safety features, ultimately better empowering drivers to make the right safety choice for them and their family when choosing their next car.