This obscure sector is cheap… unloved… and rising fast.
It's experienced several huge booms over the past few decades. In fact, the last time we saw a similar setup, investors made 13X their money.
Today, it's on the cusp of another boom.
And my research suggests we can potentially triple our money over the next 12 to 18 months… by investing in my favorite stock in this tiny, forgotten corner of the energy world.
Generating Clean Energy
Do you know where the majority of our clean energy comes from?
Not wind. Not Solar. Not hydro.
When most people read the word "nuclear," they think "bombs."
It's true, atomic technology was used to make the most destructive weapons in human history. But modern uses of nuclear power are overwhelmingly good.
As you can see below, nuclear power (green) keeps the lights on for about one in five American homes…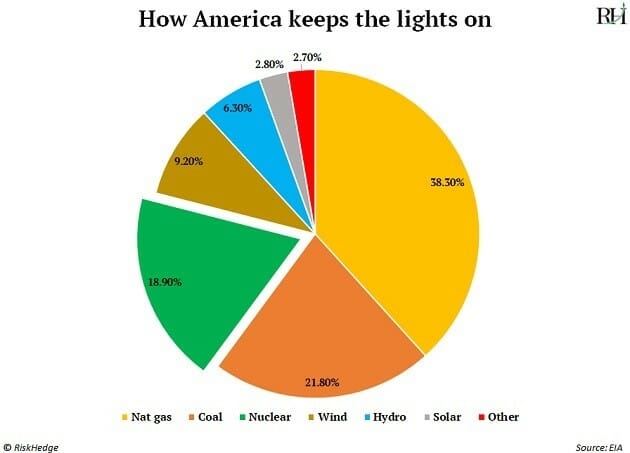 It's hard to think of a tougher assignment for a PR pro than painting nuclear power in a positive light.
But nuclear isn't dirty or dangerous. It's the cleanest form of energy in the world.
Dozens of studies, including one by the International Panel on Climate Change, found it produces less air pollution than solar, wind, or hydro power.
It's also among the safest forms of energy…
I know that's shocking. Nuclear disasters like Chernobyl and Fukushima are seared into our brains. As terrible as these incidents were, they were outliers—and they accounted for few deaths.
Data from the United Nations shows nuclear energy results in 99.8% fewer deaths than coal… 99.7% fewer deaths than oil… and 97.6% fewer deaths than gas. It's also just as safe as wind and solar energy.
Nuclear has another giant advantage. It provides "baseload" power. In other words, nuclear plants are always on and produce clean electricity 24/7/365.
An Environmentally Friendly Investment
The world is quickly waking up to the reality that we need nuclear power for a clean energy future.
The Inflation Reduction Act provided $30 billion for America's nuclear reactor fleet. It's the largest boost to the US nuclear industry ever.
It also classifies nuclear as "green" energy, making it eligible for tax credits.
California has been the most anti-nuclear US state. It's closed all but one power plant. But last year, Governor Newsom signed a law keeping California's Diablo Canyon plant open until at least 2030.
I can't overstate what a change this represents. Politicians, including Newsom, have been trying to shut down Diablo Canyon for years.
And this shift isn't just in the US…
Japan announced it's extending the lifespan of its nuclear reactors…
Ontario's refurbishing several reactors that were due to close…
And last summer, the EU classified nuclear as a green energy source for the first time.
This designation means investing in nuclear is now "environmentally friendly."
The Dawn Of A New Golden Age
We're at the dawn of a new golden age for nuclear energy.
Despite what you might hear, nuclear power isn't fading. It's growing.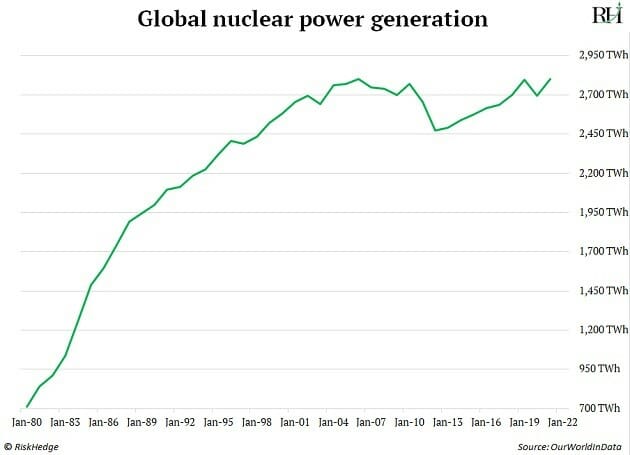 And uranium—the "fuel" which powers nuclear plants—is emerging from a decade-long bear market. Here's the price of uranium since 2012: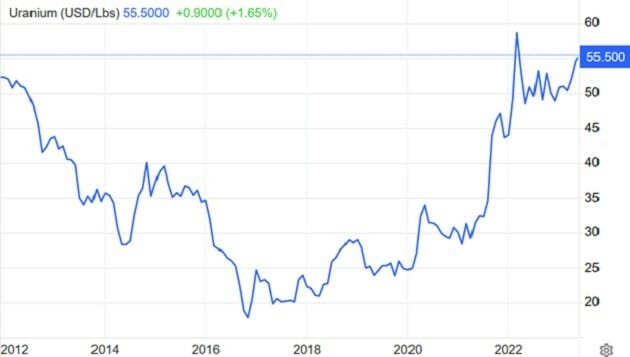 I expect this trend to continue thanks to the explosive combo of record demand and tight supply.
Uranium's last big bull run from 2003 to 2007 saw its price surge 9X.
And many uranium stocks—which are "leveraged" to nuclear power—handed out 10X gains or more.
Today's conditions are ripe for another historic uranium boom.
The forces that weighed on prices over the past decade are all reversing…
Meaning now is the time to invest.
A Look At Cameco
The easiest way to profit from this boom is to buy the world's finest uranium producer…
Cameco Corp (NYSE:CCJ) is the "ExxonMobil" of uranium.
It's the world's second-largest uranium producer, behind Kazatomprom.
Cameco owns uranium deposits in Canada, the US, Australia, and Kazakhstan. And its mines are among the world's purest.
Cameco's McArthur River mine in northern Canada is the world's largest high-grade uranium mine. It holds over 460 million lbs. of proven uranium reserves.
And get this… the quality of its uranium is 100X better than the global average.
This allows Cameco to mine uranium for around $30/lb. That's a lot cheaper than the $50 to $60 average among its peers.
That gives Cameco an incredible financial advantage.
Imagine generating 65% to 100% more profits than your competitors on every sale.
Cameco can use these extra profits to reinvest in its business or return money to shareholders.
This cements its status as the top uranium stock to own.
Jump In CCJ Stock
During the last uranium boom, the uranium price 9X'd. Cameco's stock jumped 13X: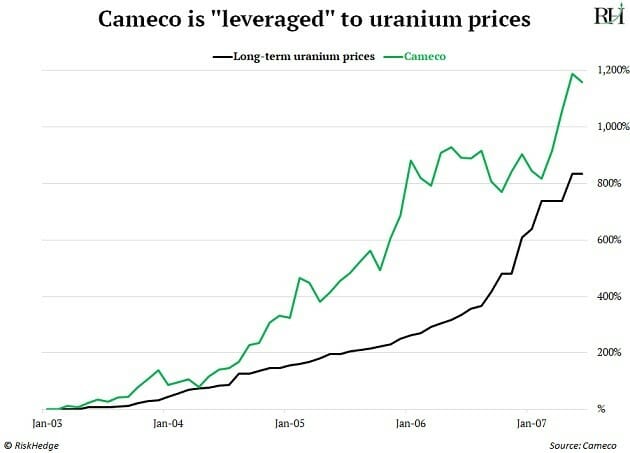 And those gains happened when Cameco had way more competition.
I first recommend CCJ in 2018.
The stock has nearly tripled since.
But it's not too late to get in.
I see another triple in the cards as the world continues to wake up to nuclear energy and uranium prices take off.
Article by Stephen McBride – Chief Analyst, RiskHedge
---
To get more ideas like this sent straight to your inbox every Wednesday and Saturday, make sure to sign up for The RiskHedge Report, a free investment letter focused on profiting from disruption.
Expect smart insights and analysis on the latest breakthrough technologies, the big stories the mainstream media isn't reporting on, and much more… including actionable recommendations.