Bill Clinton is one of the wealthiest American politicians. He and his wife have a combined net worth of $120 million. Bill Clinton was the 42nd President between 1993 and 2001.
When they left the White House, the Clintons were in considerable debt. They admitted to being millions of dollars in debt. He spent his presidential salary on impeachment defense and sexual harassment settlement.
When they retired, the Clintons embarked on a journey to rebuild their life. Bill Clinton earned over $100 million as a guest speaker within 10 years. He authored a memoir, My Life, published in 2004, from which he received a record book advance of $15 million in 2001.
As of 2023, the Clintons have earned around $280 million from speaking engagements. The couple earns between $150,000 and $700,000 per event, with an annual household income of $10 million to $30.
Hillary Clinton released 8-year financial disclosures during the 2016 presidential campaign. The financial disclosure reports showed that the couple earned $28 million in 2014. A vast majority of these were speaking fees.
As a retired American President, Bill Clinton is entitled to a $200,000 annual pension and lifetime secret service protection. His wife is also entitled to secret service protection.
Bill Clinton Bio
Early Life
William Jefferson Clinton is a retired American president born on August 19, 1946. The 77-year-old politician was born to a traveling salesman father in Hope, Arkansas. His father died in a car accident three months before Bill was born. His birth name was William Jefferson Blythe III, after his father, William Jefferson Blythe Jr.
After his father's death, Bill's mother, Virginia Dell Blythe, moved to New Orleans to study nursing. She left young Bill with his maternal grandparents in Hope. When she returned to Arkansas, Bill's mother married Roger Clinton Sr. The family relocated to Hot Springs, Arkansas, where Bill Clinton grew up.
Roger Clinton's marriage to Virginia Dell was unstable, leading to a divorce. They remarried a few months later. Bill eventually took Roger's surname to become Bill Clinton.
Clinton went to St. John's Catholic Elementary School and Ramble Elementary School. He attended the segregated Hot Springs High School. Clinton was an active leader and musician in high school and even considered a music career. He later settled for public service.
He graduated from Georgetown University with a B.A. in International Affairs in 1968. In his first year, he won elections for class president. In his junior and senior years, he interned with Sen. J. William Fulbright of Arkansas.
Clinton received a Rhodes scholarship to study at Oxford University College. After that enrolling at Yale Law School. It was at Yale University that he met his future wife, Hillary Rodham. The two married in 1975. They have a daughter named Chelsea Victoria Clinton. Chelsea Clinton was born on February 1980.
Career
Bill Clinton knew he would excel in public service. Meeting with President John Fitzgerald Kennedy in 1963 confirmed his desire to become a public figure. Clinton visited the White House with the American Legion Boys Nation. President John F. Kennedy shook Clinton's hands in the Rose Garden of the White House.
Clinton returned to Arkansas after law school. He taught law at the University of Arkansas. In 1974, he vied for the House of Representatives but lost to John Paul Hammerschmidt. He became the Arkansas Attorney General in 1976.
In 1978, Bill Clinton was elected Governor of Arkansas, becoming the youngest governor in the U.S. His focus on education and healthcare reforms made him famous nationwide.
In 1992, he ran for the office of President and won, succeeding George H.W. Bush. He served from 1993 to 2001, signing several life-changing bills. The Bills included the Brady Handgun Violence Prevention Act of 1993 and the Family and Medical Leave Act of 1993. He expanded the earned income tax credit and appointed two justices to the U.S. Supreme Court.
Take a Look at Bill Clinton – The United States' 42nd President | Mini Bio | Biography:
Earnings and Philanthropy After the Presidency
Bill and Hillary Rodham Clinton admitted to leaving the White House in debt. He spent millions of dollars on legal defense during his impeachment proceedings and sexual harassment settlement.
Soon after, the Clintons hit the road on speaking tours. They earned substantial incomes from speaking engagements and book deals. Clinton received a $15 million book advance for his memoir, My Life.
Bill Clinton is now one of the most sought-after and highly-paid public speakers. His speaking fee averages $200,000. Clinton made $106 million from speaking engagements between 2001 and 2013. Bill and Hillary Clinton earned a combined income of $280 million between 2001 and 2023.
Philanthropy
Bill Clinton is a wealthy philanthropist who runs humanitarian work through The Clinton Global Initiative, focusing on HIV/Aids and global warming. He has been on various diplomatic assignments, such as the 2009 United Nations Special Envoy to Haiti. He partnered with former President George W. Bush during the Barack Obama administration to raise funds for Haiti after the devastating 2010 earthquake.
Bill Clinton campaigned for Hillary Clinton in 2008. She lost to Barack Obama in the Democratic primaries. Hillary Clinton returned in 2016 to compete against Republican Donald Trump, losing the White House to him.
What Caused Bill Clinton's Impeachment?
In 1994, Paula Jones filed a sexual harassment lawsuit against Bill Clinton. The accusations were from the time Clinton was the Arkansas governor.
During the case proceedings, Bill Clinton lied about Monica Lewinsky, a White House intern. After hours of questioning, it was discovered that Clinton lied under oath about having an affair with the intern. Clinton was impeached for lying to the grand jury and obstructing justice.
In November 1998, all the charges against Clinton were withdrawn after paying a settlement of $850,000 to Paula Jones. He stayed in office until the completion of his second term.
Bill Clinton's Net Worth Growth Rate
Check out the chart below for Bill Clinton's net worth growth rate from 2001 to 2015.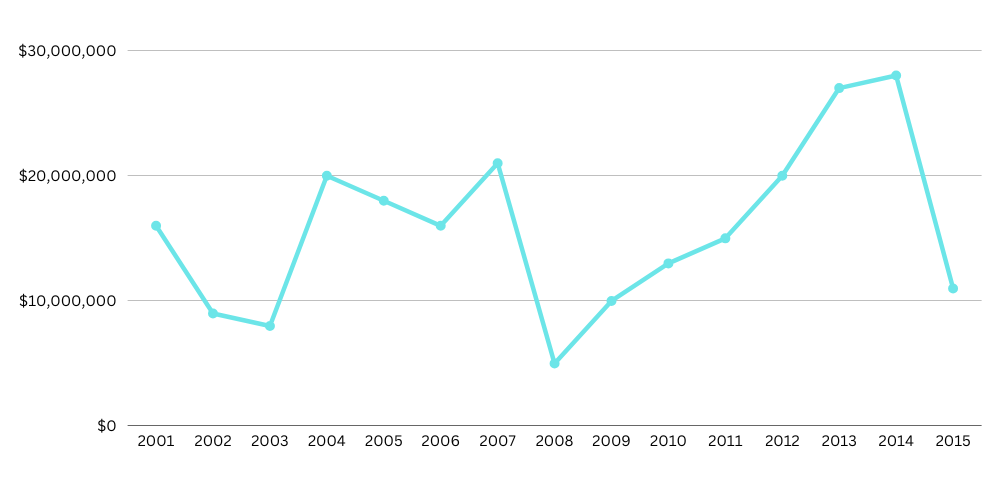 Earnings & Financial Data
| | |
| --- | --- |
| Earnings | Amount |
| Annual salary as President | $200,000 |
| Annual Presidential pension | $200,000 |
| Book advance for his memoir; My Life | $15 million |
| Speaking engagements | $106 million, 2001 – 2013 |
| Speaking engagements | $174 million, 2014 – 2023 |
Earnings as Guest Speaker
Bill Clinton is among the richest presidents in the United States. The former president earns millions from guest speaking. His average rate per event is $200,000. His current net worth is estimated at $120 million.
From 2001 and 2013, the retired president made $106 million. As of 2023, the combined guest-speaking income of him and his wife Hillary is $280 million.
Assets & Investments
Bill Clinton has been a politician for decades. Such a long stint must come with a great deal of wealth. The former President's assets include 15 real estate properties, luxurious yachts, and vehicles. He also has over $25 million in cash reserves kept in banks.
FAQs
What is the Clinton Family Worth?
Bill and Hillary Clinton have a combined net worth of $120 million. 
What is Hillary Clinton's Net Worth?
Bill and Hillary Clinton's net worth is not separated. The two have a combined net worth of $120 million. 
Conclusion
Bill Clinton is among the wealthiest presidents in the world. Though he left the White House with millions of dollars in debt, he and his wife, Hillary Clinton, have managed to build a great deal of wealth from book deals and speaking engagements. He is now one of the most sought-after international speakers. Clinton is among the highest-paid speakers, with an average rate of $200,000 per event.