After a Q4 beat garnered little immediate reaction, OCUP stock has now traded more than 40% higher
Clinical-stage ophthalmic biopharmaceutical company Ocuphire Pharma, Inc. (NASDAQ:OCUP) announced its fourth-quarter and year-end financial results on March 30, indicating a successful year with significant clinical, regulatory, patent, and strategic partner milestones.
Q1 2023 hedge fund letters, conferences and more
---
Find A Qualified Financial Advisor
Finding a qualified financial advisor doesn't have to be hard. SmartAsset's free tool matches you with up to 3 fiduciary financial advisors in your area in 5 minutes.
Each advisor has been vetted by SmartAsset and is held to a fiduciary standard to act in your best interests.
If you're ready to be matched with local advisors that can help you achieve your financial goals, get started now.
---
OCUP shares climbed a little over 6% on the news but gave up some of the gains on Friday. But this week has seen a renewed push in bullish investor sentiment as OCUP shares have climbed around 40%.
Why did the rally come so long after the fact?
For the final quarter of 2022, Ocuphire generated license and collaborations revenue of $39.9 million, with the result well ahead of analyst expectations that were on average below $30 million.
The sales were generated from the Nyxol license agreement signed with Famy during Q4 and marked a significant milestone in the company's financials.
The company had cash and cash equivalents of approximately $42.6 million at the end of the year, with no debt, which the management believes will be sufficient to fund operations into 2025.
Big Beat
On the bottom line, Ocuphire generated net income of $33.9 million, compared to a net loss of $6.3 million in the same period in 2021. The figure equated to earnings per share of $1.58 which beat analyst polled forecasts of around $1.30.
The chart below from Fintel's financial metrics and ratios page for OCUP shows improving trends of management effectiveness measures. The data has shown an improvement with OCUP posting its first positive ROIC result on a TTM basis for its first time.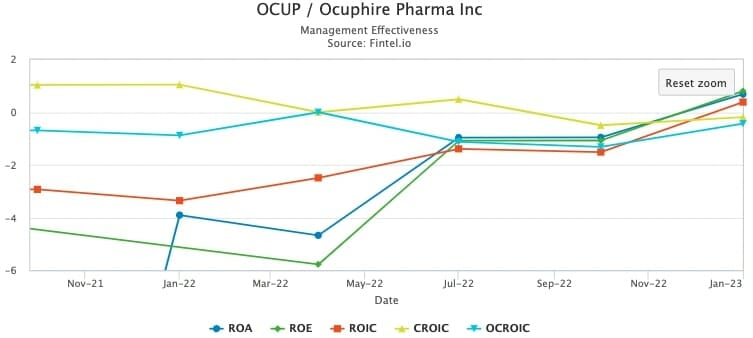 According to the company's CEO, Mina Sooch, "2022 proved to be a year of significant clinical, regulatory, patent, and strategic partner milestones, positioning the company for further success in 2023."
One such milestone was the ZETA-1 Phase 2 trial for APX3330, Ocuphire Pharma's oral candidate for diabetic eye disease, which achieved statistical significance on a potential registration endpoint of slowing progression of diabetic retinopathy. The company is currently preparing for an End-of-Phase 2 meeting.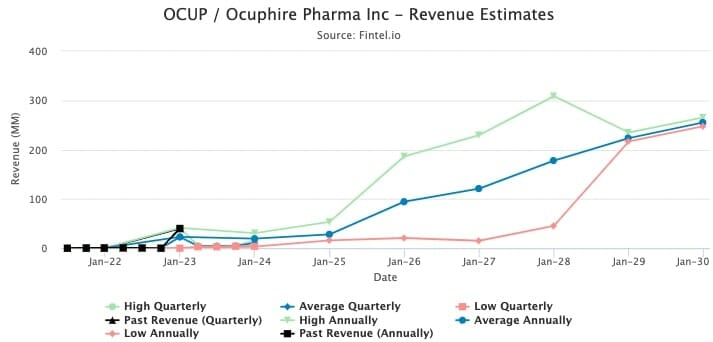 Sooch believes the collaboration with Viatris is transformative for the company as it will provide an externally financed pathway to complete development and regulatory activities for Nyxol and its commercial launches, if approved.
Bullish Analysts
Looking ahead, Fintel's consensus target price of $21.62 suggests analysts are bullish that the company can recover some of its prior year losses.
When analyzing forward revenue forecasts, we can see in the chart above, that the Street expects muted sales to continue through to 2025 before slowly scaling up in the following five years.
Cantor Fitzgerald analyst Kristen Kluska was bullish on the company, maintaining an overweight call on the stock and a $24 target price. Kluska highlighted that OCUP stock has catalysts in the year ahead and thinks the stock could build more credit on a first potential approval.
Interesting Options
Fintel's options data for OCUP revealed a sharp uptick in options volume. The stock usually has thin volume traded but recently saw a sharp rise this week with significant net premium being purchased on Monday and Tuesday.
The table below reveals that investors actually sold net premium on Thursday and Friday last week after initially digesting the result.

The post "As Ocuphire Pharma Rally Gathers Steam Post-Results, What Did Investors Initially Miss?" appeared first on Fintel.