What frustrates me the most about this AI boom… FOMO is back… Beware of AI ETFs… My top two strategies to play the AI boom…
The Hottest Craze
Are you sick of hearing about AI yet?
It's the hottest craze on Wall Street. AI-related stocks are ripping, as I'll show you…
And it's thanks, in large part, to the AI-powered chatbot ChatGPT.
Q4 2022 hedge fund letters, conferences and more
If you haven't tried ChatGPT yet, you should. It can answer pretty much any question in a conversational way, as if you're talking to a human.
ChatGPT is now the fastest-growing product in history!
In only two months after its release, over 100 million users have signed up.
For comparison, it took the second fastest–growing app, TikTok, nine months to reach 100 million users. Google needed a year, and Instagram needed two years.
Overcrowded Trades
But here's what's frustrating me about AI…
I'm excited about all the possibilities AI will bring…
AI can help discover new cures for diseases. It promises to ease up traffic in cities and eliminate tedious tasks from your schedule.
But here's the problem…
When a breakthrough technology like AI bursts onto the scene, it's always difficult to invest in it.
There are hundreds of AI projects with tremendous potential in development. But most of them are off-limits to ordinary investors. They're either owned by a private company or a tech giant like Google (NASDAQ:GOOGL) or Amazon (NASDAQ:AMZN).
ChatGPT, for example, is owned by private company OpenAI. OpenAI doesn't trade on the stock market. And it likely won't anytime soon.
When new technologies emerge, you're usually left with only a handful of "pure-play" stocks to choose from. And these quickly become overcrowded trades...
The Surge In AI Stocks
AI stocks are surging this year…
C3.ai (NYSE:AI) jumped 95%…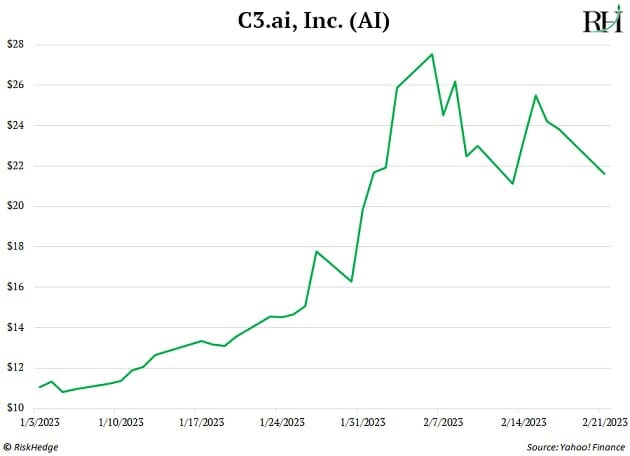 SoundHound AI (NASDAQ:SOUN) soared 192%...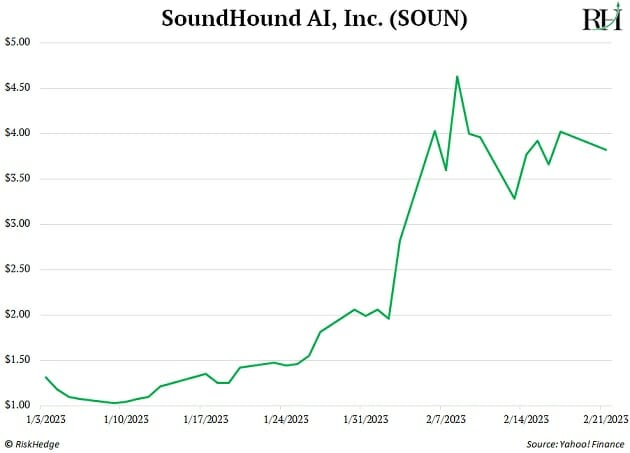 And BigBear.ai (NYSE:BBAI) is up 377%...
This looks like bubble behavior to me.
Think back to the 2000 dot-com bubble. A company could boost its stock price 100% just by adding ".com" to its name.
Folks piled into dot-com stocks. They did it for fear of missing out (FOMO) on the internet's success. In the end, they inflated one of the largest bubbles in human history.
FOMO is why the three AI stocks—AI, SOUN, and BBAI—are surging. They're the only pure-play AI stocks on the market most investors know about.
In January, BigBear.ai surged 353% in a single day when news broke it had landed a $900 million contract with the US Air Force.
It sounds great on the surface… until you dig deeper and realize this isn't a fixed contract. BigBear.ai must compete with 92 other companies for orders from the $900 million fund. It could end up receiving nothing.
AI ETFs
Stay away from AI and "machine learning" ETFs, too…
For now, AI ETFs are marketing ploys, plain and simple.
AI ETFs are filled with lots of "kind of, but not really AI" stocks.
For example, GameStop Corp. (NYSE:GME) is listed as a Top 10 holding in the popular AI-Powered Equity (AIEQ) ETF. But how much revenue does GameStop generate from AI? Virtually none.
Here are my two favorite ways to play the AI boom…
The first way involves investing in the top AI "picks and shovels" stocks.
Ask yourself: Who sells the basics?
That's the first question I answer when evaluating an investment trend.
For instance, computer chips will continue to be a critical part of the AI boom. So buying the right chip stocks like Nvidia (NASDAQ:NVDA) is a smart idea.
You also want to look at the sectors in which AI will make the biggest, most imminent advancements. Right now, that's healthcare... specifically drug development.
I believe this will be a highly profitable market for years to come.
Article by Stephen McBride - Chief Analyst, RiskHedge
---
3 Breakthrough Stocks Set to Double Your Money in 2022
Get our latest report where we reveal our three favorite stocks that can hand you 100% gains as they disrupt whole industries. Get your free copy here.