ADW Capital commentary for the fourth quarter and the year ended December 2020,
Q3 2020 hedge fund letters, conferences and more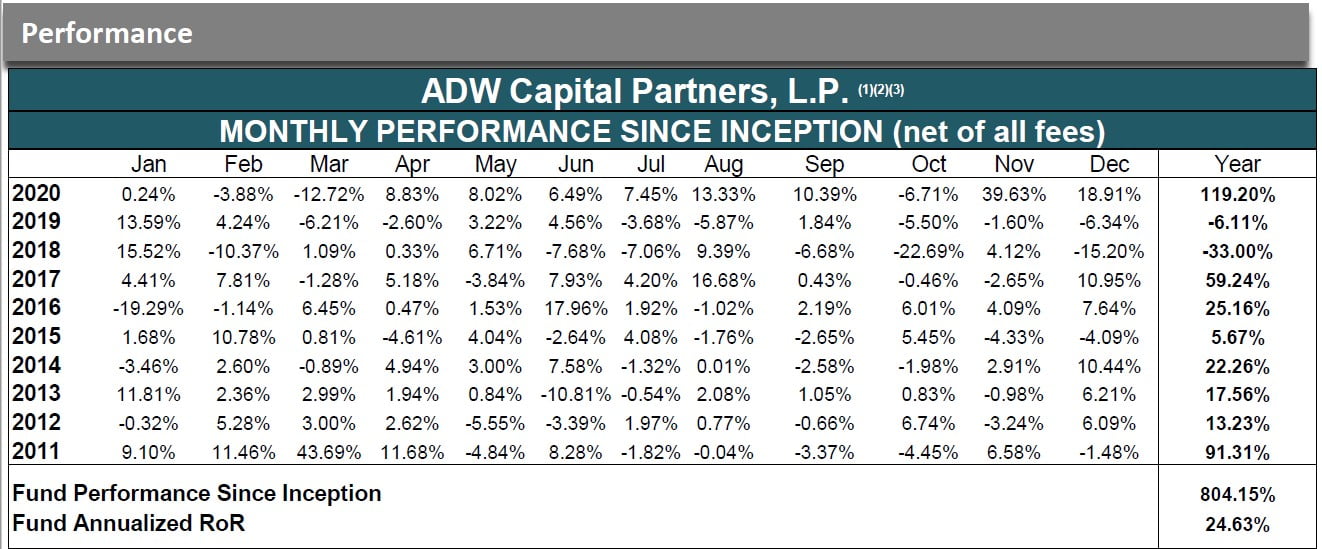 Dear Partners and Friends of ADW Capital:
ADW Capital Believes In Mean Reversion
We appreciate your trust and are excited about the prospects for ADW Capital going forward. We think that for investors who have a long-term view, the current environment presents an excellent entry point to the partnership. As you can see in the information table in previous letters, "small-cap" and "value" have been difficult sectors for the last several years. We are firm believers in "mean reversion" and that these trends should and will reverse over time. The empirical research from acclaimed Fama and French would support this thesis as well. We want to assure investors that we are confident we will be there for the "turn". Perhaps the turn is already upon us, as "small-cap" has witnessed modest outperformance in recent periods.
As an aside, I would also like to make a brief comment on the portfolio (a more fulsome description will be forthcoming in our Q4 letter). As we have discussed with many of our partners, 2018 and 2019 were challenging years for the partnership and required a hard look at the portfolio and some difficult decisions were made. In addition, some valuable lessons were learned and we believe we are stronger for it.
An Average Compounded Gross Annual Returns In Excess Of 40%
While we have early signs of life in the portfolio today, we would like to remind investors that for the first seven years of the partnership's history we averaged compounded gross annual returns in excess of 40 percent (1)(2). By no means can we or will we promise linearity of returns, but we believe we have restructured the portfolio to a place where we can be proud and gladly say the best is yet to come.
Thank you again for your patience and your commitment to helping us at ADW Capital build a partnership that can not only be profitable but one that values creativity, innovation, and continuous improvement.
While it's crazy to think we have already been at this for ten years, I want to remind investors that we are as energized as we have ever been about our prospects and look forward to updating all of you on some exciting news in the coming quarters.
While already 10 years in, I am only 36 years old and look forward to updating you on the journey for the "Next 60".
Thanks in advance for your continued support and please be safe in the New Year.
All the best
Adam
PERFORMANCE ESTIMATES* (1)(2)
Q4 2020 
Gross:
65.32%
Net:
54.89%
2020 
Gross:
136.84%
Net:
119.20%
Since Inception (Jan 2011)
IRR:
Gross:
33.26%
Net:
24.63%
*Assumes a 2%/20% fee structure. Individual investor returns may vary based on the timing of subscriptions.
(1) Gross Returns are Partnership Returns before management fees, fund level expenses, and general partner profit participation.
(2) Net Returns are Partnership Returns after management fees, fund level expenses, and general partner profit participation.