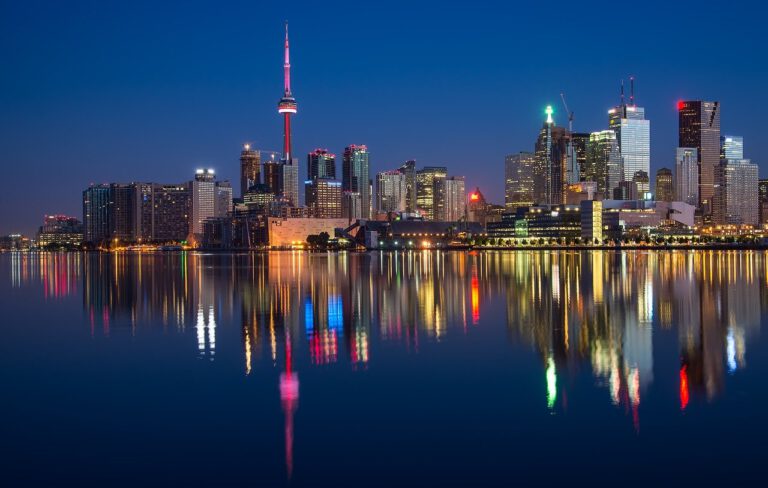 Over the past few years, Canada has moved up in the rankings of the world's most competitive financial centers. There are several factors that have contributed to this, including a stable business environment, Brexit and more. All such factors have benefited Canadian companies as well. To give you an idea of Canada's financial clout, here are the top ten public businesses in Canada.
Q3 2020 hedge fund letters, conferences and more
Top ten public businesses in Canada
Following are the top ten public businesses in Canada on the basis of market cap (as of December 11, 2020):
Crypto Hedge Fund Three Arrows Blows Up, Others Could Follow
A few years ago, crypto hedge funds were all the rage. As cryptocurrencies rose in value, hundreds of hedge funds specializing in digital assets launched to try and capitalize on investor demand. Some of these funds recorded double-digit gains in 2020 and 2021 as cryptocurrencies surged in value. However, this year, cryptocurrencies have been under Read More
TC Energy (C$54.373 billion)
Founded in 1951, TC Energy is based in Calgary. It is an energy company that operates natural gas and liquids pipelines and power generation plants. TC Energy was previously known as TransCanada, but it changed its name in May 2019. TC Energy's gas pipelines are its largest segment. It operates a network of natural gas pipelines throughout Canada and in the U.S. and Mexico.
BCE INC. (C$54.487 billion)
Founded in the 1980s, BCE was formerly known as Bell Canada Enterprises. The group is mostly a telecommunications and mass media holding company. The group is also involved in sports through the Montreal Canadiens ice hockey club and Maple Leaf Sports & Entertainment. It also owns many local telecommunications companies. The company is headquartered in Montreal, Quebec. In addition to being listed on the Toronto Stock Exchange, the company is also listed on the New York Stock Exchange.
Bank of Montreal (C$62.734 billion)
Founded in 1817, it is the oldest Canadian bank. The bank is based in Montreal and also serves clients in the U.S. Bank of Montreal is among the biggest banks in Canada. It has an impressive dividend history, which is among the longest in the world. In Canada, it has more than 900 branches, while it serves more than 7 million customers. It offers personal, commercial, corporate and institutional banking services.
Brookfield Asset Management (C$80.192 billion)
Broofield is an alternative asset management company that focuses on renewable power, real estate, and infrastructure. The company is headquartered in Toronto and has offices in New York City, London, Rio de Janeiro and Sydney. Brookfield Asset Management has managed to grow its revenue by over four times in the last decade or so. It also manages public and private investment products for retail and institutional clients.
Bank of Nova Scotia (C$82.674 billion)
Founded in 1832, Bank of Nova Scotia is among the biggest banks in Canada and operates as Scotiabank. It was founded in Halifax but is now based in Toronto. Bank of Nova Scotia offers personal and commercial banking, corporate and investment banking, and capital market and wealth management services. The bank has made acquisitions in over 50 countries in Asia, Europe, Latin America and the Caribbean.
Enbridge (C$87.672 billion)
Enbridge is a multinational energy company that deals in transportation, distribution, and generation of energy. In addition to Canada, Enbridge is a significant player in the U.S. as well. It has three main businesses: utilities and power, natural gas pipelines, and liquids pipelines. The company manages the longest crude oil and liquid hydrocarbons pipeline transportation system in North America. Additionally, it has the largest natural gas distribution network in New York State, New Brunswick, Ontario and Quebec.
Canadian National (C$99.684 billion)
Founded in 1919, Canadian National Railway Corporation, popularly known as CN, is a freight railway company. The company has established a network of freight transport, not just for railways, but for trucking and shipping as well. In addition to Canada, it also serves the midwestern and southern United States. Based in Montreal, the company operates about 20,000 miles of track across Canada and mid-America.
Toronto-Dominion Bank (C$130.125 billion)
This bank was created in 1855 following the merger of the Bank of Toronto and Dominion Bank. Toronto-Dominion Bank is popularly known as TD Bank. It is headquartered in Toronto and offers banking and financial services. TD has a wholesale banking unit called TD Securities. It also has a presence in the eastern United States. It has more than 85,000 employees to serve over 26 million customers.
Royal Bank of Canada (C$150.561 billion)
Incorporated in 1869, RBC is a multinational banking and financial services corporation. It offers personal, commercial and investment banking, wealth management, and insurance services throughout Canada. RBC also has branches in the U.S. and in several Caribbean countries. The bank has about 79,000 employees and 16 million clients worldwide. It was founded in Halifax, Nova Scotia but is now headquartered in Toronto.
Shopify (C$162.803 billion)
Founded in 2004, Shopify is an e-commerce company that offers an e-commerce platform for online stores. It also offers a host of other services, such as payments, marketing, shipping and customer engagement tools. As of June 2019, about 1 million businesses in approximately 175 countries were using its platform. It primarily serves small and medium-sized businesses to design, set up and manage their stores across various platforms.
Updated on