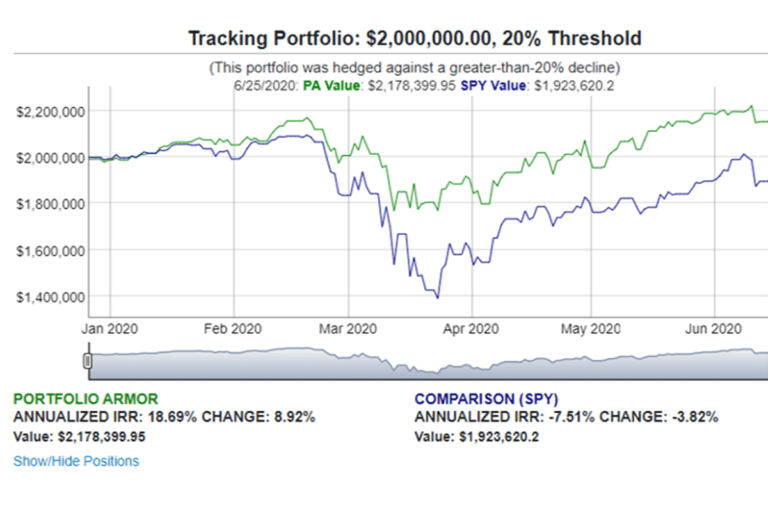 David Pinsen, the founder of Portfolio Armor, discusses the The Hedged Portfolio Method.
Q1 2020 hedge fund letters, conferences and more
What Is A Hedge
A hedge is something that always goes up in value when an underlying security goes down in value significantly.
If you want to hedge stocks, other asset classes such as gold, or bonds are not hedges.
Black Swans: Why Hedge Individual Stocks
JP Morgan Study: 40% of Russell 3000 stocks suffered catastrophic losses between 1980 and 2014.
"Catastrophic loss" defined as a decline of 70% without recovering.
57% of information technology stocks experienced catastrophic declines during this period.
Black swan examples: 2008 Financial Crisis, 2020 COVID-19 (e.g., cruise ships, REITs), antitrust action.
Black Rain: Hedging Portfolio And Market Risk
September 18th, 1989.
How Warren Buffett Went From Hating To Loving Banks
Since the financial crisis, Warren Buffett's Berkshire Hathaway has had significant exposure to financial stocks in its portfolio. Q1 2021 hedge fund letters, conferences and more At the end of March this year, Bank of America accounted for nearly 15% of the conglomerate's vast equity portfolio. Until very recently, Wells Fargo was also a prominent Read More
Black Rain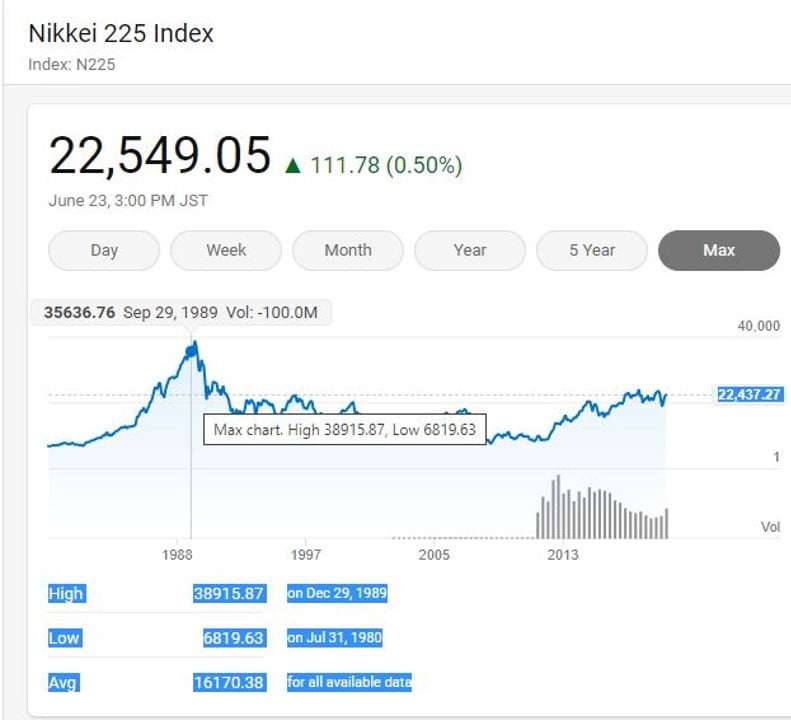 The Most Effective Hedge: Put Options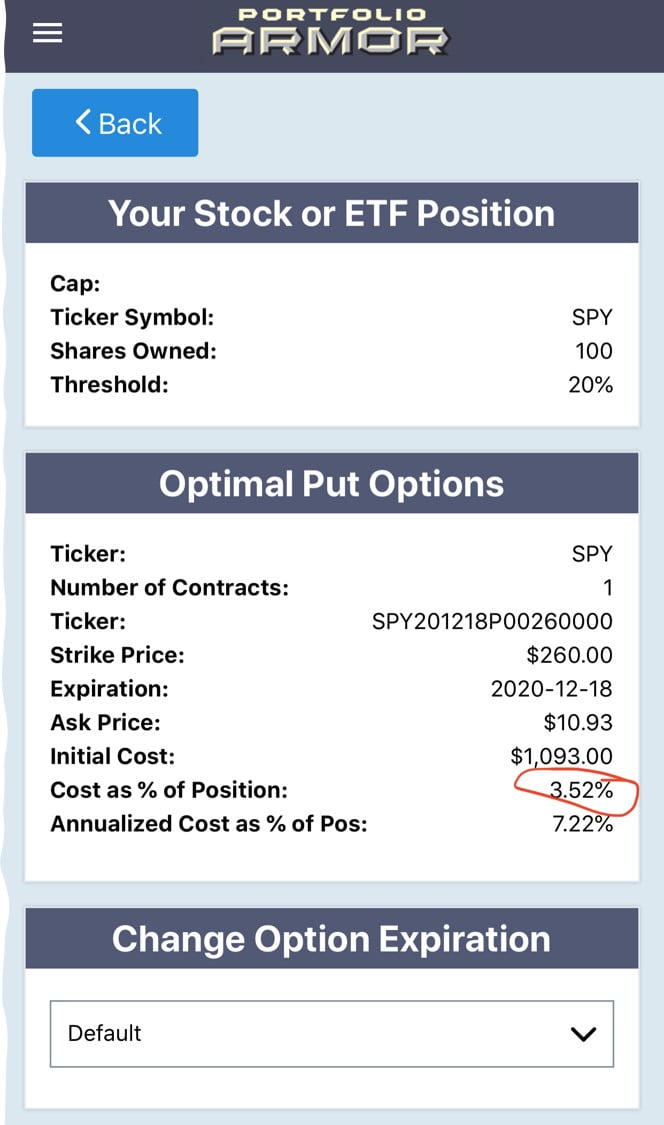 Protection even if the underlying security goes to zero.
Non-linearity means a little goes a long way, so less drag on returns.
Minimizing The Cost Of Hedging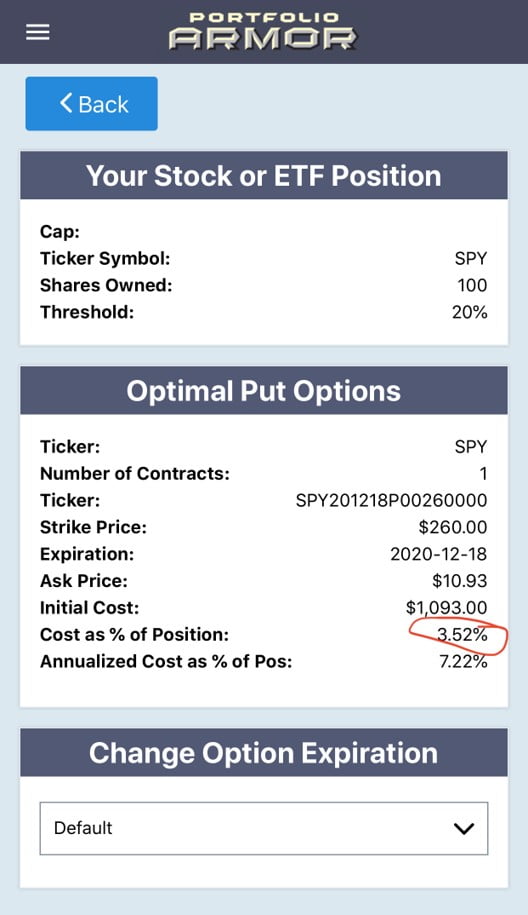 Decide how much you're willing to risk
Look at OTM puts
What's your max drawdown including hedging cost?
Compare annualized cost as a % of position value
(SPY $310..62 on Monday)
Minimizing Cost With Collars

Giving up potential upside to reduce the cost of hedging.
How Much Should You Pay To Hedge?
How much are you up on a position you can't sell?
For other positions, is the cost of hedging greater than your expected return?
Starting From Scratch: The Hedged Portfolio Method
Start with universe of hedgeable securities.
Estimate potential returns for them.
Calculate their hedging costs.
Subtract hedging cost from potential returns.
Sort by potential return net of hedging cost.
Buy and hedge a handful of the names at the top of the list.
Top Names Performance, Unhedged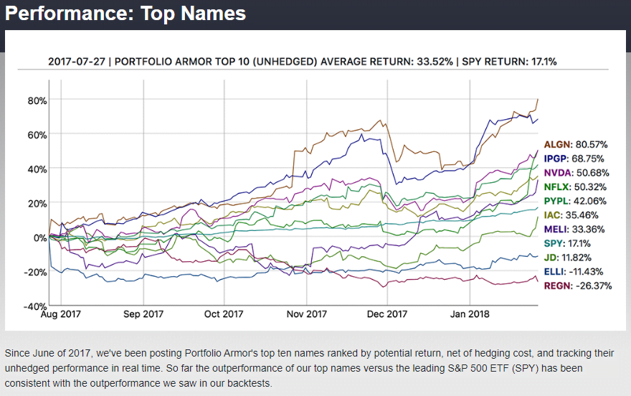 Have outperformed SPY by 0.62% so far.
Working to increase outperformance.
Hedged Portfolio Example, 12/26/2019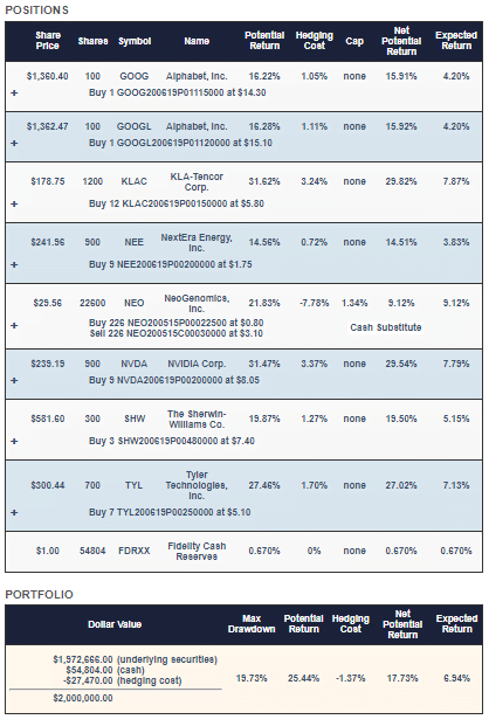 Performance Of That Hedged Portfolio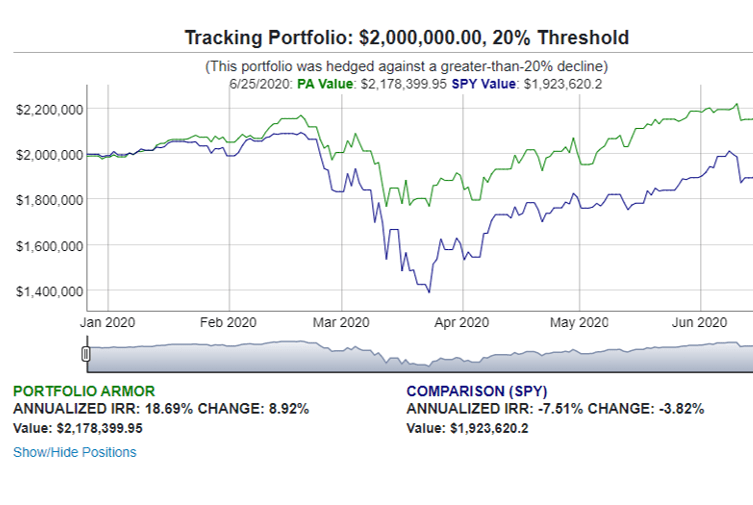 Putting Together A Hedged Portfolio

Our hedging tool scans for optimal hedges.
Our hedged portfolio construction tool creates portfolios following the hedged portfolio method, designed to maximize your returns while strictly limiting risk.
Website: PortfolioArmor.com
Coupon code for Portfolio Armor website: SFAAII.