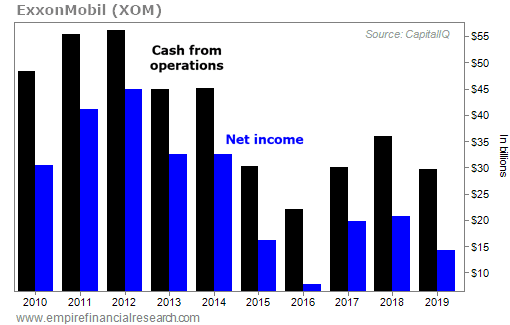 Whitney Tilson's email to investors discussing Exxon Mobil Corporation (NYSE:XOM) is a value trap due to its deteriorating operating cash flow situation.
1) After reporting earnings on Friday morning, energy giant ExxonMobil (XOM) fell 4% and is now trading at a nearly 10-year low.
Q4 2019 hedge fund letters, conferences and more
Crypto Hedge Fund Three Arrows Blows Up, Others Could Follow
A few years ago, crypto hedge funds were all the rage. As cryptocurrencies rose in value, hundreds of hedge funds specializing in digital assets launched to try and capitalize on investor demand. Some of these funds recorded double-digit gains in 2020 and 2021 as cryptocurrencies surged in value. However, this year, cryptocurrencies have been under Read More
Good stocks have strong operating cash flows
Buying the stocks of blue-chip companies when they've fallen out of favor has been one of my most profitable value investment strategies over the past two decades: Berkshire Hathaway (BRK-B), McDonald's (MCD), Apple (AAPL), Home Depot (HD)... the list goes on and on.
I've rarely invested in the energy sector, but the one time I really backed up the truck and made a lot of money was buying energy giant BP (BP) in summer 2010 after its stock fell by 50% in the aftermath of the Deepwater Horizon disaster.
So I was feeling a little bit of excitement as I dug into ExxonMobil to see if its stock might be a similarly attractive opportunity...
Unfortunately, I was disappointed. I didn't like anything I saw in the financials and, worse yet, the company is trying to hide its deteriorating condition.
Let's start by looking at revenues. This 10-year chart shows the decline in recent years: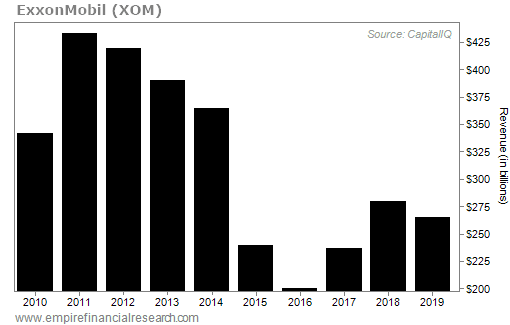 Net income and operating cash flow are declining at an even faster rate: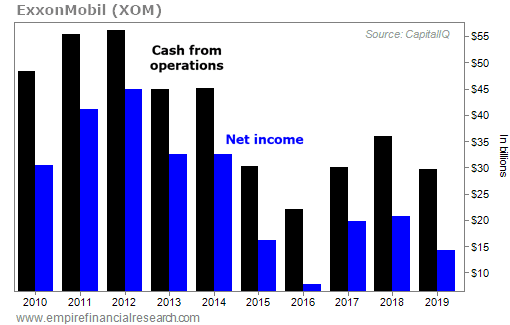 These declines are even more alarming when you consider ExxonMobil's massive – and rising – capital expenditures ("capex"):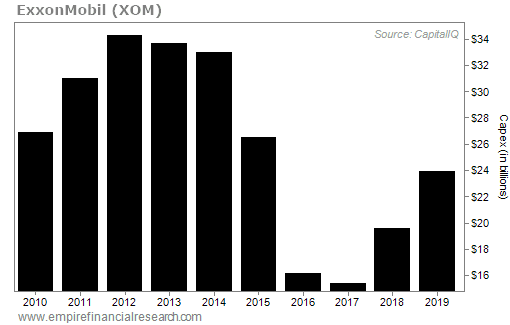 When you add it all up, ExxonMobil isn't even generating enough cash flow to cover its capex, much less its enormous dividend – currently 5.6% – which cost it $14.7 billion last year.
But you'd never know this from reading the three documents (totaling 49 pages) that the company released on Friday: an earnings release, presentation, and supplement.
Nowhere does the company share its balance sheet or cash flow statement – just little tidbits here and there. Rather, on the first page of the earnings presentation, it presents this chart under the heading, "FOURTH QUARTER 2019 KEY MESSAGES":
Decline in ExxonMobil's operating cash flow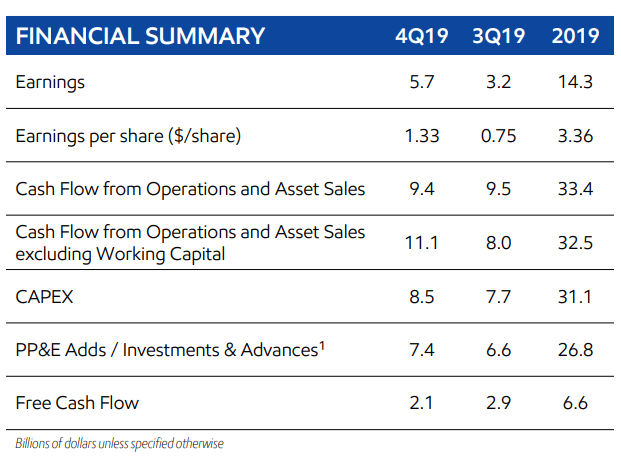 I understand that companies want to put their best foot forward, but this chart is highly misleading in multiple ways...
First, it lumps asset sales – which you must search elsewhere to learn is a massive $3.7 billion – in with cash flow from operations. This is nonsense. Asset sales are one-time events that are completely separate from ongoing operating cash flow. The correct number to use when calculating free cash flow is $29.7 billion.
In addition, while ExxonMobil discloses its actual capex of $31.1 billion, when calculating its free cash flow, it chooses to instead use a much lower $26.8 billion of "PP&E Adds/Investments & Advances" – whatever the heck that means.
The company then subtracts $26.8 billion from $33.4 billion to arrive at a robust $6.6 billion in "Free Cash Flow."
This number is as phony as a three-dollar bill. The simple and universally accepted way to calculate free cash flow is operating cash flow minus capex, which was negative $1.4 billion for ExxonMobil last year.
Exxon dividend payout - why?
So how did the company come up with $14.7 billion to pay a fat dividend to shareholders? Partly by selling assets... but mostly by taking on more debt, which rose by $9.1 billion from $37.8 billion to $46.9 billion last year. (Again, you have to look hard for this information – the word "debt" doesn't even appear in the 15-page earnings release.)
In light of ExxonMobil's declining business and unfunded dividend, you have to wonder what investors are thinking in valuing the stock at 18.5 times 2019 earnings of $3.36 per share. Many are probably seduced by the 5.6% dividend – which isn't likely to be cut anytime soon, as this would crush the stock. But that will be thin gruel if the stock continues to decline, as I think it will.
Others may be hoping that the enormous capex will yield huge new resource finds. All I can say is, so far, so bad. And lastly, some might own ExxonMobil based on the expectation that oil and natural gas prices will rise. I have two thoughts on this...
First, if this happens, you'd make a lot more money owning the stock of a smaller company... And second, I think falling energy prices are far more likely as the world quickly pivots to electric vehicles and alternative energy sources like wind and solar in the coming years.
In short, ExxonMobil looks like a classic value trap – a melting ice cube that doesn't come within a country mile of covering its dividend, which it will likely eventually be forced to cut (though not for a few years I suspect)...
And today...
Best regards,
Whitney
Updated on