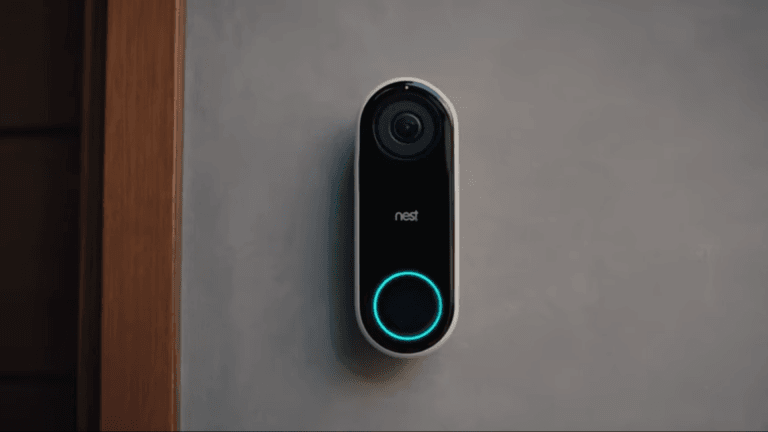 If you are in the market for a new video doorbell, the vast number of choices could overwhelm you. But the two popular options are Google Nest Hello and Amazon's Ring Video Doorbell 2. Yes, Google and Amazon are also competing in the smart doorbell market. Video doorbells prove really helpful when you are away from home and someone knocks your door or tries to sneak in. In this comparison, let's check out how the Nest Hello and Ring Video Doorbell 2 stack up in terms of design, features, and pricing.
Nest Hello vs Ring Video Doorbell 2: Hardware
The oval-shaped Nest Hello looks more premium than the rectangular Ring Video Doorbell 2. Measuring 117 x 43 x 26mm, it is also smaller than Ring's 128.3 x 63.5 x 27.4mm. Part of the reason behind the Nest Hello's sleek and slim design is that it requires low-voltage hardwiring as a source of power at all times. Since the Nest Hello is hardwired, the WiFi is relatively stronger than the Ring.
Unlike Nest Hello, the Ring Video Doorbell 2 has a rechargeable battery, which gives you 6-12 months of use on a single charge. It can be installed anywhere without the need for wiring. You can charge the battery via a micro-USB cable. Both doorbells have HD cameras with 160-degree field of view and HDR support. They both have a microphone and speaker to enable a two-way conversation between you and the person at the door.
Greenlight Capital Full Q2 2021 Letter: Einhorn Thinks Inflation Is Here To Stay
David Einhorn's Greenlight Capital returned -2.9% in the second quarter of 2021 compared to 8.5% for the S&P 500. According to a copy of the fund's letter, which ValueWalk has reviewed, longs contributed 5.2% in the quarter while short positions detracted 4.6%. Q2 2021 hedge fund letters, conferences and more Macro positions detracted 3.3% from Read More
Both doorbells offer night vision support. The Nest Hello also has a Quick Responses feature that allows you to play a pre-recorded message to visitors. Google records videos in 4:3 format to ensure you can see people from head to toe. The Ring device uses a 16:9 format, which could cut off people' heads or feet when they come close to the camera/doorbell.
Features & capabilities
Both Google and Amazon have tied most of the smart features to their respective monthly subscription plans. There are only a small number of features available at no extra cost, such as voice control and the ability to specify when you want to receive alerts. The Nest Hello works with Google Assistant, and is compatible with Google Assistant-enabled speakers. The Nest Hub and Nest Hub Max automatically stream the Nest Hello's view of who is at the door.
The Ring Video Doorbell 2 is compatible with Amazon's Alexa AI assistant as well as Google Assistant. You can set up visitor announcements and view the live feed through Alexa smart speakers. The Nest Hello can detect familiar faces, a feature missing from the Ring. Both devices offer motion detection and two-way talk with noise cancellation.
The Ring has adjustable monitoring zones, just like the Nest Hello. Amazon is rolling out a new Snapshot Capture feature, which allows the video doorbell to take snapshots at specified intervals throughout the day. It also gets a People-only Mode, which will alert you if a person is detected.
Pricing & subscription plans
The Google Nest Hello costs $229. The cost goes up to $329 if you opt for professional installation, which could be necessary for some customers because it requires hardwiring. The Ring Video Doorbell 2 costs $199, but it's currently available on Amazon for just $129. Its upfront cost is much lower than that of Nest Hello.
If you want to take advantage of the cloud storage plans and other features, you'll have to pay for their subscription. Google has Nest Aware and Amazon's plan is called Ring Protect.
The Nest Aware subscription gives you features like familiar face detection, package detection, 24/7 video recording, monitoring zones, and time-lapse videos. Google has three different price tiers depending on how many days worth of 24/7 videos you want to save to the cloud. If you want to keep only five days worth of videos, you'll have to pay $5 per month or $50 a year. For ten days plan, you'll be shelling out $10 a month or $100 a year. The 30 days plan costs $30 a month or $300 per year.
For Ring, there is Ring Protect Basic and Ring Protect Plus. The Basic plan costs only $3 per month or $30 per year per doorbell. It allows you to save video clips triggered by doorbell presses and motion over the last 60 days. The plan also includes snapshots throughout the day.
The Ring Protect Plus plan supports an unlimited number of cameras and doorbells at the same address. It costs $100 per year or $10 per month. Ring doesn't record videos 24/7. Instead, it starts recording when it detects motion.
Conclusion
The Nest Hello is more expensive than the Ring Video Doorbell 2. But the additional cost gives you 24/7 video recording, a premium design, familiar face detection, better video quality, good aspect ratio, and Quiet Mode. It's also the best option for you if you are already invested in the Google ecosystem. The Ring is the option for you if you are price-conscious or already have Amazon Echo products.