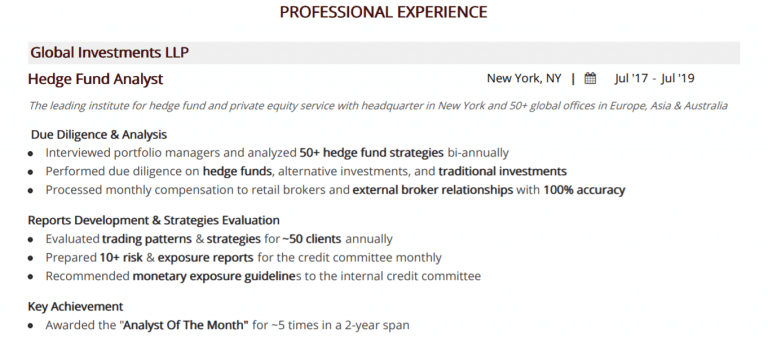 In today's world, you cannot land a job in the hedge fund industry if your resume fails to hit home with the hiring manager. It all boils down to one thing: You need to tailor your resume according to your target profile. If you can do this, it's smooth sailing from here-on.

Mentioned below are the top tips that you should follow to write an impeccable hedge fund resume:
Q2 hedge fund letters, conference, scoops etc
[Exclusive] ExodusPoint Is In The Green YTD Led By Rates And EM/ Macro Strategies
The ExodusPoint Partners International Fund returned 0.36% for May, bringing its year-to-date return to 3.31% in a year that's been particularly challenging for most hedge funds, pushing many into the red. Macroeconomic factors continued to weigh on the market, resulting in significant intra-month volatility for May, although risk assets generally ended the month flat. Macro Read More
Hedge fund jobs look for candidates with quantifiable achievements
One common mistake that most job applicants tend to make is this: They get into great lengths to describe their roles & responsibilities. You should strictly avoid doing this in your resume because hedge fund recruiters are indifferent about your daily chores and activities. They are more concerned with the impact that you can bring using your skills.
Thus, this should be the focal point of your resume. Identify how your expertise has benefitted the organizations that you have been associated with in the past, and endorse them in your resume using performance/achievement figures.
Doing this will validate your skills as a professional and you'll be able to demonstrate that you are the ideal candidate for the job that you are targeting.
Given below is a snapshot of a resume that we have curated using our Online Resume Builder. It illustrates the ideal way to use achievement figures in your resume.
Hedge funds look for candidates with an audited track record
If you have been involved in a trading role in the past and are now planning on moving to a hedge fund, you'll need an audited track record or something similar.
Hedge funds recruiting analysts basically want to know the following things about their applicants and they also demand verifications:
How much money you were managing in your previous role?
Did you generate any alpha?
What was your Sharpe ratio?
If you do not have an audited track record, try to give as much detail as possible in your portfolio. Explain your reasoning behind investment decisions in a way that proves the figure you personally made with the capital you were given.
However, if you have been involved in marketing roles, try to cut out the fluff from your resume. Be precise about your achievements and your ability to getting deals closed.
Hedge funds are extremely keen on people who can bring in money that will stick around for the long term. So, marketing or sales personnel should put emphasis on their recurring sales.
Big-name brands positively impact your job application
The hedge fund is a competitive industry to get into. They tend to get swayed with big names when it comes to hiring new recruits. Your chances of getting in are statistically more if you hold a degree from a big-name university.
Moreover, an excellent graduate training program at a top bank significantly enhances your chances of being an analyst at a hedge fund.
However, your work will speak for itself when you reach a certain level of seniority, and the names you were associated with will not matter as much. When you reach a certain seniority level, your track record will become the most important aspect of your portfolio.
Understanding the hiring strategy of hedge funds helps you crack their recruitment process
There is not just one kind of hedge fund. There are systemic funds, macro funds, event-driven funds, high yield funds, fundamentally driven funds, distressed debt funds, etc. to name a few.
Every fund applies a different strategy and has different hiring preferences. So, your standard resume needs to be optimized according to the hedge funds you are applying to. Even when two funds are pursuing similar strategies, they might hire two very different types of people.
If you could find out what hedge fund employees had on their resume at the time they got hired, you would be golden!
Choosing the right format matters
Most hedge funds have started to utilize the Applicant Tracking Systems (ATS) to thin the herd of applicants. These are tools that read resumes to check if they follow the guidelines set by the recruiter.
To ensure that your resume passes any ATS resume parser, it is very important to follow the resume formats.
Following are the new resume formats being used in the industry right now:
Reverse Chronological Resume Format
Combination Resume Format
Functional Resume Format
Reverse Chronological Resume Format
This is the most favorable new resume format as it puts emphasis on your most recent experience by portraying a timeline starting from your most recent experience and dating back to the beginning.
Following are the points explaining why this is the most favorable new resume format:
Extremely ATS and recruiter friendly
Comprehensive and easy to create
Displays your most recent work experience in the beginning hence increasing relevancy
It will however not cover gaps in your career as it draws attention to dates. Frequent job switchers should avoid this format as it exposes the habit of hopping from company to company.
Online resume builders and job resume makers sing high praises of this new resume format as it consistently shows results.
Functional Resume Format
A functional resume format will not put much emphasis on dates. Rather, it will list professional experience without talking about the details of the actual work done. It is considered ideal for people with gaps in their employment history or for frequent job switchers.
Experts have advised that you steer clear from this format as it looks fishy to recruiters and hiring managers.
Combination Resume Format
The combination resume format or hybrid resume format is the combination of the reverse-chronological and the functional resume format.
The combination format can further be divided into two formats:
Grouping inside Professional Experience: This new resume format is very similar to the reverse chronological resume format. The only difference is that under the professional experience section, the points are grouped by the skills that they represent.
Grouping in "Summary of Skills" section: Here, there is a "Summary of Skills" section where the points exhibiting your career's achievements are bucketed under their respective key skills.
Most reputed job resume makers recommend this new resume format to both experienced professionals and frequent job switchers as the combination resume formats are highly ATS and recruiter friendly. Moreover, it has the added advantage of hiding career gaps.
Conclusion:
The points that we have outlined in this article will help you write a meaningful hedge fund resume for the hedge fund job that you are targeting. Follow these tips to have a fair chance at landing your dream hedge fund job.
About the Author:
On a quest to help professionals across the world land their dream jobs, Aditya lives and breathes Hiration — a platform to help job-seekers find their way in the treacherous job market — where he's a Co-Founder and the unofficial CPO (Chief Problem-solving Officer). He likes to code away his days and nights when he's not busy disrupting the career space."
Updated on