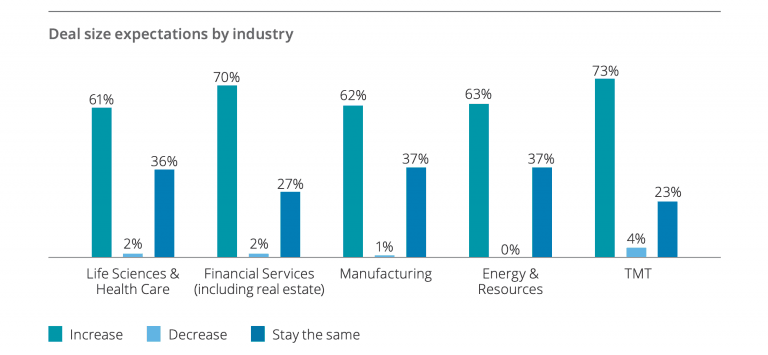 The last few years have been record-beaking for corporate mergers and acquisitions. Even with rising markets and growing policy uncertainty, 2017 and 2018 saw increasingly high volumes of deals being secured. However, 2019 did not keep up with the pace of growth. Will we see the volume of M&As increase in 2020?
In a poll conducted by the Wall Street Journal, 60% percent of executives expected to see an economic downturn in 2019. While the economy has seen some record highs this year, overall the dip at the end of 2018 has created more uncertainty and pessimism throughout the year in M&A. More executives are expecting to see a decrease in the volume of completed deals, but many still expect to see increases in deal sizes.
Dan Sundheim Founder Of D1 At Sohn 2021 On His Favorite Stock
At this year's Sohn Investment Conference, Dan Sundheim, the founder and CIO of D1 Capital Partners, spoke with John Collison, the co-founder of Stripe. Q1 2021 hedge fund letters, conferences and more D1 manages $20 billion. Of this, $10 billion is invested in fast-growing private businesses such as Stripe. Stripe is currently valued at around Read More
Source: M&A trends
Q3 2019 hedge fund letters, conferences and more
The ever-evolving demands of the technology sector still play a major role in merger and acquisition volumes.
"Companies need to constantly reassess whether they can sustain their competitiveness," says Susie Huang, Head of M&A for the Americas at Morgan Stanley. "Virtually no industry is immune to the competitive pressures emanating from digital and technology disruption."
This pressure to stay ahead of the competition may not be sustainable long-term but is necessary for the interim as technology sector mergers often create the need for further M&A, often spurring the industry. This trend is fading, however, as we saw in 2019 with more companies focused on acquiring companies that expand their customer base or resources.
What can the industry do in 2020 to see continued growth? In an uncertain economy with volumes of corporate mergers and acquisitions falling, these are the trends to watch.
Expand & Diversify
While still important, technology acquisition no longer reigns as the most critical aspect of corporate M&A strategy. Instead, corporate respondents are most focused on expanding their customer bases in existing geographic markets or expanding and diversifying their products and services.
For a number of years now, technology has been the darling of the mergers and acquisitions space, but that has started to change in 2019 and we expect that trend to move forward into 2020 due to the rising costs of technology. There has been a pivot away from acquiring a company simply for its technology and a shift to acquiring companies that fill the gap in product offerings or expand the customer base.
Since technology can be a high-risk investment, this strategy shift also signals a more conservative outlook on M&A in 2020.
Intra- and inter-industry convergence
Industry and sector convergence continues to be a major theme in M&A transactions. Chevron's acquisition of Anadarko this year is just one example of energy and resource convergence, but expect to see a rise in the next 12 months.
Industry convergence has been a hot topic for the last couple of years and 2020 isn't going to be different. The real question is which industries should you keep an eye on? Deloitte's yearly survey recognized these industries as potential areas for convergence.
Healthcare and M&A
The Healthcare M&A market began 2018 with almost $39 billion of deals announced in January — the strongest start in over a decade. This trend has not slowed in 2019 with the mergers of Bristol-Myers Squibb/Celgene, Danaher/GE's biopharma business, and Centene/Wellcare all this year alone.
2020 should see this trend continue in combination with the trend above. As healthcare companies grow, they will also begin to look for opportunities to expand the customer base and diversify.
For 2020, watch for major mergers that can potentially change the pharmaceutical industry.
Governmental Policies and Taxes
With 2020 being an election year for the United States, a possible change of charge is making executives cautious. A major trend for the first half of 2020 will be watching and waiting for governmental policies that curtail growth and increase costs for M&A.
Uncertain domestic policies and threats of trade wars are making executives exceedingly cautious which can lead to a lower volume of deal closures and a decrease in the average cost of a close. Of course, the uncertainty of an election year can also create an environment ideal for M&A, so this is one trend to watch closely.
As we saw at the end of 2018, there is concern that economic forces will shift, or that the impact of tariffs or other legislative and administrative activity in Washington, DC, and abroad could curb deal activity in the near term. This concern is causing companies to be more cautious about how they spend and where they invest.
Source: M&A trends
With the players in the M&A industry focused on an economic downturn, there's a realistic expectation that 2020 will take a dip. However, with most companies focused on diversifying and expanding, there's is still an expectation that corporate mergers and acquisitions will continue moving forward at a steady pace.
---
About the Author:
Stacy Anderson is a writer for DealRoom blog who is interested in a wide range of spheres from business, mergers and acquisitions, software & services, finance to entrepreneurship and new technologies. Read and take over my useful insights!