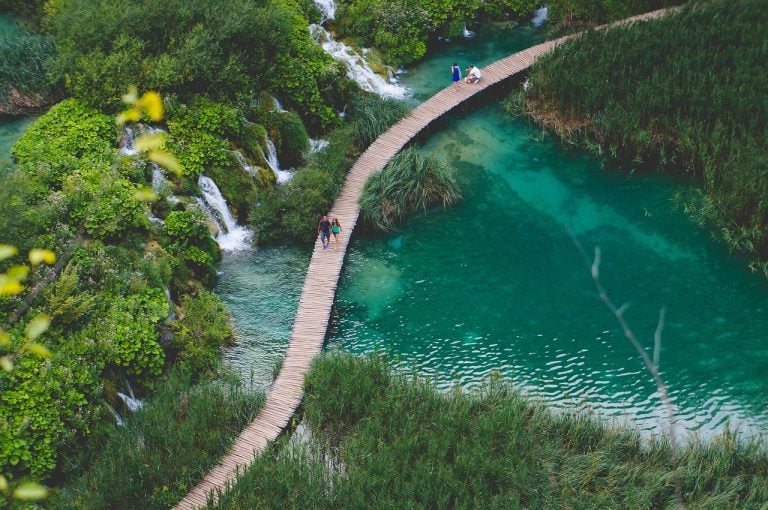 Scroll through your social media news feed and you'll see pictures of your friends traveling through Paris, Switzerland, Bali, or Thailand. These destinations might be on your own travel wish list as well. But there are also tons and tons of underrated travel destinations worth visiting. They are often overlooked, or most people don't know about them. Here we take a look at the top 10 such underrated travel destinations around the world.
The underrated travel destinations worth visiting
The off-the-radar travel destinations offer the thrill of going somewhere relatively unexplored. They aren't over-developed or over-commercialized. They retain their natural beauty and are relatively more affordable than the overcrowded spots. It's worth mentioning that the ranking is subjective. Your list of underrated travel destinations might be different from mine.
10- El Mirador Ruins, Guatemala
El Mirador in Guatemala takes you back a few thousand years. The ruins of El Mirador offer you a glimpse into the ancient Mayan culture. Nestled deep in the Petén jungle, it was hidden from the world for more than two thousand years until its discovery in 1926. It's difficult to get there, but you'll be filled with awe when you see the ruins that have remained untouched.
Electron Rises 5.1% Buy Renewable And Infrastructure Stocks: Q1 Letter
Electron Capital Partners' flagship Electron Global Fund returned 5.1% in the first quarter of 2021, outperforming its benchmark, the MSCI World Utilities Index by 5.2%. Q1 2021 hedge fund letters, conferences and more According to a copy of the fund's first-quarter letter to investors, the average net exposure during the quarter was 43.0%. At the Read More
9- Bhutan
This tiny country in the lap of the Himalayas is just magical. I have been there twice, and want to go back again and again. More than 70% of the Buddhist kingdom is covered in forest. Bhutan has never been colonized in its history. If the snow-capped Himalayan peaks, forests, Buddhist monasteries, and untouched traditional villages are your thing, you'll fall in love with Bhutan.
8- Bergamo, Italy
Most tourists visiting Italy go to Rome, Venice, Milan or Florence. But just 25 miles from Milan is an overlooked historic city called Bergamo. Located in the Lombardy region of northern Italy, Bergamo is a modern city filled with the charm of medieval monuments. The places worth visiting in Bergamo are Cappella Colleoni, Duomo di Bergamo, and Santa Maria Maggiore.
7- Tohoku region, Japan
The Tohoku region of Japan transports you into a whole new world, away from the crowd of busy city streets. The region has thick mountain forests, amazing vistas, volcanoes, three national parks, and coastal marshes. Tohoku also has a rich history, and you'll be able to spot the feudal era remnants in places like Hiraizumi. Tohoku is still recovering from the 2011 earthquake and tsunami.
6- Belgrade, Serbia
Belgrade doesn't get as much attention as Paris, Vienna, Rome, or Zurich. But it's one of the finest European cities with a rich history and a happening nightlife. This city is where the Vinča culture, one of the largest prehistoric European culture, evolved. Belgrade was ruled by the Romans, Slavs, the Ottoman Empire, and the Habsburg monarchy. The city's architecture and culture reflects its chaotic past. According to historians, Belgrade was battled over in 115 wars and razed to the ground at least 44 times.
5- Andaman and Nicobar Islands
The Andaman and Nicobar Islands in the Bay of Bengal consists of 572 islands. Less than 10% of the islands are inhabited. The India-controlled archipelago is only 120 miles from Indonesia. Only a small number of islands are open to tourists, where you can enjoy sugar-white beaches or engage in watersports and snorkeling. The Andaman Islands also offer wildlife spotting opportunities. Tourists are prohibited from venturing into areas where the uncontacted tribe of Sentinelese people live. They are culturally and linguistically disconnected from the rest of the world.
4- Gdansk, Poland
This Polish city on the Baltic coast is one of the most underrated travel destinations in the world. The port city's past was shaped by wealthy merchants and Prussian and German rulers. Gdansk has a unique vibe with a mix of Gothic, Renaissance, and medieval architectures. The city was almost destroyed during the Second World War, but it has since been reconstructed. You'll lose yourself in its historical thoroughfares and intriguing museums.
3- Taranaki, New Zealand
Taranaki is located on the west coast of New Zealand between Wellington and Auckland. Taranaki has beautiful black-sand beaches that surfers love. You wouldn't want to miss a visit to Mount Taranaki and Egmont National park. Other tourist attractions are the 19-kilometer Pouakai Crossing and the Govett-Brewster Art Gallery.
2- Argentinian Patagonia
When most people hear about Patagonia, they think of the Chilean side of the region which has temperate rainforests and glacial fjords. The Argentinian side of Patagonia will make you fall in love with it. You can hike Monte Fitz Roy and Perito Moreno Glacier in Los Glaciares National Park. Los Glaciares is a UNESCO World Heritage Site. The Perito Moreno Glacier is an ice sheet covering more than 250 square kilometers area.
1- Croatia
Dubrovnik in Croatia has become a popular tourist attraction in recent years, thanks to the HBO show Game of Thrones. The walled medieval city was the location for King's Landing in Game of Thrones. But Croatia has much more to offer than the hidden gem of Dubrovnik. Its beautiful Mediterranean coastline, ancient walled towns, and white pebbly beaches make Croatia a must-visit place that deserves to be on every traveler's bucket list.