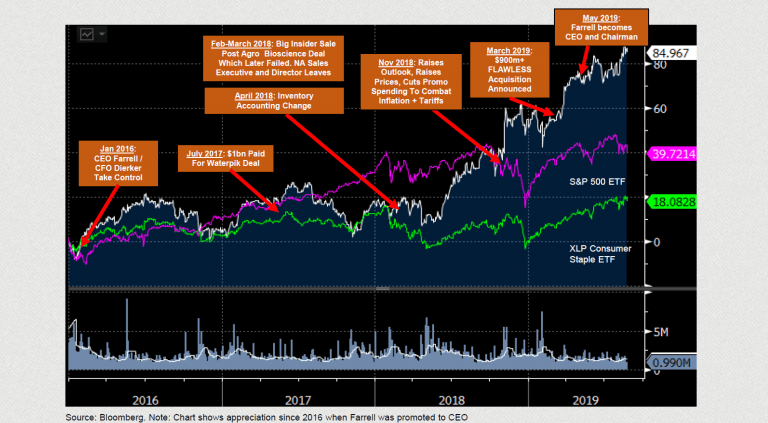 Spruce Point Capital Management, a respected short seller, published a lengthy report on an S&P 500 company called Church & Dwight, Inc. (CHD) this morning. CHD is seen by Wall St. analysts as a defensive consumer staples stock – they make Trojan condoms, Arm & Hammer products, OxiClean and WaterPik among others. The stock trades about 6% above average analyst estimates as investors have rotated into "defensive" sectors. But Spruce Point believes CHD's management has has penetrated the stock portfolios of unsuspecting retail investors through relentless promotion.
Now a broadly owned megacap, Spruce Point believes new management has changed course and is using a variety of financial and accounting tactics designed to inflate and obscure its increasingly leveraged and decaying business. Spruce Point's report shows how the current management team is fleecing investors with financial slightness-of-hand, while the Chief Accounting Officer (CAO) is covertly selling stock. Perhaps, the CAO is keenly aware that the current CEO oversaw a different company that issued a "non-reliance" statement on its financials.
Gator Financial Partners 1H2022 Performance Update
Gator Financial Partners letter to investors for the first half of the year ended June 30, 2022. Q2 2022 hedge fund letters, conferences and more Dear Gator Financial Partners:  We are pleased to provide you with Gator Financial Partners, LLC's (the "Fund" or "GFP") 1st Half 2022 investor letter. This letter reviews the Fund's 1st Read More
Q2 hedge fund letters, conference, scoops etc
Spruce Point also uses a unique data set to show that management appears to be exaggerating the performance of its recent acquisition, and why the acquisition is already failing miserably.
Some additional info is below.
Church & Dwight Co., Inc. (NYSE:CHD)
Downside Risk: 33% to 50%
Sector: Consumer Staple (defensive)
Market Cap: $19.7B
Revenue: $4.1B
Index: S&P 500, Consumer Staples ETFs
Big Holders:
Vanguard
Blackrock
States Street
Bessemer Trust
Morgan Stanley - Smith Barney
Key Report Findings:
With new CEO in 2016, CHD's focus on product innovation and manufacturing excellence has taken a backseat to extreme financial engineering, aggressive accounting and management self-enrichment practices.
At least 60% of its 10 "Power Brands" are failing
Evidence that CHD controls an entity used to inflate its financial statements
Recent acquisitions of FLAWLESS health care lines and Waterpik were done out of desperation at outrageous valuations - they will disappoint investors.
Shares trade at about a 7% premium to avg. analyst price targets. One of the highest valuations in the space.
23% of sales are to Wal-Mart. CHD has been very slow to diversify away from brick-and-mortar retailers
Management team has a sketchy past at Alpharma (ALO), which announced material weaknesses and accounting problems while they were there. Behavioral analysis by Spruce Point shows extreme use of hyper-promotional language and skewed bonus target meant to enrich management.
Acquisition of FLAWLESS is failing. Former executive called it "horrible, horrible, oh horrible" should be "dumped" immediately.
Subtle signs of financial strain: Very aggressive M&A accounting, slowing dividend growth, undisclosed M&A
Relevant Spruce Point Reports
Mettler-Toledo (MTD) (S&P 500), stock has dropped 22% since Spruce Point report on July 24. Thesis: Extreme valuation with opaque financials, aggressive accounting and uncovered exposure to China.
iRobot (IRBT) - Stock has dropped about 50% Spruce Point report on March 11. Spruce identified new competition in the space, analyzed aggressive financial structure and overly promotional language by management.
Spruce Point Background
The Tiny Activist Fund that Reaped 24% Return By Unearthing 'Cockroaches' (Bloomberg)
Named the #2 most successful short selling activist in 2018 by Activist Insight Magazine
Over 22k twitter followers - @sprucepointcap
---
Church & Dwight Co., Inc. - "Arm Yourself To Get Hammered"
Spruce Point is pleased to issue a unique investment research opinion on Church & Dwight ( "CHD" or "the Company"), an S&P 500 company, and roll-up acquiror of personal care and consumer products. Under its older leadership, management pursued a conservative strategy to leverage its core Arm & Hammer brand by diversifying and integrating acquisitions, while still prioritizing product innovation, and manufacturing excellence.
With the elevation of Matt Farrell to CEO in 2016, Spruce Point believes CHD's strategy has pivoted towards extreme financial engineering, aggressive accounting, and managerial self-enrichment practices. As fundamentals deteriorate in CHD's retail environment, and it's now clear that 60% of its legacy Power Brand acquisitions are failing, Spruce Point believes that CHD's recent Waterpik and FLAWLESS levered acquisitions were made in desperation at outlandish valuations, and with financial and accounting control problems that will disappointment investors. With CHD's shares at a 8% premium to average analyst price targets, and debt rising, investors seeking safety in CHD's stock face 35%–50% downside risk ($42 - $50/sh).
....................
Old School Brands Traditionally Following A Copy-Cat Like Strategy Against Leaders Proctor & Gamble, Clorox, And Others. Best known for its iconic Arm & Hammer brand, CHD embarked on an acquisition strategy in the early part of the 2000s to diversify into condoms, sex toys, hair care, rectal cream, vitamin gummies, oral care and other assorted product categories. However, we believe 6 out of 10 of its "Power Brands" acquired pre-2017 are struggling or outright failures. With 23% of sales through Wal-Mart, and reliance on struggling brick-and-mortar channels such as ULTA, Sally Beauty, Bed, Bath & Beyond, pharmacy (ex: Walgreens, CVS, Rite Aid), and discount stores, we believe CHD is experiencing channel pressures, and has been slow to transition to online sales and marketing to millennials. These factors, along with an increasingly promotional environment, has been pressuring margins.
Leadership
Investors Fail To Appreciate The Change of Leadership Style Under Matt Farrell, An Executive Who Blind-Sided Investors At Alpharma. In early 2016, Matt Farrell and Rick Dierker were appointed CEO and CFO, respectively. Based on our interviews of former employees in key roles, CHD experienced a culture shift that would deemphasis manufacturing, R&D and supply chain investment in favor of greater financially engineered acquisitions. One former employee even described management as "financial magicians". We believe investors fail to appreciate the abysmal failure overseen by Farrell when CFO of Alpharma (formerly NYSE: ALO). While we acknowledge that some of Alpharma's issue may have pre-dated his arrival in 2002, there is evidence that under Farrell's leadership, the situation became even worse, culminating in Alpharma issuing more material weaknesses, a "non-reliance" opinion on its financial statements, a covenant breach, and later a DOJ settlement for bad sales and payment practices to promote unsafe products
Church & Dwight Margins and accounting
Margins Already Failing: Documents show Waterpik's gross margins were 47.7% – 49.1% pre-acquisition, and the CFO said he expected 200-300bp gross margin expansion. Fast forward to early 2019, the CFO's recent comment that gross margins are now "on par" with the company's gross margin (pre-China tariffs), indicate that margins have contracted lower and are now closer to 44%
Church & Dwight Touts Its Industry Leading Cash Conversion >100% of Net Income, But It's Not As Sexy As It Appears. Aggressive M&A Accounting: On average, CHD accounts for 96% of its deal values as intangibles and goodwill, enabling it to receive tax deductions over 15yrs that improve cash flow. As an example of how aggressive management has been towards applying this strategy, it said on the FLAWLESS conference call that it had no synergies, yet later marked $82m of the value as goodwill and attributed it to synergies!
Read the full Church & Dwight report here.
Updated on