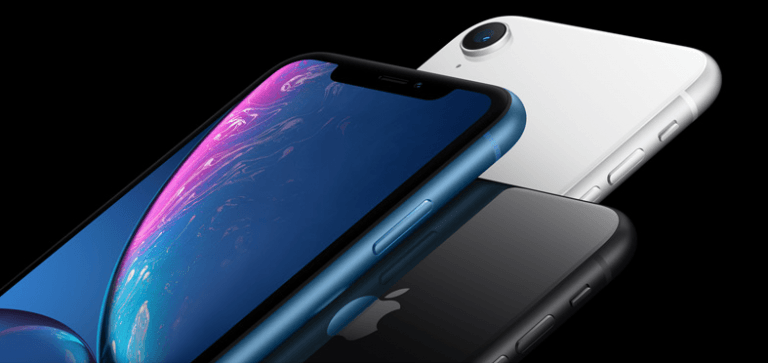 Smartphone shipments have been declining in most major markets around the world as the market matures. People are holding on to their phones longer and are upgrading less often because the older models are good enough for most purposes. North America is no exception. Analytics firm Canalys has revealed the smartphone shipment numbers in North America for the first quarter of 2019. It paints a gloomy picture, with the iPhone XR being the only bright spot.
Smartphone shipments hit a five-year low
According to Canalys, smartphone shipments in North America plunged to a five-year low in the latest quarter. Shipments dropped 18% from 44.4 million units in Q1, 2018 to 36.4 million units in Q1 of 2019. The consulting firm blamed the absence of ZTE and 'a lackluster performance by Apple' for the steep decline. ZTE devices are still available at some US carriers but it was blocked from government use last year over security concerns.
During the January-March period, Apple managed to ship 14.6 million iPhones, down 19% from 17.9 million units shipped in the same quarter a year ago. Despite the steep decline in the number of units shipped, Apple's market share fell only marginally from 40.3% to 40%. It remained the largest smartphone vendor in North America.
Exclusive: Dan Loeb's Two New Stock Picks [Q1 Letter]
Third Point's Dan Loeb discusses their new positions in a letter to investor reviewed by ValueWalk. Stay tuned for more coverage. Loeb notes some new purchases as follows: Third Point's investment in Grab is an excellent example of our ability to "lifecycle invest" by being a thought and financial partner from growth capital stages to Read More
Samsung was the second largest vendor, having shipped 10.7 million units in North America during the first three months of 2019. Its shipments rose only 3% from 10.3 million units in Q1, 2018 to 10.7 million units in the latest quarter, but its market share jumped from 23.2% to 29.3% in the same period. The jump in market share was largely because the overall market became smaller.
LG Electronics occupied the third spot with a 13.3% market share, down from 14.4% in the same period a year prior. Its shipments went down 24% from 6.4 million units in Q1, 2018 to 4.8 million units in the first quarter of this year.
Lenovo, the fourth largest vendor, saw its shipments skyrocket 42% YoY from 1.7 million units to 2.4 million units. It had a 6.5% market share, up from 3.8% in Q1, 2018. Lenovo owns Motorola, which still has a high brand value in North America.
Chinese vendor TCL sat on fifth place with a market share of 4%, up from 2.5% in the first quarter of 2018. TCL's shipments grew 31% from 1.1 million to 1.4 million. TCL has licensed the BlackBerry brand, which helped it boost sales in the latest quarter.
Missing from the top five list is Huawei, the world's second largest smartphone vendor. Huawei is insanely popular in Asian and European markets, but it has a negligible presence in North America. The US government has accused Huawei of spying on behalf of Beijing. It doesn't have any carrier partnerships in the US.
iPhone XR was the top-selling smartphone: Canalys
Apple's relatively affordable iPhone XR was the top-selling device during the quarter in North America. It captured 13% market share with shipments of 4.5 million units, according to Canalys. The iPhone XR sales were helped by trade-in promotions as well as retail and carrier discounts.
The iPhone XR was followed by Samsung's Galaxy S10E and Galaxy S10+, both of which shipped about 2 million units each. Each of them held a 6% market share. It means the top three devices accounted for 25% of the total smartphone shipments in North America.
According to Canalys, the early launch of Galaxy S10 series helped Samsung boost shipments during the first quarter. The S10 series brought exciting new features such as a hole-punch display, reverse wireless charging, and triple cameras to attract buyers. Canalys analyst Vincent Thielke said, "Samsung also benefited from carrier promotions in Q1, which used the Galaxy S10E as an incentive."
Will 5G, foldable phones boost demand next year?
Canalys says Samsung will face tough competition later this year as OnePlus gears up to launch the OnePlus 7 and OnePlus 7 Pro. The new OnePlus phones will have much of the same features as the Galaxy S10 series, but at much lower price points.
As for Apple, it needs to bring exciting new features to "impress consumers" and drive upgrades. The current iPhones are "just not different enough" from older models.
The analytics firm believes that 5G phones and foldable display technology won't immediately boost the smartphone market. They are just too expensive and beyond the reach of most consumers. Samsung's now-delayed Galaxy Fold has been priced at $1,980 while Huawei's foldable Mate X costs close to $2,600. Samsung's Galaxy S10 5G has a starting price of $1,300.
Foldable phones and 5G compatible devices would begin driving massive upgrades when their prices come down, which is still a few years away.