Whitney Tilson's email to investors discussing him hiring an analyst; the importance of portfolio management; our videos; Plus 500 blowing up; Model 3 European sales, TSLA vs. AMZN; Bezos; Munger meeting.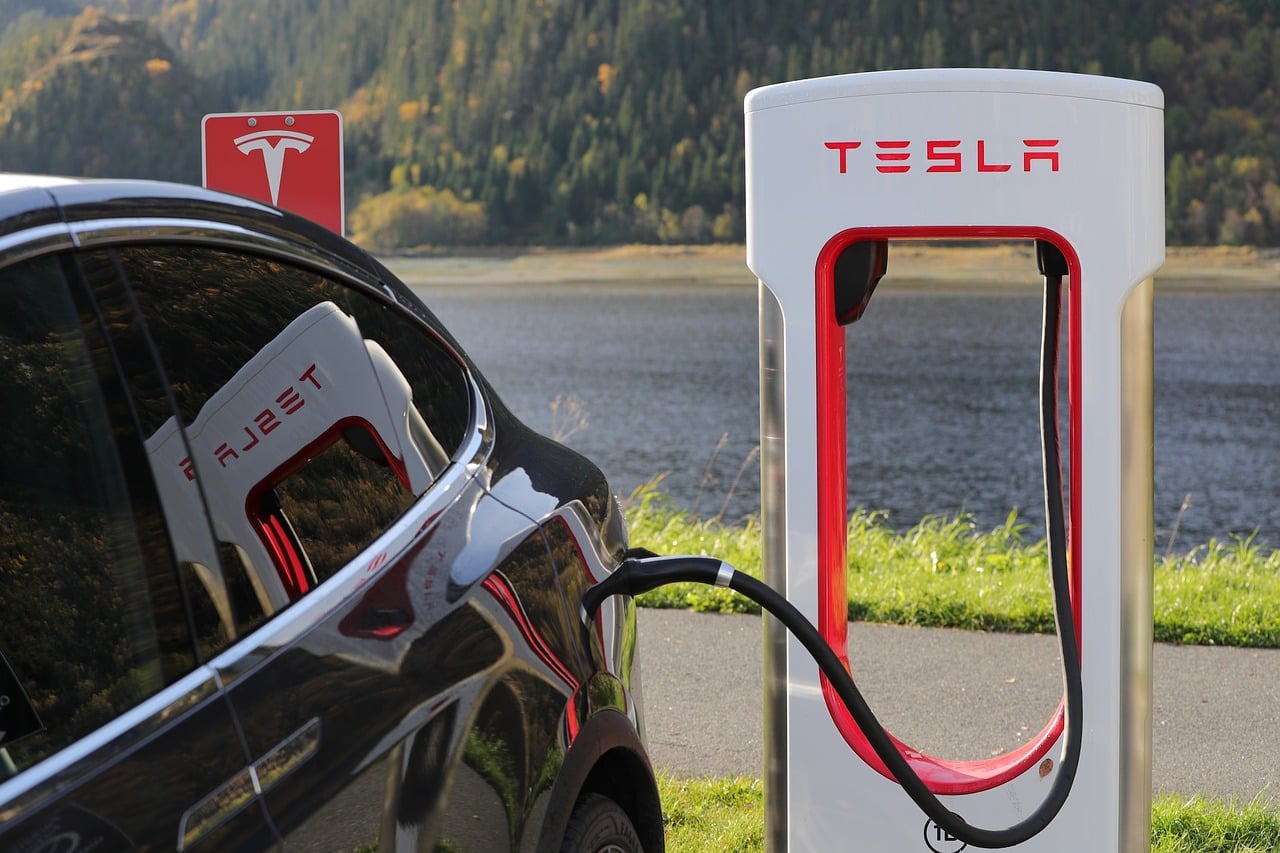 1) I'm looking to hire an analyst, based in Baltimore, for my new investment newsletter business, Empire Financial Research. The ideal candidate will have a passion for investing, a nose for cheap stocks and great writing skills. Click here for the job description and information on how to apply.
Q4 hedge fund letters, conference, scoops etc
EXCLUSIVE: Lee Ainslie's Maverick Had A Challenging 2Q
Maverick USA was down 3.3% for the second quarter, while Maverick Levered was down 2.1%. Maverick Long Enhanced was up 8%. Year to date, Maverick USA is up 31.8%, while Maverick Levered has gained 49.3%. Maverick Long Enhanced has returned 9.9% for the first six months of the year. Maverick Capital is a long/ short Read More
2) In yesterday's email about the Bull vs. Bear Summit, a free webinar Glenn and I are in that will air tomorrow at 8pm ET (you can sign up here), I discussed how important it is to let your winners run and be disciplined about cutting your losses.
These are two key elements of portfolio management, a high-level, experience-based skill that can make as big of an impact on your long-term investment success as your stock-picking ability – something I didn't full appreciate until much too late in my career.
It's one of the key modules we teach in our Lessons from the Trenches: Value Investing Bootcamp. We're not teaching it live for the time being as we launch our newsletter, but have made it available on video – along with our two seminars on How to Launch and Build an Investment Fund and an Advanced Seminar on Short Selling. The videos will only be available for another couple of weeks, so don't wait to register! (Once you do so, you'll have access to all of them for a full year, as well as permanent copies of all of the slides we teach from.)
I've posted my email about our programs that I sent around in December here, and you can check out free sample videos and register here, here and here. There are big discounts if you register for all three, as well as for students and investors under 30. Use VW10 for a big discount.
3) It's great to see that Plus500 blew up today, down 31% on the London Stock Exchange on this news: Plus500 Slides After Revealing Dependence on Clients' Bad Bets. It's a totally scummy, predatory company that deceives and destroys individual investors with insanely-high-risk options trading strategies. Like many such companies – World Acceptance (WRLD) and Herbalife (HLF) come to mind – it has mouthwatering economic characteristics. In 2018, it had revenue growth of 63%, return on equity of 150% and net margin of 53%...because ripping your customers' faces off is super lucrative...until it isn't...
At our shorting conference last May 3rd, Justin Hughes of Philadelphia Financial of San Francisco exposed exactly what Plus500 was doing in this brilliant presentation, which he has given me permission to share for the first time. Enjoy!
4) While I've warned investors about Tesla's stock many times, I don't think it's a good short because of the tail risk – it's extremely dangerous to short accelerating growth stories unless you're absolutely certain that growth is going to slow dramatically (or, better yet, reverse). I recall how many short sellers got massacred with Amazon, which lost money year after year, but grew and grew and grew…
My analyst – who owns a Tesla, which he loves, and is bullish on the stock – put together this chart showing that Tesla's revenue growth in its first decade exceeded Amazon's: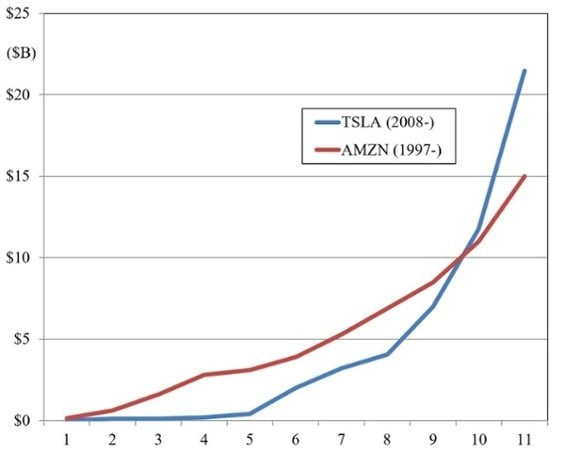 Tesla bears acknowledge the historical growth, but think it's going to stall out big time, as one friend wrote to me:
Tesla has a single factory, currently capable of producing 5,000 Model 3 units per week and 2,000 Model S+X units per week, for a total of 7,000. Multiply -- very generously -- by 50 weeks and you're at 350,000 units per week, which is close enough to the lower end of the company's 2019 guidance of 360,000 to 400,000 units.
And that's where the company was in the second half of 2018: 90,000 per quarter, or a 360,000 run-rate, with breakneck overtime (aka "unsustainable").
I've said they won't exceed that number -- 360,000 -- by much, if at all, in 2019.
The company's capital expenditure guidance for 2019 does not include any amount for expanding capacity, despite management's talk of building a (yet unfunded) factory in China and an assembly line in Reno, Nevada (also unfunded as of now).
It's evident from the European sales charts that competition has made life very difficult for Tesla -- even if the Model 3 is now on the cusp of selling in that initial 20,000 order book, which will look impressive, briefly, for about a quarter, barely. This natural and obvious increase in European sales is not enough to offset the 75% decline in U.S. sales we are seeing in early 2019.
So, the company is likely stuck at around 360,000 units per year until the Model Y comes out, which won't be in manufactured in meaningful volume until very late 2020 at best. The company first needs to obtain funding to spend on new factory / assembly line, and then build and properly test it. This takes two years for any automaker in the best of circumstances, assuming the company isn't skipping on quality control.
Meanwhile, with the competition already mauling the company, it's just going to get worse, almost every other month from here on. Even as the Model 3 sees an imminent 20,000 unit dump into Europe starting right now, the combined efforts of Kia, Hyundai, Audi, Jaguar, Volkswagen, Nissan and Renault will make this Model 3 European sales number seem not as impressive as Tesla's U.S. Model 3 sales did, during the second half of 2018 and even to some degree after the 75% drop January 1.
5) Speaking of Amazon, here are a few tidbits:
6) A final reminder about Charlie Munger's Daily Journal annual meeting, which is taking place this Thursday at the DoubleTree Hilton in downtown Los Angeles. It starts at 10am with brief formalities and then Charlie takes questions from the 1,000+ people in the audience for a couple of hours.
Charlie is brilliant – always full of incredible insight and wisdom – so it's well worth the trip (and at age 95, he's not getting any younger, though he's still razor-sharp)! It's open to the public – you do not have to register or be a Berkshire or Daily Journal shareholder to attend.
If you come, I hope you'll join me at the lunch I'm hosting at a lovely outdoor patio at the hotel immediately afterward. A free meal, good company and stimulating conversation – what's not to like? More than 200 people have already registered, but we still have more room. If you'd like to join us, just click here to register.
PS—You can do this as a day trip from NYC. I'm on the 5:30am JetBlue flight from JFK, returning on the 4:10pm flight back – a long day, but I'm avoiding the dreaded redeye!