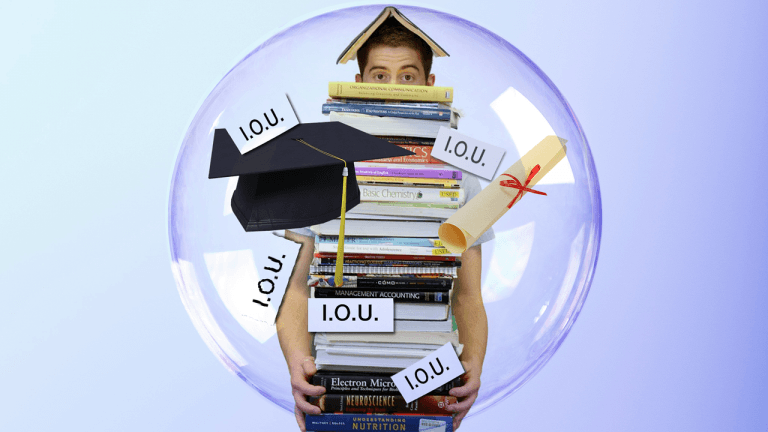 A decade after the financial crisis that triggered the Great Recession, economists warn skyrocketing levels of debt may foreshadow a household debt collapse – and make it harder for families to recover when recession inevitably strikes.
Americans now owe almost 5 percent more than they did at the onset of the Great Recession, due largely to student loan debt that's increased by a staggering 144 percent in 10 years.
"As we sit ten years out from the financial crisis, it feels like we're at a similar juncture in the story of the U.S. economy," Pamela says. "If history is any guide, we're on track to experience another economic downturn, triggered by similar conditions – with a similar outcome."
Why The Term 'Value Investing' Is Redundant
What does value investing really mean? Q1 2021 hedge fund letters, conferences and more Some investors might argue value investing means buying stocks trading at a discount to net asset value or book value. This is the sort of value investing Benjamin Graham pioneered in the early 1920s and 1930s. Other investors might argue value Read More
While the immediate cause of the Great Recession was the subprime mortgage collapse, American households took on record levels of debt prior to the downturn – in mortgages, charge card balances, auto financing, and student loans. That made them especially vulnerable, Pamela notes, when the recession wiped out more than eight million jobs between 2007 and 2009, contributing to more than four million homes lost to foreclosures.
Why we should be worried now about a household debt collapse:
In 2017, household debt surpassed 2008 levels, hitting an all-time high of $13.1 trillion. And it's been rising for 16 straight quarters.
Mortgages represent the bulk of liabilities, but student loans and auto loans have both reached new highs and are experiencing surging delinquencies.
For the first time since the financial crisis, more consumers with below-average FICO credit scores are again gaining access to financing in the form of charge cards.
Why does someone else's car loan or MasterCard balance impact you?
Soaring household debt is a threat to banks, lending institutions, the markets, and consumers at large, posing a systemic risk to the economy, Pamela notes.
"Think about it – you may not have lost your home or your life savings during the financial crisis of a decade ago, but you were undoubtedly impacted by all those poor folks that did. When U.S. consumers are over-leveraged and holding large amounts of debt, the economic foundation of the entire country is at risk."
Déjà vu all over again
According to Pamela, the fundamental problem is that we haven't learned the lessons the Great Recession tried to teach us. "Unfortunately, the bank failures, market meltdowns, home foreclosures, and massive evaporation of personal wealth of a decade ago have failed to positively change our relationship with money. We continue to borrow too much and save too little – and the economy again sits on a hair trigger of an 'any given moment' downturn."
To help people protect their nest eggs from a household debt collapse, Pamela advocates The Bank On Yourself wealth-building strategy. Based on a specialized high-cash-value dividend-paying whole life policy, it has never had a losing year in more than 160 years.