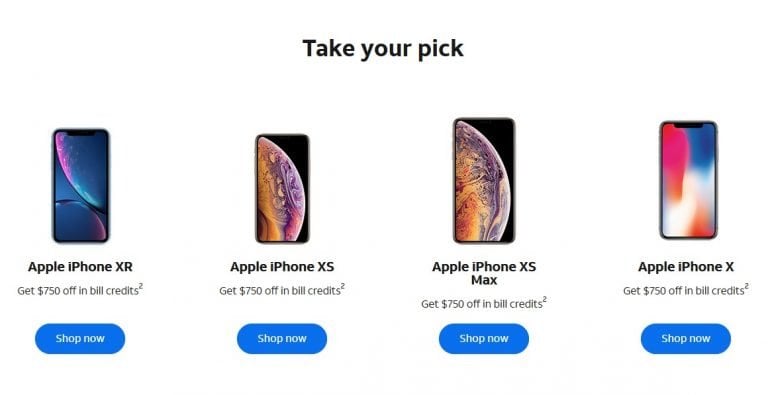 Cyber Monday has finally arrived, meaning, if you didn't already get to buy the holiday gifts you wanted to for this year, you still have time to take advantage of some great deals. Cyber Monday is best known for online shopping deals. You can still buy a great variety of gadgets on discount and it's no secret that Apple fans would like to save on a new iPhone or a new MacBook. With that in mind, we prepared the best Cyber Monday deals on Apple products.

Best Cyber Monday Deals on Apple Products: iPhone
Apple debuted three new iPhone models this year, which means that the last year's models must be more affordable to get. We were digging and found the best iPhone deals online and in stores, although some discounts come with a set of requirements which need to be met.
AT&T: If you buy an iPhone 8, iPhone 8 Plus, iPhone XR, iPhone X, iPhone XS or iPhone XS Max, you will get an iPhone XR free of charge. However, both devices need to be on the AT&T Next or AT&T Every Year contract. [Link]
T-Mobile: If you trade in your old phone and add an additional line of service, you can get a free iPhone XR, iPhone 8 or iPhone 8 Plus, or up to $750 off the iPhone X, XS or XS Max. This depends on which phone you bring in for trade-in. [Link]
Sprint: There are several offers associated with Sprint. The first includes getting an iPhone XR free of charge if you provide leasing of an iPhone X, XR, XS, or XS Max. That said, you'll need to sign up for two new lines of service, or update the already-existing ones. Also, if you buy a new iPhone on a 24-month contract, you can get a 2018 model iPad for just $100. [Link]
E-bay: Apple iPhone X – 64GB – Space Gray or Silver Factory Unlocked – $549 [Link]
Walmart: Straight Talk Apple iPhone 8 with 64GB Prepaid Smartphone – $499 (Old price: $599) [Link]
Best Cyber Monday Deals on Apple Products: iPad
If you're looking for a tablet instead, Apple has plenty of options for Cyber Monday deals.
How A Weakening PE Market Serves As Another Sign Of A Weakening Economy
Amid the turmoil in the public markets and the staggering macroeconomic environment, it should come as no surprise that the private markets are also struggling. In fact, there are some important links between private equity and the current economic environment. A closer look at PE reveals that the industry often serves as a leading indicator Read More
Walmart: Apple iPad (New Model) 32GB Wi-Fi – $249 (Old price: $329.99) [Link]
More deals can be found on Walmart, including other smartphone brands we listed here. [Link]
Walmart: Apple iPad (5th Generation) 128GB Wi-Fi Silver – $299.99 (Old price: $429) [Link]
Amazon: Apple iPad mini 4 (Wi-Fi, 128GB) – Silver – $324.45 [Link]
Verizon: The carrier offers $50 off iPad 9.7-inch or $200 off if you buy any iPhone. [Link]
Best Cyber Monday Deals on Apple Products: MacBook
On Black Friday, we posted a concise list of Jet's products which are discounted for Cyber Monday. Many of those products included MacBook and iMac models. If you missed the article, you can check it here. [Link]
We also dug out some deals on Amazon:
Apple 13″ MacBook Pro, Retina, Touch Bar, 3.1GHz Intel Core i5 Dual Core, 8GB RAM, 256GB SSD, Silver, MPXX2LL/A – $1,649 (8% off) [Link]
Apple 15″ MacBook Pro, Retina, Touch Bar, 2.8GHz Intel Core i7 Quad Core, 16GB RAM, 256GB SSD, Space Gray, MPTR2LL/A – $2,199.00 (8% off) [Link]
Apple Laptop MacBook Pro 13.3″ with Touch Bar MPXV2LL/A Intel Core i5 3.10 GHz 8 GB Memory 256 GB SSD Intel Iris Plus Graphics – $1,515.00 (16% off) [Link]
Best Cyber Monday Deals on Apple Products: Apple Watch
Apple Watch Series 3 (GPS + Cellular, 42mm) – Space Gray Aluminium Case with Black Sport Band – $329.00 (20% off) [Link]
Apple Watch Series 3 (GPS + Cellular, 38mm) – Space Gray Aluminium Case with Black Sport Band – $299.00 (21% off) [Link]
Apple Watch Series 3 (GPS + Cellular, 38mm) – Silver Aluminium Case with White Sport Band – $299.00 (21% off) [Link]
Updated on