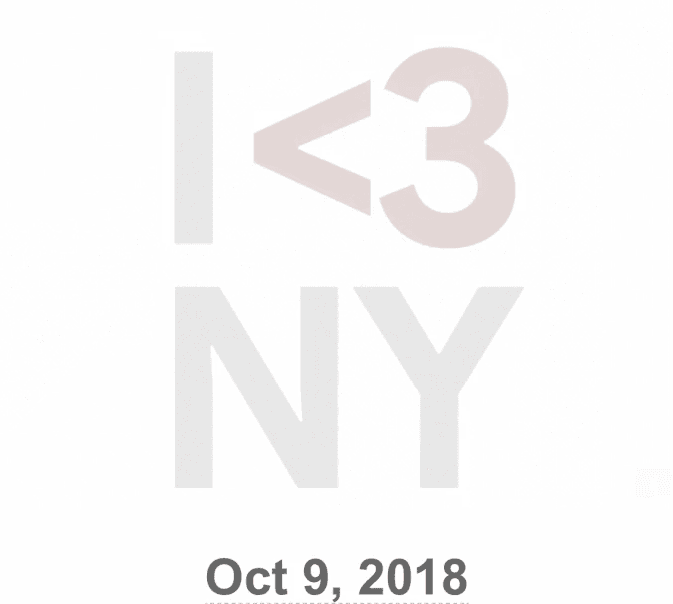 Leaked pictures and videos of Google's third-generation Pixel phones have been circulating on the web for weeks. In fact, Ukrainian bloggers were recently selling the larger Pixel 3 XL – which they had probably obtained illegally – for as much as $2,000 in the black market. Now we know when the Pixel 3 and Pixel 3 XL will be officially unveiled. The search engine giant has just sent out press invitations for the Pixel 3 launch event.
New Pixel phones coming on Oct.9th
Google said in an invite that it would hold a media event on Tuesday, October 9th in the New York City. The event will kick off at 11 AM Eastern Time. That's 8 AM Pacific Time, 1 PM London Time on the same day, and 1 PM AEST the next day. The press invite doesn't directly refer to the Pixel 3 phones, but it includes the phrase "I <3 NY," where the numeral '3' in the heart emoticon is no accident.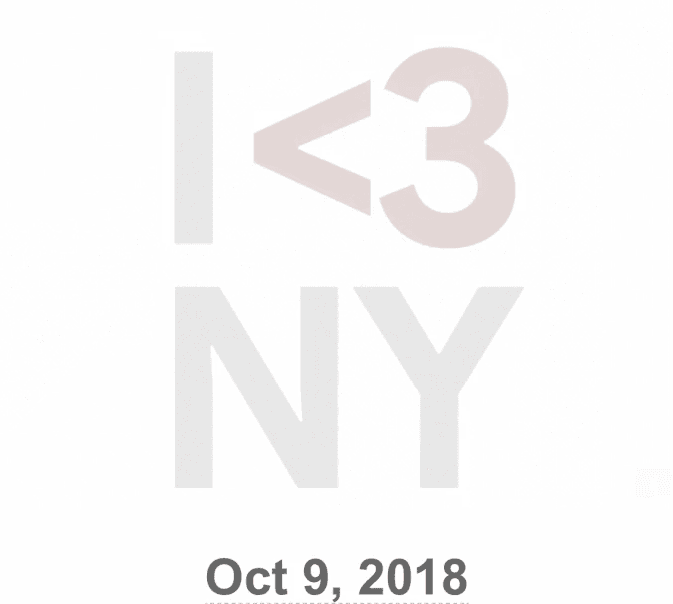 The search engine giant has traditionally unveiled new Pixel phones in the first half of October. Both the first-gen and second-gen Pixel devices were launched on October 4th of 2016 and 2017, respectively. Bloomberg reported last month that Google was planning to hold the Pixel 3 launch event on October 9th. Now it's official.
Hedge Fund Launches Jump Despite Equity Market Declines
Last year was a bumper year for hedge fund launches. According to a Hedge Fund Research report released towards the end of March, 614 new funds hit the market in 2021. That was the highest number of launches since 2017, when a record 735 new hedge funds were rolled out to investors. What's interesting about Read More
How to live stream the Pixel 3 launch event
For its fans around the world, Google has decided to live stream the Pixel 3 launch event on the Made by Google YouTube channel. Go to this link on October 9th at 11 AM ET to live stream it from the comfort of your home or office. Unlike Apple, Google doesn't have any specific device requirements. Visit the Made by Google YouTube channel on any device or web browser and you are good to go.
What products to expect?
Of course, the Google Pixel 3 and Pixel 3 XL will be the biggest highlights of the Oct.9 event. But in the past, Google has launched many more products alongside the Pixel phones. Last year, the company announced Clips, Pixel Buds, PixelBook, Home Mini and Max along with the Pixel 2 and Pixel 2 XL. We expect to see a wide range of products from Google on Oct.9.
Recent rumors have indicated that Google would unveil second-gen Pixel Buds, a new PixelBook with slimmer bezels, and a Google Smart Display. We are unlikely to see a Wear OS-powered Pixel Watch at the event as Google has confirmed to Tom's Guide that its wearable device won't debut this year. However, we could see improved Google Home speakers and Daydream View VR headset.
What we know about the Pixel 3 and Pixel 3 XL
Thanks to a variety of leaks and a bunch of Ukrainian bloggers, we know almost everything about the Pixel 3 and Pixel 3 XL. The devices have also been certified by the US Federal Communications Commission (FCC) and Taiwan's National Communication Commission (NCC) ahead of launch. More recently, the Pixel 3 XL was found in the back of a Lyft car. At one point it seemed as if Google itself was driving the torrents of leaks to build up hype around its upcoming products.
The regular Pixel 3 would sport a 5.4-inch P-OLED display with an 18:9 aspect ratio and 2160×1080 resolution. It will have bezels at the top and bottom, but they won't be as significant as on the last year's Pixel 2. It will pack a decent 2950mAh battery. The larger Pixel 3 XL would feature a 6.71-inch P-OLED display with a prominent notch like iPhone X. It would pack a bigger 3,430mAh battery.
Both the models will have a dual-tone glass back to facilitate wireless charging. The Pixel 3 and Pixel 3 XL will be powered by the Snapdragon 845 chipset and Adreno 630 GPU. They will both offer 4GB RAM and 64GB of base storage, and will run Android 9 Pie out of the box. Both the handsets are said to sport a single camera and a circular fingerprint sensor on the back. But they would have dual cameras on the front with variable apertures for 'Super Selfies.'
There is little clarity on pricing. According to Russian blog MobileReview, the regular Pixel 3 would start at $649 and the Pixel 3 XL would have a starting price of $749. However, the report should be taken with a pinch of salt.
Since Apple crossed the psychological barrier of $1,000 with the iPhone X last year, smartphone vendors have been increasing the prices of their flagship models. Samsung's latest Galaxy Note 9 costs $1,000 for the base model and $1,250 for the 512GB storage model. There is a good chance Google would also bump up the prices of at least the Pixel 3 XL, if not both models. The Pixel 3 launch event is only a month away, so we will find out the official prices soon.
Updated on