Larry Robbins' Presentation from the 2018 Sohn Conference. Talks about one of his favorite sectors yet again healthcare
Larry Robbins is the Founder, Portfolio Manager and CEO of Glenview Capital Management, an $11.2B investment management firm in its 18th year of operation. Glenview is focused on delivering attractive absolute returns through an intense focus on deep fundamental research and individual security selection. Headquartered in New York City, Glenview has 72 employees, including 34 investment professionals.
Q1 hedge fund letters, conference, scoops etc
David Einhorn At The 2021 Sohn Investment Conference: Buy These Copper Plays
There's a gold rush coming as electric vehicle manufacturers fight for market share, proclaimed David Einhorn at this year's 2021 Sohn Investment Conference. Check out our coverage of the 2021 Sohn Investment Conference here. Q1 2021 hedge fund letters, conferences and more SORRY! This content is exclusively for paying members. SIGN UP HERE If you Read More
Prior to founding Glenview, Larry spent six years as an analyst and partner at Omega Advisors on their US equity long/short team. He joined Omega after three years at Gleacher & Company, a merger and advisory boutique in New York.
Larry graduated with honors from the Wharton School and Moore School of the University of Pennsylvania in 1992, where he received his Bachelor of Science in Economics and Engineering, with majors in accounting, finance, marketing, and systems engineering. Larry became a Certified Public Accountant in 1991 in his then home state of Illinois.
Through their Robbins Family Foundation, Larry and his wife, Sarahmay, are active supporters of education reform both in New York City and on the national level. Larry serves as Chairman of the Board for The Robin Hood Foundation, KIPP New York and Relay Graduate School of Education. He is a member of the board of Teach For America (New York). In addition, Larry is the Senior Chair of the Wall Street Division of the UJA‐ Federation. Larry is also the proud coach of several New Jersey Avalanche youth hockey teams. Larry resides in Alpine, NJ with his wife and five sons.
Larry Robbins 2018 Sohn Conference Comments
Robbins is not worried about Amazon entering pharma industry and crushing everyone else like so many other sectors. Robbins pitches three or four healthcare names (like last year) this year the tickers are  AWT, ESRX, CVS, and MCK
Why? Larry says you got Amazon all wrong. AMZN's entry into  pill supply chain will not cause them to swallow up the industry.  Furthermore, Bezos is unlikely to get into PBM, despite speculation that Amazon will enter that sector.
Why? Pharma supply chain is a nightmare specially with opioid crisis, and Amazon has shown that it shies away from potential regulatory complicated areas such as alcohol and guns.
As the slide below shows this area has many moats and protective barriers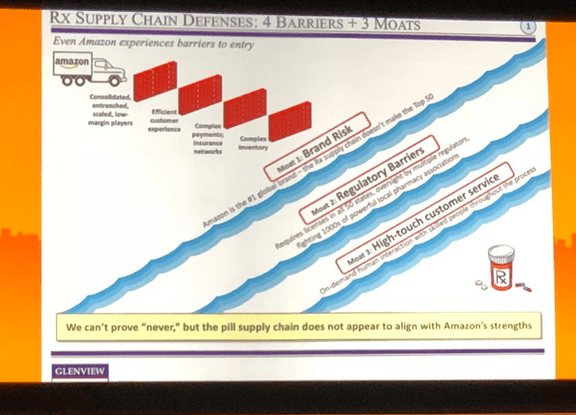 Amazon going into pharma  is just a  "telephone" game, also contrary to rumors Robbins supports ESRX and a CIGNA deal.
CVS is cheap bc right now the multiple is compressed and it will both earn more and deserve a higher ratio after a deal with Aetna is sealed. Larry Robbins believes that the market is not giving the combinded entity enough credit for its well diversified business model
More from Larry Robbins here